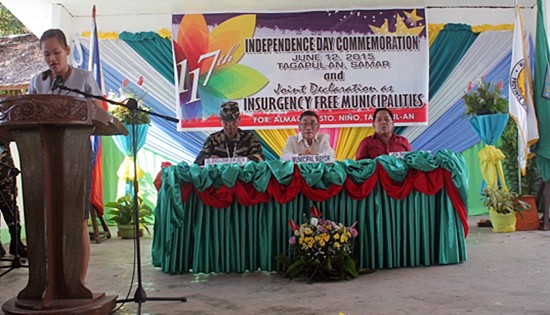 801st Bde commander Col Leoncio A. Cirunay and Mayor Vicente Limpiado of Tagapul-an, Samar during the reading of Joint Declaration and Signing of MOU as Insurgency Free Municipality at the Tagapul-an covered court together with Samar Board Member Allan Diomangay representing Gov. Sharee Ann Tan.
Samar's 3 island towns declared insurgency-free
By DPAO, 8ID PA
June 15, 2015
CAMP LUKBAN, Catbalogan City – The three island municipalities of Samar were declared "Insurgency-Free" on June 12, 2015, during the Commemoration of 117th Philippine Independence Day at Municipal Covered Court Tagapul-an, Samar.
The joint declaration of Almagro, Sto Niño and Tagapul-an as insurgency free municipalities was formalized with the signing of a covenant between the AFP represented by Colonel Leoncio A. Cirunay and the Local Chief Executives namely; Hon. Kathleen S. Prudenciano, Municipal Mayor of Almagro; Hon. Lelia A. Coñejos, Mayor of Sto. Niño and Hon. Vicente F. Lumpiado Jr., Mayor of Tagapul-an and was witnessed by Hon. Allan B. Diomangay, Provincial board member as a representative of Governor Sharee Ann Tan.
The signing of declaration was based on the AFP-PNP Joint Letter Directive 3 which categorized the three island towns as "CLEARED" area that it qualifies to be declared as Insurgency-Free municipalities as stipulated on the five imperatives for declaring municipalities.
Further, the joint declaration of the three island municipalities will increase the influx of tourism in their locality. The populace of the said municipalities are enjoying peaceful environment away from extortion activities of the NPA.
Col Leoncio A. Cirunay, 801st Brigade Commander, said, "The joint declaration of the three island municipalities may attract investors especially that these islands are tourist destinations and that many investors will establish their businesses in a secured area which will greatly improve the town's economic and financial status."