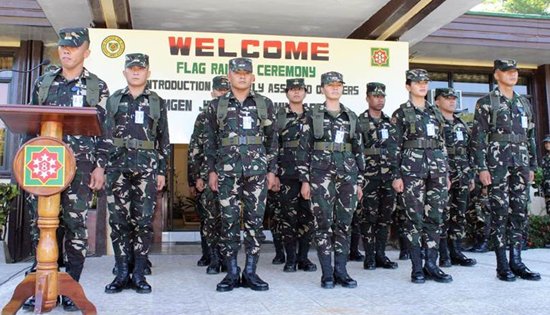 The newly assigned 2nd Lieutenants as they were presented to the 8th Infantry (Stormtrooper) Division family during the flag-raising ceremony conducted last May 25 at Camp Lukban, Brgy. Maulong, Catbalogan City.
Young officers join the ranks of 8ID
By DPAO, 8ID PA
May 25, 2015
CAMP LUKBAN, Catbalogan City, Samar – Twelve new 2nd Lieutenants who recently graduated from the Philippine Military Academy and from the Officer Candidate School were assigned with the 8th Infantry (Stormtrooper) Division, Philippine Army and were formally welcomed during the flag raising ceremony at Camp Lukban, Catbalogan City on May 25, 2015.
As part of the Army Command's tradition, the young officers were presented during the flag-raising ceremony and individually, they introduced themselves to the officers, enlisted personnel and civilian employees of the Army Command.
Five of the newly reported young officers are members of PMA "SINAGLAHI" Class of 2015, while seven are members of Officer Preparatory Course "MANDALAPI" Class 62- 2014. Eleven of them are from Luzon, while one is from Mindanao.
The new 2nd Lieutenants are: 2Lt. Rocky Johnson A. Abut, 2Lt. Arjay P. Regidor, 2Lt. Jean C. Buenaventura, 2Lt. Daniel G. Olivas, 2Lt. Ian Daniel C.Robianes, 2Lt. Christian B. Baclig, 2Lt. Jullane A. Biniahan, 2Lt. Russel U. Borres, 2Lt. Benjamin T. Cabading, 2Lt. Alvin P. Garcia, 2Lt Ana Fe G. Ipas, 2Lt. Clarence M. Locero, 2Lt. Alvin R. Mendoza.
Currently, the new officers are undergoing the Platoon Leader's Course to refresh them of the military knowledge and skills they acquired from the respective military schools they were honed as military officers.
Major General Jet B. Velarmino AFP, Commander of the Army in Eastern Visayas stressed in his message to the new officers the Armed Forces of the Philippines' Core Values, of Honor, Patriotism and Duty. He said, "Cling on to these values and you will never go astray from the narrow path towards becoming an ideal soldier in the mold of our brave and noble military heroes."
"The Country and the Filipino people expect much of you. Good luck and contribute as much as you can to the achievement of peaceful and development-ready Eastern Visayas," he added.