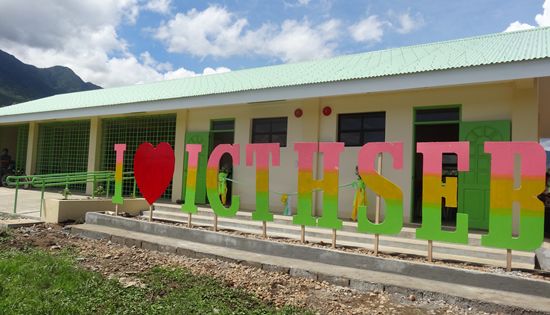 First Technical Vocational and Livelihood (TVL) Workshop Building in Information Communication Technology (ICT) High School of Eastern Biliran in Caibiran, Biliran. The project has a contract cost of P8M under CY 2016 Basic Educational Facilities Fund. The completed project will give proper educational training to senior high school students of the school for the courses: cookery, carpentry, and electrical isolation and maintenance.
Biliran DEO's CY 2016 school building projects accomplished 33.20%
By CHELSEA C. QUIJANO
December 8, 2016
BILIRAN – Department of Public Works and Highways Biliran District Engineering Office (DPWH-Biliran) is on-going on the construction of school building projects with an accomplishment of 33.20% as of November 30, 2016.
This was informed by Engr. Luisito Filemon A. Abad, Head of Procurement and Monitoring Unit through Kapihan: Pulong-pulong ng Bayan on Radyo Nation FM together with Engr. Alfredo L. Bollido, OIC-Assistant District Engineer and Engr. Reynaldo P. Peñaflor, Chief of Quality Assurance Section (QAS).
DPWH-Biliran is tasked to implement 16 school building projects with a program amount of P130.7M under CY 2016 Basic Educational Facilities Fund (BEFF) of the Department of Education (DepEd).
Out of 16 school building projects, 4 were already completed, 10 are on-going, and 2 are Not Yet Started (NYS).
"These two not yet started projects are located in ICT, Caibiran because there was a failure in soil exploration, so we have to redesign the foundation, and it needs additional funding," explained Abad.
Engr. Abad added that they have already requested for an additional fund to the DepEd but until now there was still no release of fund.
"We have already bid out this project, the project will not be awarded unless this funding will be received, so hopefully we can award this project on the later part of December, and by January, we can proceed with its implementation," Abad informed.
When asked if school building projects will be spilled over until first quarter of 2017, Engr. Bollido explained that they are pressuring the contractor to complete the school building projects funded under the FY 2015 BEFF before end of the year.
"Ang contractor, nagpasalig man pud sila na on or before this year ma-kompleto gayud nila ang ten school buildings before end of the year," Bollido said.
However, Bollido emphasized that he is still unsure when the two NYS Projects will start because he cannot tell when the Department of Budget Management (DBM) will release the budget. He added that the budget was requested last October 3 of this year.
On the other hand, the four completed projects which are the P5.3M construction of 2 units Technical Vocational Bldg. at Biliran National High School and Construction of three Senior High School Unique Workshop at Cabucgayan NSAT (P2.5M), ICT High School of Eastern Biliran (P2.5M) and Naval School of Fisheries (P2.4M) are now ready for occupancy which will cater the needs of the students for a better learning.
Furthermore, Abad also informed that 20 units of rain water collector project of Biliran DEO amounting to P3.2M were also completed. These rainwater were installed to accumulate rainwater from the roof of school buildings and is used to flush on toilets and in watering plants, rather than allowing it to run off.