DPWH conducts walk-the-line inspection along major roads in Leyte 2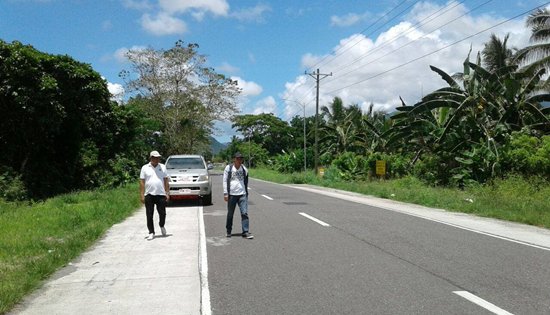 By DPWH 2nd LED
April 29, 2019
CARIGARA, Leyte – In anticipation to the upcoming regular field inspection of the Bureau of Maintenance (BOM), the Department of Public Works and Highways (DPWH) Leyte second district engineering district initiated a walk-the-line inspection along the national roads.
According to Gerald Pacanan, DPWH Leyte 2 district head, it is important to conduct this type of inspection to make sure that the maintenance works of the district are in strict compliance to the standards and requirements of the department.
During inspection, the office has noted several road sections particularly in Dagami town area affected by the excavation works and pavement breakings of a water utility company.
Immediately, the district has sent a notification to the utility provider for the restoration of the said road portions as it may cause accidents and inconvenience to the motorists.
"As the government's top agency in the maintenance of the national roads and bridges the safety of the travelling public is our utmost concern. Likewise, if these defects are not properly restored, it could affect the overall performance rating of the district," Pacanan said.
Upon his assignment as the new district engineer of Leyte 2, he initiated a dialogue with the maintenance point persons and field workers, seeking their full cooperation and commitment to improve the district's performance.
"I have seen a much-improved maintenance force in this district and I hope this would reflect in our standing with the inspection of BOM," said Pacanan.
BOM is primarily tasked with the maintenance of the nation's public works and highways facilities. Relative to this, it is engaged in the continuous conduct of field inspections to effectively monitor maintenance activities of the district engineering offices.
Leyte second district engineering office is tasked to maintain 206 kilometers of national road and 55 bridges.