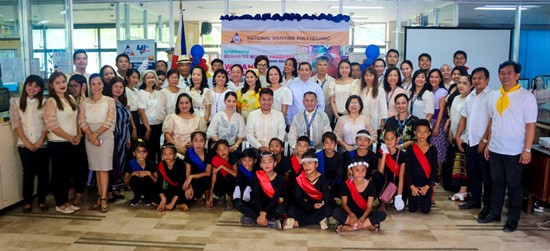 NMP Officials, guests, employees and Job Order Workers during the celebration of Buwan ng Wikang Pambansa.
Sustain native language, NMP says
By National Maritime Polytechnic
August 30, 2019
TACLOBAN CITY – The National Maritime Polytechnic unites with the Philippine nation in honoring the Filipino and native languages in celebration of the 2019 Buwan ng Wikang Pambansa.
In order to preserve and promote the native language, NMP added activities related to this year's Buwan ng Wika theme: "Wikang Katutubo: Tungo sa Isang Bansang Filipino", during its Flag Raising Ceremony last 27 August 2019 at the NMP Administration Building.
Executive Director Joel Maglunsod conveyed his thoughts on the celebration anchoring his speech on the proclamation of the United Nations General Assembly declaring 2019 as the International Year of Indigenous Languages. According to him, the nation was colonized by different countries but nonetheless, the Filipinos must revitalize and sustain the native language especially our seafarers as the Philippines' sailing ambassadors to different countries around the world.
The program was made meaningful with spoken poetry, indigenous songs and traditional dance participated by NMP employees and Job Order Workers.
Selected Cabalawan Elementary School students also presented an interpretative dance entitled Tagumpay Nating Lahat and a hand-over ceremony of donated books to the said school from S & A Learning Solutions and Books For A Cause also took part in the program.
The Buwan ng Wika is commemorated every month of August in accordance to the Proclamation No. 1041 signed by then President Fidel Ramos on 1997 which goes with the celebration of the birth of the Father of National Language, late President Manuel Quezon.