New paved road connects 3 barangays in Almagro, Samar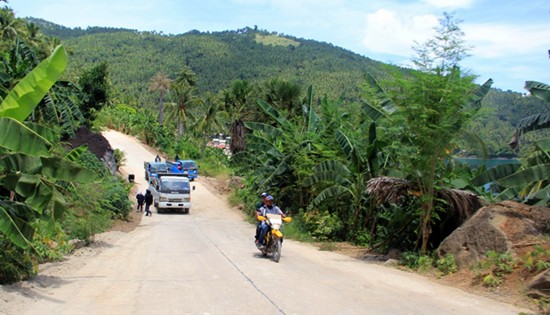 By CHENZI MAY D. UY
December 5, 2019
CALBAYOG CITY Ė The road construction project linking barangays Lunang I, Lunang II, and Talahid in Almagro, Samar, is now complete. The finished pavement extends over a total length of 2,469 meters, approaching the barangay of Costa Rica.
According to the Department of Public Works and Highways, the road is part of a bigger circumferential road construction project in the island municipality.
As it is built on the inner mountainous side of the island, riprap slope protection was built into the road for stability. Drainage canals were also built to keep the pavement flood free and safe to use even in heavy rainfall.
At six (6) meters wide, the new road offers greater mobility and ease of traffic for motorists. Although there arenít too many vehicles in Almagro at present, the provision of a wide road ensures the thoroughfare will accommodate future growth in vehicle population.
The road will also help local tourism. Some of the islandís budding tourist attractions include an exotic diving resort in Keriketi, a museum of endangered species, caves, rock formation, and an iconic lighthouse.
The P50-million project benefits not only the barangays it covers but also the island municipality as a whole.