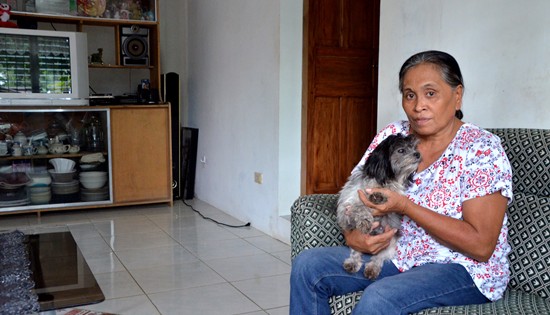 The house the Nerios built through the years. (Jose Alsmith L. Soria)
The widow
By JOHN COLASITO
May 23, 2019
TACLOBAN CITY – Aquilina Bronio was in her second year college taking up Civil Engineering course when she married Bonifacio Nerio, a high school classmate and neighbor in Barangay Tejero in Hilongos, Leyte. Both came from farming families.
To survive, they worked as rice tenants in three landholdings in their village with a combined area of four hectares owned by three different landowners. Through the intervention of the Department of Agrarian Reform (DAR), the couple entered leasehold agreements with the said landowners, thereby increasing their share.
"It was advantageous to us," Aquilina said. "Especially when we were already starting to have children," she added. Aquilina remembers the difficulty of making both ends meet.
The couple averages 350 cavans of rice during harvest time. "52 cavans go to the three landowners as rentals (for the four hectares ricefields)", Aquilina shared.
But, she explained, "the remaining harvests left to us were not enough to meet our growing needs". According to her, "we had to find other ways to increase our income".
So, they raised ducks in the 1980s. They let the ducks produce eggs which they sold for additional income. They also made "balut". The full-grown duck, the eggs, and the balut, all these they sold not only in Hilongos, but they went to other towns, even as far as the eastern side of Leyte province just to make profit.
In 2010, Aquilina considered themselves lucky for her husband was included among the recipients of certificates of land ownership award (CLOAs) issued by DAR. She added, their CLOA covered a .25 hectare cocoland previously owned by the Vega family. "We were so happy because we can proudly say, this land is ours," Aquilina reminisced.
It was a big help to us, said Aquilina, for they need not give share to anybody. "The profit was all ours," she added.
Meanwhile, for the ricefields, Aquilina further disclosed, the problem they always encountered was in renting farm equipment. According to her, they always had to compete with other farmers in renting tractor during land preparation, and thresher during harvest time which was on a first come, first serve basis. Most of the time, we are accommodated last by the owner of the machines, Aquilina said.
"So, we borrowed money to buy a hand tractor first," she narrated. It costed P105,000. According to her, "we paid our lender during harvest. When we fully-paid our lender, we renewed our loan to purchase two threshers, amounting to P46,000 per unit, on separate occasions. We had to impose financial discipline."
Having acquired these machines helped us make work faster and freed us from equipment rentals, she quipped. Instead, we earned additional income by offering the tractor and the threshers for rent, Aquilina added.
They earn P150 per hour from tractor rental, while they get five cavans of rice for every 100 cavans of threshed rice for the use of their threshers. According to Aquilina, they earn an average net income of P30,000 from thresher rental alone every harvest season when the cavans of rice paid to them are sold.
From then on, life for them became lighter and blissful. They got rid from loans, and started to save part of their income.
With hard work, perseverance and discipline, the couple was able to construct slowly through the years a concrete house, far from their previous house that was made only of light materials. They were also able to send their four children to school. Three of them are now employed.
But as the song of Barbara Streisand goes, "some good things never last," Bonifacio suffered cardiac arrest in 2014, leaving Aquilina a widow.
Everything left by her husband, were products of the couple's hard work and collaboration. "As his wife," Aquilina said, "I need to help my husband for us to survive life's challenges".
Aside from continuing what she and her husband had established throughout their married life, Aquilina, now 62 years old, is active as the secretary of the Tejero Riceland Cultivators Association since 2015.
She is accompanied at home by her third child Criselda Grace who is employed at the Municipal Agriculturist's Office in their town.
Not all recipients of the government's agrarian reform program in their area had reached what the couple had achieved. To Aquilina, it was because she and her husband had no vices, and that they value every single cent they earned. Their story was a testament of love and hard work.