Ambassador Tejano lauds potential of newly enlisted Stormtroopers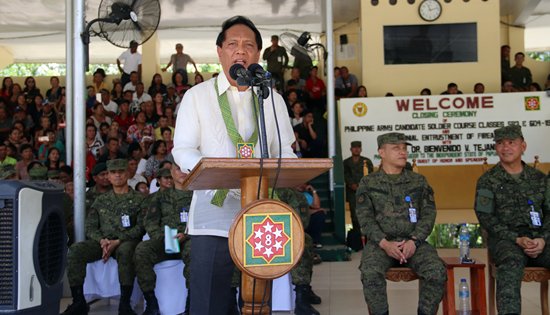 By DPAO, 8ID PA
October 15, 2019
CAMP LUKBAN, Catbalogan, Samar – His Excellency, Dr. Bienvenido V. Tejano, Philippine Ambassador to the Independent State of Papua New Guinea lauded the potential of newly enlisted soldiers where the said diplomat served as the Guest of Honor and Speaker during the graduation ceremony of the Philippine Army Candidate Soldier Course Classes 583 and 604.
A total of 283 new soldiers of the Philippine Army took their oath of duty to serve the Filipino people and the country as regular members of the Armed Forces of the Philippines (AFP) in a closing ceremony held at the parade grounds of the Army's 8th Infantry Division Headquarters in Catbalogan City, Samar on Monday morning October 14, 2019 at 9:00 A.M.
The emotional and teary eyed Ambassador Tejano who hails from Mapanas, Northern Samar said "Your combat skills demonstrations impressed me and I feel so confident that you young people could protect us and our homeland. But deep inside of me, I realized what is happening in some areas of the region and in some parts of the country wherein some of our own countrymen are trying your combat prowess and such situation also exposes your lives to risks. I have been praying and crying for peace. We in the civilian side are very thankful to you for dedicating yourselves in this noble profession. Mga kababayan kong nandito ngayon at sa lahat, panahon na para tayo ay maghawak kamay at magtulungan. Let's support our soldiers who are protecting us and our country."
The activity culminated with a ceremonial entrustment of firearms that represents responsibility, duty and authority bestowed upon the soldiers in protecting the Filipino people and the country. The graduates completed the Basic Military Training (BMT) conducted by the 8th Division Training School (8DTS).
The 8DTS molded the physical, mental and psychological aspects of the candidate soldiers to become professional and combat ready soldiers. The parents of the new privates were also cited for their support to their sons and for entrusting them and their future to the Philippine Army. Aside from their physical, mental and psychological development, the new soldiers have become closer to God and their families. Part of our training is strengthening the Filipino family unlike the Communist New Peoples' Army Terrorists who are deceiving the youth and forcing them away from their families and loved ones.