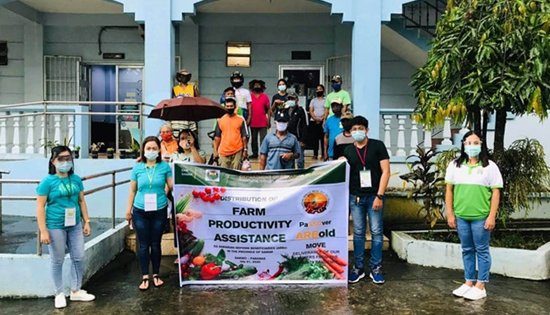 Distribution of farm production inputs to agrarian reform beneficiaries (ARBs) in Paranas was done simultaneously by the Department of Agrarian Reform (DAR) in two other Samar towns. (Photo by Monica Bato)
DAR-Samar rolls out distribution of agri-production inputs
By JOSE ALSMITH L. SORIA
July 28, 2020
SAN JORGE, Samar Ė The Department of Agrarian Reform (DAR) rolled out the distribution of farm production inputs in this province by holding simultaneously on Tuesday last week the said activity in three Samar towns.
A total of 174 agrarian reform beneficiaries (ARBs) from the towns of San Jorge, Gandara and Paranas became the first recipients of a starter kit for crop production containing a shovel, a hoe, 10 kilos of complete fertilizer, 10 kilos of vermicast, urea, organic pesticide, and two varieties of seeds.
Assistant Regional Director Ma. Fe Malinao, who led the distribution activities in Barangay Bulao in San Jorge, explained that this farm productivity assistance is the second component of the ARBold Move project which is DARís immediate response to the Bayanihan to Heal as One Act.
These farm inputs are expected to help you (ARBs) generate income from surplus production and at the same time meet the nutritional requirements of your households during this time of coronavirus disease 2019 (COVID-19) pandemic, Malinao told the farmers.
Meanwhile, Samar Provincial Agrarian Reform Program Officer II (PARPO II) Celsa Mabutin disclosed that 463 ARB-members of the 32 DAR-assisted farmer organizations throughout the province are going to benefit from this component.
She further disclosed that each town will receive different sets of seeds to avoid oversupply of a particular crop.