Malacañang's response to Callamard: An indication of disrespect for human rights
A Press Statement by EcuVoice Philippines
June 3, 2020
On 01 June 2020, the Duterte government tried to discredit the observations made by UN Special Rapporteur on Extrajudicial, Summary or Arbitrary Execution Agnes Callamard on law enforcement officials in countries such as the Philippines acting 'beyond international law' and allowing the use of force in implementing government strategies to deter the spread of COVID-19. Her observations were among those aired by independent experts and rights defenders during a webinar organized by the Ecumenical Voice for Human Rights and Peace in the Philippines (EcuVoice) last 29 May 2020.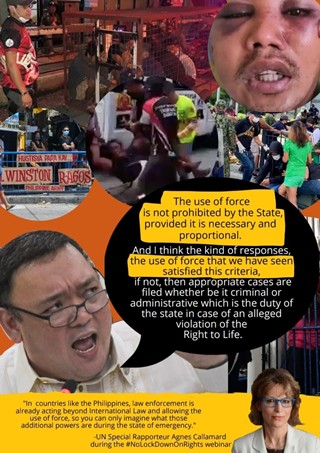 The presidential spokesperson justified police abuse and brutality by invoking that "(t)he use of force is not prohibited by the State provided it is necessary and it is proportional" under international law and that the government's responses satisfy the criteria of necessity and proportionality. However, we at EcuVoice see nothing proportionate nor necessary in the use of force by state agents in the implementation of COVID-19 measures in the past three months. The observations raised by Callamard are all warranted and reasonable, based on the numerous cases reported before the public.
Photos and videos published on the internet and in various media reveal how the Philippine National Police and local government officials employed excessive force in questionable and baseless arrests. These state agents have also imposed degrading, humiliating, and inhumane punishment to supposed violators of quarantine protocols.
According to the PNP, there have been more than 57,177 individuals arrested for allegedly violating the government's enhanced community quarantine such as not wearing face masks or foraying immediately outside one's homes for valid reasons. Many were subjected to arbitrary arrests and cruel, degrading and inhuman treatment such as beatings, being put in dog cages, being made to kiss, sing and dance before authorities, forced to do strenuous physical exercises, made to march or put under the scorching heat of the sun, or being placed in coffins to teach them a lesson, or forced to have sex with police officials in exchange for money or quarantine pass, or outrightly murdered.
Also appalling is the apparent misuse and abuse of legal processes, as police continuously cite laws which do not specifically define nor penalize the alleged violations committed by those arrested and detained who are thrown in already impossibly congested and even subhuman jails. How these actions can be deemed necessary and proportionate escape us.
EcuVoice also condemns the disrespect shown by the presidential spokesperson to the UN Special Rapporteur in his attempt to rebuff her observations. His inappropriate debasement of Callamard's credentials is consistent with how the President has shunned and rejected international human rights protection mechanisms by resorting to ad hominem attacks. Such action has underscored the current administration's utter and obvious disregard of well-established human rights mechanisms and standards.