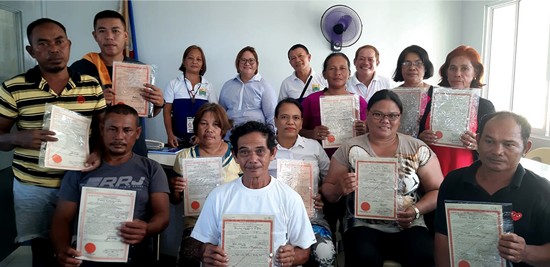 The agrarian reform beneficiaries (ARBs) show their Emancipation Patents (Eps) and Certificates of Land Ownership Award (CLOAs) after the distribution. With them in photo are Zumarraga Mayor Myrna Tan (standing, 4th from left) and Municipal Agrarian Reform Program Officer (MARPO) Evelinda Barbasa (standing, 3rd from left). (photo Engr. Jessie Iso)
DAR distributes CLOAs to Samar islanders
By JOSE ALSMITH L. SORIA
March 21, 2020
ZUMARRAGA, Samar – Eighteen landless farmers from this island-municipality in the province of Samar turned landowners as they received Emancipation Patents (EP) and Certificates of Land Ownership Award (CLOAs) from the Department of Agrarian Reform (DAR) on March 12.
Zumarraga Mayor, Myrna Tan, handed the 24 land titles to the 18 agrarian reform beneficiaries (ARBs) in a simple ceremony at the town's Sangguniang Bayan Session Hall. She was assisted by Municipal Agrarian Reform Program Officer (MARPO) Evelinda Barbasa.
Barbasa disclosed that the EPs and CLOAs, distributed to the ARBs under the government's Comprehensive Agrarian Reform Program (CARP), covered a combined area of 22.8012 hectares of corn lands and coco lands situated in the Barangays of Tubigan, Canwarak, Maputi, and Pangdan.
She added that the EP-CLOA distribution was part of a weeklong celebration in commemoration of the town's 157th founding anniversary.