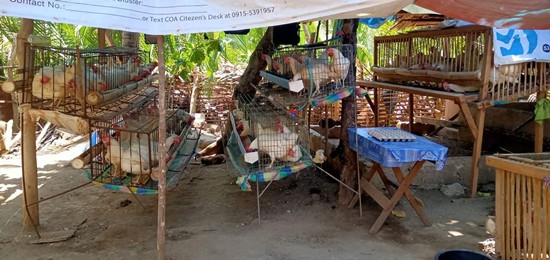 Some local buyers buy fresh eggs right at the farm of members of BSF Farm Workers and Beneficiaries Agrarian Reform Cooperative in Biliran, Biliran who are into egg-layering business. (Photo courtesy of Maryvic Cempron)
DAR-assisted farmer organizations continue to earn amidst quarantine
By JOSE ALSMITH L. SORIA
May 2, 2020
NAVAL, Biliran – A famous Filipino saying, "Kapag may itinanim, may aanihin," may perfectly apply to some members of agrarian reform beneficiaries organizations (ARBOs) who nurtured the various assistance extended to them by the government during the sunny days.
Regional Director Stephen Leonidas of the Department of Agrarian Reform (DAR) was elated to know that despite the implementation of the community quarantine as a precautionary measure to control the spread of the dreaded coronavirus disease 2019 (COVID-19), several members of the seven DAR-assisted farmer organizations in this province continue to earn income from the various livelihood assistance extended to them in the past by DAR and other government agencies.
Moreover, they contribute to food sustainability during this hard and trying times.
In a report submitted to him, disclosed that 31 members of the Anislagan Ceramic Agrarian Reform Cooperative (ACARCO) from this capital town, as well as 31 members of the BSF Farm Worker's and Beneficiaries Agrarian Reform Cooperative from the adjacent Biliran town, continue to supply fresh eggs in their respective communities.
These 62 ARBO members are into egg-layering business which they started when they became recipients of the Convergence of Livelihood Assistance for ARBs Project (CLAAP) late last year. CLAAP is a joint project of DAR and the Department of Social Welfare and Development (DSWD) which provides livelihood assistance to both ARB members of ARBOs and 4Ps beneficiaries.
In Kawayan town, 44 members of the Ungale Fish Vendors Association continue to earn income from dried fish processing. These 44 ARBO members were able to avail of financial assistance from the Land Bank of the Philippines thru the Agrarian Production Credit Program (APCP) in 2018, which they used as additional capital in sustaining their business.
In the municipality of Cabucgayan, the Balaquid Agrarian Reform Cooperative which is into rice production and trading, continues to supply milled-rice, contributing to the province's sufficient supply of staple food. This cooperative is a recipient of the foreign-assisted Agrarian Reform Infrastructure Support Project (ARISP).
In Caibiran town, the Nagkakaisang Magsasaka ng Caibiran (NaMaCa) Multi-Purpose Cooperative, sell pork from the swine production of the said ARBO.
Meanwhile, 34 ARB members of the Almeria Seafarers Multi-Purpose Cooperative, and nine ARB members of the Villa Rice Farmers Producers Association, both from Almeria town, continue supplying fruits, vegetables and poultry products to local buyers. The two farmer organizations are recipients of Linking Smallholder Farmers to the Markets with Microfinance (LinkSFarMM) program.
From the last week of March to mid-April this year, the above-mentioned ARBs/ARBOs earned a combined gross sale of P83,987.
According to Leonidas, some activities of these farmers can be sustained even amid the current situation for these are done only in their respective homes, in their front or backyards.
Further, as assistance for these farmers to have access in checkpoints while community quarantine is enforced, Leonidas disclosed that DAR had provided them with the agency-issued quarantine accreditation pass, which was authorized by the Inter-Agency Task Force for the Management of Emerging Infectious Disease (IATF-EID), for the continuous supply of farm products in town markets, food lanes, and other designated trading centers.