Villar wants separate budget allocation for bird flu
Press Release by
OSV/ PNS
November 18, 2005
MANILA, Philippines – Senator Manny Villar, Chairman of the Senate Committee on Finance, shares the alarm raised over the possible entry of the avian influenza virus or the so-called 'bird flu' into the Philippines, thus he aims to transfer some funds from the budget of the Department of Health (DoH) for bird flu preparation.
"No less than the World Health Organization (WHO) has expressed alarm over the fast increasing number of people in Asia who have been killed and infected by a strain of bird flu. And our Health Department also said that 'it's only a matter of time' before bird flu reaches our country. So there is a clear and urgent need to allocate funds for it," cites Villar, President of the Nacionalista Party.
Villar further cites, "We should not be caught off-guard about something that is deadly. We should take all necessary precautions. I subscribe to the belief that an ounce of prevention is better than a pound of cure. I would discuss with health officials how much is needed for bird flu preparation measures."
Members of the poultry industry have already estimated that around $20 million to $30 million would be needed to prepare for the possible entry or outbreak of the bird flu virus in the country. Among member-countries of the Association of Southeast Asian Nations or ASEAN, only three have so far remained not affected by bird flu. These are the Philippines, Brunei and Singapore.
"We are not being alarmists. It's better to be safe than sorry. We should ensure the protection of Filipinos from bird flu if and when it gets here. We will make sure that there is an allocation in the budget for it. Right now, under the proposed budget of DoH, there is nothing for bird flu," adds Villar.
Under the proposed P9.98-billion budget of DoH for next year, there are earmarked funds for the prevention and control of diseases such as malaria, tuberculosis and other infectious diseases, but nothing yet for bird flu.
"If there is a specified budget for the bird flu already, we can even seriously consider locally producing possible anti-bird flu drug or medications or perhaps subsidize its production. But first we need to allocate funds for bird flu preparation," says Villar.
Rep. Figueroa files 6 education-related bills for House appropriations
By RICKY J. BAUTISTA
November 17, 2005
CATBALOGAN, Samar – Representative Catalino V. Figueroa of the second district of Samar has submitted at least 6 education related bills that would benefited his constituents if appropriations or funding be approved by the House of Representatives, it was learned today.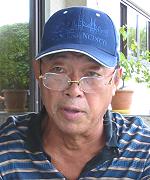 Congressman Figueroa
These bills, he said, which focused on the establishments or conversion of the national high schools as well as that of repairs and or renovation of several school infrastructures have already passed last week on the "scrutiny" of the House members, particularly the Committee on Basic education and Culture.
According to Rep. Figueroa, the bills which he submitted earlier have been referred now to the House Committee on Appropriation for its "approval."
"(The) establishment of schools and renovations need corresponding budgets as specified in my bills, hence, the need for the approval (of the latter committee)," Figueroa said in vernacular.
Rep. Figueroa, who was a vice-chairman of the House Committee on Appropriation, assured that his bills will also pass the "deliberations" of his own committee to realize the respective intentions of said bills in Samar second district.
It was learned that Rep. Figueroa, having been a former teacher and an advocate of the good education for the youth, has given priority (among other priority projects) to such bills that will give the youths equal share of quality and efficient educational services.
To recall, Figueroa has made representations in the Department of Education (DepEd) for a balanced and additional allocation for the district's schools. Earlier, his constituents in his district hailed him when he distributed a number of computers to almost all schools here.
"I believe in the cliché that the youth is the future and hope of our nation that is why I give importance to good education as a tool in sealing the good fate of our country for the generations to come," the solon stressed.
Meanwhile, the house bills that have already passed the Committee on Appropriations and their respective committee reports are now being readied for the second and third readings in the plenary are the following:
House Bill 2503 (Conversion of the Osmeña National High School into Osmeña Agro-Industrial High School in Marabut), House Bill 2506 (Conversion of the Calapi National High School into Calapi National Agricultural High School in Motiong), House Bill 3151 (Establishment of the Catbalogan National Comprehensive High School), House Bill 3153 (Conversion of the Magdawat Primary School into Magdawat Elementary School in Pinabacdao), House Bill 3211 (Establishment of the Silanga National High School in Catbalogan), and House Bill 3406 (Establishment of the Zumarraga National High School).
"As representative of the second district of Samar, I will work very hard so that my local house bills, particularly those regarding education, will be approved for the benefit of our people," the solon disclosed.
E-VAT: Devastating for growing number of hungry farmers - SAGUPA
Press Release by
SAGUPA –SB
November 16, 2005
TACLOBAN CITY, Leyte – Our country is once again facing another miserable plight of economic sabotage which contributes to more people wallowing in poverty. The implementation of Expanded-Value Added Tax (E-VAT) defies man-made rules and human dignity since it hits most the poor herds of masses.
The Supreme Court has finally ended the temporary restraining order (TRO) of the Expanded-Value Added Tax Law of 2005 (E-VAT Law) last October 18, 2005 paving the way for its effectivity since November 1, 2005. Pres. Gloria Macapagal-Arroyo claimed that E-VAT is a progressive tax since this will create more jobs and its implementation will help in the government's budget deficit and will outdo our debt crisis.
However, the militant peasant group, Samahan han Gudti nga Parag- uma ha Sinirangan Bisayas (SAGUPA- SB) thinks otherwise. "The implementation of additional tax measure will affect more the end consumers especially the poor and the marginalized peasants. They are the most affected and the most beaten sector and they already have been in the tar pits of poverty. The EVAT will further aggravate economic dislocation due to budget deficits. Their weeping in budget shortfalls is bottomed at bearing the brunt of high cost of production and farm inputs with the plummeting of agricultural outputs and depressing farmgate prices. Their average daily income is just pegged at about P23.80 which is impossible for them to obtain a decent human living compared to the daily cost of living for a family of six which is at P594.00 (NSO). It is absurdity and just adding fuel to the fire to implement the E-VAT", lamented Lito R. Gacusana, Secretary General of SAGUPA-SB.
According to IBON Foundation, Inc., EVAT is expected to result in higher prices, since it lifts VAT exemptions on a wide variety of products and services, including oil, power, coal and natural gas, domestic air and transport services and medical and legal services. There will be 10% VAT for oil and energy sectors including the air and sea transports. The price of petroleum gas will increase up to P40.00/liter, P35.50/liter for unleaded gasoline and P32.85/liter for crude oil. This means that there is significant increase of P2.85/liter of ordinary gasoline, P3.40/liter of unleaded and P0.90/kilo of liquefied petroleum gas (LPG). Similarly, the Consumer and Oil Price Watch said that upon implementation of E-VAT, there will be 8%-12% price increase in basic commodities and social services. The constant price hikes are due to the transport cost in which the burden of the regressive tax will be charged upon consumers regardless of income and the capacity to pay taxes.
"E-VAT will also increase records of corruption and abuse among government officials. For the time being, this will also result to crisis in energy and economic bankruptcy especially to the small business enterprise and among other sectors since it will eventually result to passing on to them the burden of the transportation costs. A wave of unabated upsurge of prices of basic commodities and worsening social services will be more felt. The burden of taxation will even more contribute to our endless sufferings and coming out of the mire of poverty will be impossible to realize. We fall short of decent living income as we face recent fiscal crisis", Gacusana said.
Based on the data of National Tax Center, P41.6 B per year has not been collected under VAT by which the efficiency rate of the Philippines in tax collection has only reached 38%, below par compared to other Asian countries. In addition, the estimated collection amounting to P82 B per year is expected to be used for the government's heavy debt servicing estimated at P3.93 trillion as of July 2005. This means that for every P100 budget, P33.20 is allotted to paying heavy public debts. Part of it end up at the government's coffers and Mrs. Arroyo was the one who has been allegedly plundered and used the money in rigging 2004 election polls.
"The myriads of homeless Filipino families can be seen in street corners and in potential spaces where they can have their bodies rested. Some of them even missed meals and nothing to fill in their empty stomachs. There is that outpouring of millions of unemployed Filipinos, deluge of domestic workers and the escalation of flesh trades. These seem to be the grievous signs of poverty in which 80% are living below the poverty line. The poor will become poorer and the weak will become weaker. After long arduous years of under development, our economy is still struggling and unfortunately will remain as it is. Poverty becomes worst. It is more impossible for these people to trek back to a typical way of life. And we are not afraid to speak out our minds. Nor are we afraid to reason out and to fight injustices and condemn anti-people policies of this decadent and corruption-ridden government!", ended Gacusana.
SAGUPA-SB strongly opposes the lifting of Logging Moratorium in Samar island
Press Release by
SAGUPA-SB
November 7, 2005
TACLOBAN CITY - DENR Secretary Michael Defensor has issued an order dated August 15, 2005, lifting the moratorium order of the Timber License Agreement (TLA) of San Jose Timber Corporation thereby allowing it to operate and resume logging activities in Samar island particularly in the municipalities of Las Navas, Paranas, San Jose de Buan, Maslog and Jipapad. Samahan han Gudti nga Parag-uma ha Sinirangan Bisayas (SAGUPA-SB) politically dissents the lifting of the moratorium order.
As per records, San Jose Timber Corporations (SJTC) was issued the logging concession TLA No. 118 covering 95,770 hectares in 1972 which was set to expire on June 30, 2007 but was extended for another 16 years to account for the period of the moratorium. Prior to this, former DENR Secretary Fulgencio Factoran Jr. has issued a moratorium order dated February 8, 1989 which cited that there is a need to re-assess and evaluate the existing forest resources and the rate of forest denudation. A comprehensive study is necessary to conduct extensive biophysical studies on the remaining forests and sustainable rate of forest extraction. And now, the SJTC wants to take back their longed cravings as for another wave of virtual turmoil to Samareños.
Based on the valuation made by the Samar Island Biodiversity Study (SAMBIO), it is estimated that Samar's resources is valued at US$43.5 billion in 25 years with a net present value of US$12.45 billion, of which a large part is included in SJTC's logging scope. About 90% of the upland residents are generally dependent on its forest and biodiversity resources for their daily sustenance. It is in this regard that Samareños have constantly voiced their opposition towards any threat to their life support systems.
"We strongly denounce the resumption of the logging operation of SJTC because this will affect both upland and lowland peasant communities which solely depend their survival on forest resources. In this truly impoverished region, the destruction of forest resources and the unabated logging operations would only add insult to injury. Majority of the populace are peasants, suffering from the century- old problems of landlessness, usury, depressed prices of farm produce, high cost of production, among others. Resources provided by the forests not to mention the bounty of water sources provided by our trees are the only life- support system that we have. Our fertile plains are irrigated by the waters provided by our forests; non- timber forest resources like rubber, rattan, orchids, etcetera provide additional livelihood sources. Taking it all away would mean death for the Samareños", commented Lito R. Gacusana, Secretary General of Samahan han Gudti nga Parag-uma ha Sinirangan Bisayas (SAGUPA-SB).
"Besides, aside from fearing the loss of our livelihood support- systems and sources, we fear the escalation once again of human rights violations. What is the ultimate intention behind the strategically posting of the Reengineered Special Operation Team (RSOT) in several towns covered by the logging operation like Las Navas, Maslog and Paranas areas where there is intensified combat operations? It is clearly shown that escalating militarization all the more pave the way to provide greater access to conduct massive and large-scale logging activities in the area. We have a history of resistance met by force and some of the bruises and wounds we sustained in the wave of killings and abductions in Samar are reminiscent of the state's outright use of violence to curb dissent and opposition to issues like logging," added Gacusana.
According to the reports gathered by SAGUPA-SB, the decline of the country's forestland and its resources has drastically reached its crucial stage. This is due to the widespread legitimization of unabated logging activities and massive forest extraction. These silently but apparently crept in to its own pace which eventually contributed to the rapacious destruction of forest as the primary causes of the countless catastrophic floods and landslides which are consummated in the deaths and substantial loss of human lives and properties.
Paranas residents rally against communism
By Cpt. CROMWELL I. DANGANAN, (INF) PA
November 3, 2005
CAMP LUKBAN, Catbalogan, Samar – After decades of fear, threats, and manipulation by the CPP/NPA/NDF, more or less 2,000 residents of Paranas, Samar enthusiastically supported the government's peace efforts and held a Peace Rally denouncing communism in the locality.
The rally is the culminating event of a Three-Day Peace and Development Forum which started last October 28, 2005 in Paranas, Samar which was attended by barangay chairmen, barangay kagawads, barangay treasurer/secretary, Tanod chiefs, BHW, SK officials, Civilian Volunteers Organization (CVO) Presidents and rebel returnees (RRs) of the said municipality. Its objective is to unite the people and make them realize that the problem of insurgency is everybody's concern. This is a result of the people's resolve that genuine peace is needed to achieve economic development.
The participants have undergone series of lectures like values formation, benefits of RRs, history of communism, ills of communism and other related topics to better understand the intricacies of insurgency. Workshop on Barangay Development Plan as well as Barangay Defense System highlighted the said seminar. Resource speakers from DOLE, DSWD, DILG, BIR and the Paranas Municipal treasurer also imparted services of their respective shops as well as the duties and responsibilities of every citizen.
Housing and logistics were jointly provided by LGU-Paranas, concerned citizens and organizations and the Philippine Army.
The Peace Rally was followed by the Induction of Officers of Alliance of Concerned Students Against Terrorism (ACSAT) and Bantay Bayan (BB) of Paranas, Samar on the nightcap graced by BGen Roberto C. Ver, Commanding General of the 801st Infantry Division, Philippines Army, the Guest of Honor and Speaker. It signified the stronger ties between the government and the local populace in its fight against the terrorism of the CPP/NPA/NDF.
In this message, Gen. Ver lauded the officers of the two organizations for having the courage to unite and help the government eliminate the insurgency problem in the area. He encouraged the agencies present particularly Mayor Elvira Babalcon of Paranas, Samar to support the programs of the two organizations as it will open opportunities for the development of the entire community.
Inducted were officers of ACSAT (Wright NHS Chapter, SSU-PC Chapter, Casandig NHS Cahpater, Lawaan NHS Chapter and Paranas Chapter) and Paranasnon Laban sa Kriminalidad at Terorismo (PALAKAT), a Bantay Bayan of Paranas, Samar Chapter which were inducted by Vice Mayor Leovigildo Dasig, Mayor Elvira Babalcon and BGen Roberto C. Ver, respectively.
Others who attended were provincial and local officials, media personalities, local populace and military officials.
AHRC held discussions on torture in Manila
By RAY P. GASPAY
November 1, 2005
CATBALOGAN, Samar - A small group of human rights defenders in the country discussed torture in a 3-day workshop from October 26-28, 2005 held at the UCCP Shalom Center in Manila.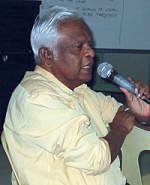 Basil Fernando
Basil Fernando, executive director of the Asian Human Rights Commission (AHRC), a Hong Kong-based regional human rights organization, was in Manila together with his staff and meet representatives from various human rights NGOs in the country for the 3-day discussion on the human rights violation situation particularly torture in the country.
Unknowingly, torture in the country mostly committed by the agents of the government is widespread according to reports by the human rights groups. The Task Force Detainees of the Philippines (TFDP) reported that in the Arroyo Administration 95 cases of torture involving 201 torture victims were documented by their office from January 2001 to August 2005 throughout the country, the Philippine Army being the highest perpetrator. Of these, 123 victims of torture were recorded in Mindanao, 50 victims in Luzon and 28 in the Visayas.
In Eastern Visayas, the Promotion of Church People's Response (PCPR-EV) reported that 31 cases of torture involving 32 individuals allegedly perpetrated by the military were documented by their group from February 10, 2005 to August 4, 2005, the time when MajGen. Jovito Palparan was Commanding General of the 8th Infantry Division, Philippine Army in Eastern Visayas.
The AHRC in its concept paper stated that "the Philippine government prohibits the use of torture as stipulated in the 1987 constitution. It is also a state party to the Convention against Torture and Other Cruel, Inhuman or Degrading Treatment or Punishment (CAT), but the government's failure to criminalize the practice of torture has virtually shielded the police, military and other public officials from prosecution for ordering or torturing others, thus creating an environment of impunity. Although the government's law enforcement agencies have denied the practice of torture by their ranks, reality in the country suggests otherwise."
The workshop seek to criminalize torture in the country.
"There is no law yet against torture in the Philippines. Torture can result to corruption, impunity and a collapse of the rule of law thus should be urgently addressed" stressed AHRC executive director Basil Fernando.
"Actually, the bill against torture was first filed in congress since the 8th Congress and every Congress thereafter, but unfortunately not a single bill was passed into law," says AKBAYAN Representative Mario Joyo Aguja. "We are now in the 13th Congress and the present administration is still reluctant in passing anti-torture bill into law," Aguja added.
House Bill 4307 known as "Anti-Torture Act of 2005" introduced by AKBAYAN! party-list representatives Loretta Rosales, Mario Joyo Aguja and Ana Theresia Hontiveros-Baraquel filed on May 11, 2005 is still pending with the Committee on Justice in congress.
Senate Bill 350 entitled An Act Penalizing the Commission of Acts of Torture and for Other Purposes introduced by Senator Serge Osmeña filed on June 30, 2004 is also pending in the Committee on Justice and Human Rights in the Senate.
Another anti-torture bill, Senate Bill 2099 entitled An Act Penalizing the Commission of Acts of Torture and Other Cruel, Inhuman and Degrading Treatment or Punishments, and Providing for a Rehabilitation Program for Victims introduced by Senator Miriam Defensor-Santiago filed on August 24, 2005 has also been referred and pending in the Committee on Justice and Human Rights in the Senate.
"One argument put forward by some law enforcement agencies and public officials regarding their concern if torture is criminalized, is that the police and military and other investigating agencies will have difficulty investigating cases. Forced confessions obtained from suspects through the use of torture, instead of investigations with the aid of scientific methods of gathering evidence, remain the usual practice by law enforcers. The law enforcement agency's inability and lack of skills to perform an effective investigation is the major factor that has led them to employ torture as a so-called means of investigation," the AHRC document further said.