Samareños to oppose Enrile-owned logging firm operations in Samar
By RICKY J. BAUTISTA
October 30, 2005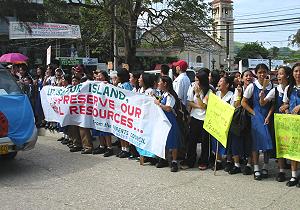 CATBALOGAN, Samar – The government must again brace for another series of street demonstrations here. This time, they were stanch to protect their threatened native land against giant logging firm.
Days after the government lifted the logging ban in Samar, a consortium of several non-government organizations, people's organizations, academe, church groups, and anti-mining and logging advocates, converged themselves again and mapped out plans to oppose this decision of the government.
"We do not want to experience the tragedy occurred in Ormoc City, in Aurora Quezon, and here in Samar province to happen here again," Fr. Cesar Aculan, island-wide president of the Samar Island Biodiversity Foundation said.
On December 1, Aculan said, they were planning to stage a "historic" repeat of the island wide caravan where thousands of protesters converged in every strategic point and drummed up their strong opposition against mining and logging some years ago.
This move was finely honed after knowing that San Jose Timber Corporation has appealed to the government to allow them to resume their logging "business" in this battled island of Samar, and was granted.
Secretary Michael T. Defensor of the Department of Environment and Natural Resources (DENR) favorably acted on the letter dated July 11, 2005 of the said logging firm, owned by Senator Juan Ponce Enrile, 34 days later.
"San Jose Timber Corporation is hereby allowed to pursue its rights and activities under its TLA (Timber License Agreement) No. 118 until June 30, 2007, with an extension of the period of said TLA equivalent to the time that elapsed from May 31, 1989 until promulgation of this order," Secretary Defensor said in his 11-page decision dated August 15, this year.
The TLA allowed the logging firm 25 years, starting 1967, to operate and log within the 95, 770 hectares of timber concessions in the island. This license was later on renewed in 1982 and set to expire on June 30, 2007, it was learned.
However, when flashfloods occurred in the island in 1989, killing hundreds of residents in at least nine municipalities, leaving most of the areas like a "no man's land," the TLA was suspended and Samar Island was declared by the previous presidents a "Forest Reserve."
Considering that incident experienced by the Samareños, Regional Development Council and Coalition of Samar-Leyte Organizations' reports on unabated illegal logging, the DENR ruled a need to "re-assess and evaluate" the existing forest resources and the rate of forest denudation in the island of Samar.
"In the meantime that the study is on-going, all logging operations are hereby suspended, including the movement of logs, lumber and other wood products," former DENR Secretary Fulgencio Factoran Jr., said in a memorandum order issued in May 1989.
In 1989, the Philippine Wood Products Association (PWPA), an association composed of logging operators in the island submitted their position paper requesting the lifting of the "log ban," but this was not acted upon.
Since 1989 until 2004, these logging firms continuously wrote previous DENR Secretaries Antonio Cerilles, Heherson Alvarez, Elisea Gozun reiterating their request for the lifting of the MO but they were denied especially now that "almost all of the whole licensed area has become part" of the country's largest Samar Island Natural Park (SINP) under Proclamation No. 442 dated August 13, 2003."
Last August 15, DENR Secretary Defensor gave in to the request allowing the SJTC to log until 2007, and even granted 16 years more as replacement of the period that the TLA was suspended.
"This office notes that there is no question on the TLA's validity and existence. The issue posed here is the legality of its prolonged suspension due to facts and circumstances arising after the MO had lapsed (on May 30, 1989)," Defensor in his order said.
The argument used as basis of the former DENR Secretary in suspending the TLA is the Proclamation No. 744 (Samar Island Forest Reserve) of Fidel Ramos and PGMA's Proclamation No. 442 declaring the Samar Island Natural Park had apparently affected the rights of SJTC under the LTA No. 118. However, "this office observes that a closer reading of the pertinent provisions of the relevant proclamations reveal otherwise… it is (both) subject to existing recognized claims and private rights (of SJTC)," the DENR chief argued.
"The (proclamations) do not furnish any basis to preclude SJTC from exercising its rights under after the lapse of the MO… because the SIFR and SINP were established under law without prejudice to private rights," Defensor ruled.
Tragic death by fire in detention center at Amsterdam airport
Press Release by
Platform of Filipino Migrant Organisations in Europe
October 30, 2005
AMSTERDAM - The Platform of Filipino Migrant Organisations in Europe (Platform-Europe) expresses condolence to the families of the detainees who died or were injured in the disastrous fire at the Detention Center at Schipol Airport, Amsterdam during the early hours of Thursday, October 27. Eleven detainees died in the blaze but until now their identities and nationalities have not been made public. Fifteen detainees have been hospitalised as a result of injuries.
The fire started in the Prison Center at Schipol where 350 prisoners are detained prior to deportation from the Netherlands. One detainee at the centre told Dutch radio that guards had initially ignored their warnings of a fire and their banging on the cell doors. "We remained locked inside. We were shouting at the top of our voices until we were hoarse," he said.
The BBC News reported that "forty-three people were said to be in the wing that caught fire, where two dozen cells held up to two people each and where cell doors could only be opened manually, one at a time".
This detention center has been under criticism for detaining in the same prison both undocumented migrants and refugees as well as those suspected of drug smuggling. Migrant and refugee, as well as human rights organisations have raised criticism on detention conditions at the Center. The Dutch National Refugee Council has particularly criticised the lack of an automatic system to open cell doors.
Survivors are now being removed from Schipol to other detention Centers within the Netherlands.
UNITED for Intercultural Action, the pan-European network of more than 560 anti-racist and refugee organisations has commented that "these tragic deaths are to be accounted together with the other victims of Europe's inhuman immigration policies. Detention of refugees and asylum seekers is now an alarming issue throughout Europe. More and more deaths occur as a consequence of inhuman detention conditions". UNITED has documented 6,300 deaths of migrants and refugees since 1993 - deaths which are related to border militarisation, asylum laws, detention policies, deportations and carrier sanctions.
The Platform of Filipino Migrant Organisations in Europe joins with Migrant and refugee organisations, Prisoners rights groups, Parliamentarians, and others who are calling for an independent inquiry into the cause of the fire and the conditions at the Prison Center which has led to these tragic deaths.
Conservation groups decries order lifting logging moratorium in Samar
By RICKY J. BAUTISTA
October 24, 2005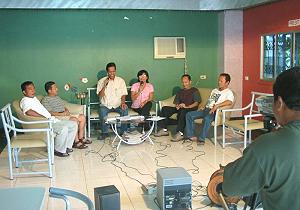 A group of NGO's discussed possible ill effect of logging in the island of Samar during a televised KAPEHAN HA LOGAN'S media forum organized by the Catbalogan Cable TV Media Advocates Nucleus (CCATMAN)
CATBALOGAN, Samar – Alarmed with the possible comeback of the flashfloods that killed hundreds of Samar Island residents 16 years ago, a conservation groups here and allies in the metropolis decried the decision of the government lifting a logging moratorium in this island.
Acting on the appeal of a logging firm owned by Senator Juan Ponce Enrile, Secretary Michael T. Defensor of the Department of Environment and Natural Resources issued a memorandum order allowing the logging resumption of the San Jose Timber Corporation (SJTC), which operations was halted due to "killer flashfloods" occurred in the island in 1989.
In January 1989, the towns of Catubig, Las Navas (Northern Samar), Gandara, San Jorge (Western Samar), Dolores, Oras, Can-avid, Jipapad and Maslog (Eastern Samar) were inundated by massive flash floods believed to have been caused by rampant logging operations.
In that same year, Fr. Cesar Aculan, island-wide president of the Samar Island Biodiversity Foundation said the Samarnons converged themselves and held series of street protests and undergone "legal battles" seeking for a total stop to logging operations in the island.
Thus, a logging moratorium was declared by then president Corazon Aquino, which was later on strengthened by the Presidential Proclamation No. 744 of the succeeding president Fidel Ramos declaring the Samar's "remaining" forests as Forest Reserve.
Last August 2003, it was learned, President Gloria Macapagal Arroyo also issued another Presidential Proclamation No. 442, declaring the same forests as the Samar Island Natural Park (SINP) which aims to preserve the country's largest contiguous lowland tropical rainforest.
With this new order (of lifting the logging moratorium to SJTC), "this blatantly disregards the declared policy of three past administrations, and opens the floodgates for the massive invasion of the SINP by logging operations (here)," Fr. Aculan said.
Based on the Timber Licensing Agreement (TLA) granted by the government to the San Jose Timber Corporation, this operations, if push through, will carves out some 90,000 hectares inside the country's largest national park, it was learned.
"(And), this is a horrible threat to our lives, limbs and our livelihoods," Fr. Aculan said.
Meanwhile, the Samar Island Council for Sustainable Development (SICSD) who had been continuously advocating a "no mining" campaign in the island, has expressed their apprehension that this order might create a precedent for other TLA holders, whose coverage includes large chunks of the national park, to follow suit.
If this will happen, "we will now be gripped with fear of flashfloods whenever we have heavy rains," Don Mabulay, spokesperson of SICSD told in a media forum. He said that since Samar Island has the highest rainfall in the country, this lifting of the moratorium looms as a series of acts of terrorism to be inflicted on tens of thousands of Samarnons, especially those in the affected municipalities.
To counter these threats, Aculan and Mabulay said they were planning a historic "repeat" of last year's island-wide caravan this coming December 1 which will be participated in by at least 20,000 Samar Island residents.
Their Metro Manila-based allies such as the Haribon Foundation, Tanggol Kalikasan, Foundation for Philippine Environment, Alyansa Tigil Mina, Philippine Tropical Forest Council, Conservation International, CBCP national secretariat for social action, and other conservation groups in the metropolis and in abroad were also planning to "work hard" for this endeavor, it was learned. (read related article)
Rep. Figueroa warns government on Piatco "buy-out" arrangement
By RICKY J. BAUTISTA
October 24, 2005
CATBALOGAN, Samar – A high-ranking administration lawmaker said he has warned the Arroyo government not to sanction any offer to "buy-out" the interests of Piatco in the Ninoy International Airport (NAIA) Terminal 3.
Speaking before local reporters here on Saturday, Rep. Catalino "Cata" V. Figueroa of Samar's 2nd district said that since Piatco's contract has been declared "null and void" by the Supreme Court for its numerous and substantial post-award amendments, a buy-out arrangement would be highly "irregular and prejudicial" to the interest of the government.
"Itong buy-out issue na ito ay magiging tantamount yan to bailing out Piatco from criminal liabilities that may arise from its gross violation of the Build-Operate-Transfer (BOT) scheme," Rep. Figueroa stressed.
According to the Samar solon, "it appears (now) that Piatco has not been even-handed and forthright in its dealings with its principal foreign partner, Fraport of Germany, and the government (itself)."
The solon, who is a vice-chairman of the House Committee on Appropriations and Committee on Ways and Means, further recommended the prosecution of the owners and investors of Piatco for alleged violation of an anti-graft law and the forfeiture of whatever interests the owners of Piatco still have in the project.
"They (Piatco) secured the highly questionable amendments through outright bribery and shameless blandishments," he said.
The solon recalled that during the recent House of Representatives investigation on the Piatco deal, "it was ascertained that Piatco, drawing funds from its German partner, has bribed high government officials to accept amendments to the BOT contract which practically made the government solely responsible for the payment of loans, debt instruments and losses," he said.
He said the existing contract makes the government not merely a "guarantor" but actually a "debtor" liable to pay these obligations if Piatco defaults in its payments.
Meanwhile, a controversial business icon Lucio Tan, the original proponent of the NAIA Terminal 3, filed on October 9, a petition for mandamus and injunction before the Supreme Court to stop the government from allowing Piatco to sell the interests in the project.
Tan, who acquired control of Asia Emerging Dragon Corporation (AEDC), is claiming the right to operate the mothballed airport.
Figueroa commented that whatever may be the outcome of the Tan's petition and the cases involving Piatco and the government, "the interest of the government and the Filipino people should be, at all times, defended and upheld."
Pinoys in Europe to be lured to save, finance local economic dev't
By Economic Resource Center for Overseas Filipinos (ERCOF)
October 23, 2005
SOME of the 30,000 Filipinos in Luxembourg, Belgium, Switzerland and the Netherlands will hear for the first time alternatives to where their remittances can impact significantly their families and communities of origin.
These alternatives will be discussed in forums to be organized by the Economic Resource Center for Overseas Filipinos (ERCOF) from November 3 to 13. The forums will be held in cooperation with the Philippine embassies and consulates, as well as the Filipino organizations in the four countries and will all have resource persons from the Philippines.
ERCOF president Ildefonso Bagasao hopes that overseas Filipinos and their groups in the Netherlands will put part of their savings in microfinance and local government unit (LGU) bond instruments that rural financial institutions in the Philippines are offering to them.
Bagasao revealed that 11 Filipinos in The Netherlands and five others in Luxembourg have already locked in five-year time deposits to two microfinance rural banks – Xavier-Punla and Xavier-Tibud in Mindanao - totaling €9,510 (or PhP637,710 if €1 equals PhP67).
The deposits, made between April 2004 to June 2005, have an annual yield of 8.5 interest and are secured by the Philippine Deposit Insurance Corporation. These deposits, Bagasao added, may already have resulted "in generating about 120 new micro-enterprises as they become part of the portfolio of the Xavier-Punla and Xavier-Tibud rural banks for these to re-lend to poor but enterprising citizens".
Bagasao said organizations of overseas Filipinos can also buy local government unit (LGU) bonds floated by Filipino towns and cities. Some 20 LGU bonds, mostly in rural towns, are in the pipeline, with the minimum for a bond to be floated at PhP50 million (€743.162,90).
Bagasao added that buying these bonds will not only give them higher yields, but will also provide direct benefits to their towns of origin. Ercof is advocating with the LGU units and their financial advisers that there be participatory decision making even at the stage of project identification, so that a big block of overseas Filipinos interested to participate would be in a strong position to determine which projects should be funded.
But the forums will especially emphasize financial literacy and cultivating the culture of savings since the Philippines has one of the lowest savings rate in the Asian region. The same also with entrepreneurship since only a percent of the entire Philippine population have entrepreneurial skills, according to the Department of Trade and Industry (DTI).
"The problem is that overseas Filipinos are all absent from the Philippines, and have little or no control over circumstances concerning the money they remit to families back home. This is where ERCOF helps them make informed decisions," Bagasao added.
Oxfam Netherlands, a Dutch non-government organization that funds projects in less-developed countries, is supporting the conduct of ERCOF's forums.
Some 8.1 million Filipinos work and reside in 193 countries, as indicated by government data. Remittances averaging more than USD$8 billion annually benefit more than a million Filipino households while these shore up foreign exchange reserves of the country.
Filipino associations overseas, mostly from North America, Australia and Europe, have also donated in the last 14 years some Php1.5 billion to fund scholarships, school buildings, medical missions and health-related equipment in needy areas.
Estimates showed there are 15,431 Filipinos in the Netherlands, 14,647 in Switzerland, 12,600 in Belgium, and some 700 in Luxembourg. These Filipinos are service workers, professionals and employees of the United Nations, spouses of European nationals, and also undocumented migrants.
The seeds of the ERCOF vision were initially sown in a forum in the Netherlands in 1999, and had evolved into its present mission of harnessing migrants' remittances to develop their Filipino towns of origin.
61st Leyte Gulf Landing commemoration criticized
By RICKY J. BAUTISTA
October 21, 2005
Sponsor
TACLOBAN CITY - The actions of yesterdays commemoration of the historic 61st Leyte Gulf Landing in MacArthur Landing Memorial National Park in Palo, Leyte was not, after all, a successful activity.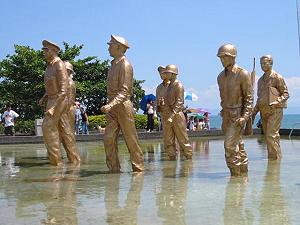 The larger-than-life statues of the liberators led by Gen. Douglas MacArthur at the Leyte Landing Memorial Park.
This, if opinion and accounts of the Communist' political wing, the National Democratic Front Eastern Visayas is to be considered, this is just a "waste of public funds and a historical sham."
NDF-EV spokesperson Fr. Santiago Salas said in a statement yesterday sent to various media outlets that the commemoration of the historic landing of Gen. MacArthur in the soil of Leyte province is "one of those useless public ceremonies that are irrelevant to the people."
Fr. Salas said the only ones who actually rave for it are the high-ranking local and national officials, and not the common people who are hard up in this time of crisis.
"(These officials) display their bureaucratic pompousness (spending) the public funds (in a wrong way), and in honor of the colonial master in history," Fr. Salas said.
Earlier, Leyte Governor Jericho "Icot" Petilla explained to Capitol-beat reporters that this years' affair is not just an ordinary commemoration, but more on historical "reminiscence."
Petilla, who chairs the Leyte Gulf Landing Executive Committee, said this was in fact done in a very "simple way but memorable one" occasion, as planned.
"As you can see, there was no re-enactment in yesterday's commemoration, because if we do that, we rub out in the minds of the observers the real message why we annually commemorated this day," the Leyte Governor said.
Remarking on the issue that this is just a waste of public funds, Petilla assured the Leytenos that it is "actually not," saying that measures had been followed to minimize the expenses of this year's celebration.
Meanwhile, according to the NDF statement, the October 20 Leyte Landing annual ceremony (only) remembers (us) the return of the US armed forces during World War II to the then Japanese-occupied Philippines in 1944 to retake their colony.
The US went on to regain control over the whole country once more, before granting nominal independence in 1946 while remaining effectively in charge through political, economic, military and cultural ties.
"The real heroes of that time were (Filipinos) who rejected domination by any foreign power and asserted national freedom and democracy. Thus the Leyte Landing is a historical sham, when the return of US imperialism never brought us liberty and prosperity but the prolongation of misery," the rebel priest said.
"We in the NDF-EV believe in the people, in their patriotism and capacity to shape their own history. When the people are aroused, organized and mobilized, they can carry out social transformation through their armed struggle and mass movement," Fr. Salas said.