SAGUPA-SB: Black propaganda cannot stop us
Press Release
By SAGUPA-SB
April 1, 2006
TACLOBAN CITY, Leyte – A certain Samar Anti-Communist Movement (SACM) recently posted appalling materials regarding SAGUPA-SB's connivance with the Communist Party of the Philippines/New Peoples Army in deceiving the people of the region. Posters bearing "CPP/NPA/NDF... SAGUPA-SB Magkaurusa Panguwat han Katawhan" were dispatched all over downtown area, including the market area and the university belt.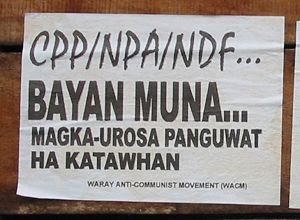 This similar posters are also common in Catbalogan, Samar.
"We strongly denounce this kind of accusation. The people, specially the poor peasants have known us in our quest for genuine land reform, minimizing usury, bargaining for higher prices of farm produce, documenting of cases of human rights violations, among others", said Ms. Diana Ragub, Campaign and Advocacy Officer of Samahan han Gudti nga Parag-uma ha Sinirangan Bisayas (SAGUPA-SB).
Samahan han Gudti nga Parag-uma ha Sinirangan Bisayas is a duly registered organization under the Securities and Exchange Commission (SEC). For sixteen unwavering years, SAGUPA-SB is the broadest alliance of poor peasants in Eastern Visayas bearing its vision of having a society where there is genuine justice, democracy and freedom from feudal bondage and foreign intervention. Its mission is to promote and struggle for a genuine land reform based on the principle of "land to the tillers", to establish a genuine pro-peasant development program towards a free and flourishing society, promotes sustainable agriculture and upholds the democratic rights of the peasants. Peasants through SAGUPA-SB continue to strive to resolve and confront issues that adversely affect them like landlessness, usury, human rights violations, environmental degradation and plunder of the natural resources, violence against women, and many others. Its organizing work is geared towards the empowerment of the poor peasants in the region.
"Can we say that catering to the needs of these poor peasants is a form of deception? Is it deception to speak of the truth that the farmers are poor and must gear up towards their emancipation from feudal bondage?" Ragub said.
Ragub stressed that these moves are a trademark of military and paramilitary groups.
"They are the only people who have the motive to pin such accusation against us. We believe this is part of the conditioning scheme they are now plotting to instill into the minds of the people that our group is connected to the CPP-NPA-NDF and that ours deceives the people. Since they have failed to completely crush our organization despite their intensified drive to kill our leaders and members, they opt to discredit us by labeling us such," said Ragub.
"This is still part of their Oplan Gold Rust which envisions to demolish the credibility of people's organizations by instilling baseless accusations and production of propaganda materials meant for such purpose. How much have been taken away from the people's coffers when they risographed these posters?" said Ragub.
She stressed that they will not be cowed by such attempts to destroy SAGUPA's credibility. She said they will strengthen their organizing and delivery of services, especially now that economic hardships are putting much pressure upon farmers.
She also stressed that their credibility and integrity has never been questioned by the very farmers they serve and by their partners.
"Our partners, some of which are the United Nations Development Program (UNDP) and Asian Development Bank (ADB), have never given us such remark. Even church groups, which have worked in solidarity with us have never claimed that we have deceived them. We will not stop our services. In fact, our latest endeavor is for the victims of the killer mudslide in Brgy. Guinsaugon, St. Bernard, Southern Leyte. We are working hand-in-hand with the Asian Development Bank and the InfRES Project for the rehabilitation of the devastated areas," Ragub ended.
Tanauan wood-pusher top Regional Chess tourney
By ROGER N. TILANA, KIMRO
March 31, 2006
TACLOBAN CITY, Leyte – As part of the activities of the 100-day Fiesta Countdown to this year Tacloban City Fiesta, the 1st Mayor Bejo Eastern Visayas National Chess Championship 2006 was held in Kanhuraw Information and Media Relation Office Hall from March 28-30, 2006. This first ever region-wide qualifying or elimination phase chess tournament was initiated by the City Government through the City Physical Fitness and Sports Development Office. The 3-day tourney was open to all chess enthusiasts in Eastern Visayas.
The grand champion received the cash prize of Seven Thousand pesos (P7,000), Five Thousand pesos (P5,000) for the second prized and Two Thousand five hundred pesos (P2,500) for the third prize winner. From the fourth to the tenth placer, each received a one thousand pesos (P1,000) consolation prize. The top ten players will be given a chance to play for the national round, which may also lead them to have an opportunity to play in this year's chess Olympiad in Italy this coming May.
City Mayor Alfredo "Bejo" Romualdez was truly glad and grateful that the City hosted this classic board game designed to promote development of a variety of intellectual abilities, thresh out the wizards in the field of chess, and eventually bring prestige and honor to the Eastern Visayas Region. In his message the mayor said "hopefully this worthy endeavor will encourage our people to be actively involved in such tournaments not only to test their logic and concentration but more on character building and personality enhancement."
Here is the final result of the 1st Mayor Bejo Eastern Visayas Chess Championship 2006, Regional Elimination:
Rank 1

-

Antonio Caya (Tanauan, Leyte)

2
-

Norman Jasper Montejo (Catbalogan, Samar)

3
-

Felix Corate (

Tacloban City)

4
-

Dr. Leo Lofranco (Catbalogan,

Samar)

5
-

Lyndon Dacuyan (

Tacloban City)

6
-

Melvin Merelos (Tacloban City)

7
-

Rolando Basas (Tacloban City)

8
-

Felomino Go (Palo, Leyte)

9
-

Julius Estardo (Tacloban City)

10
-

Carlos Paminiano (Burauen, Leyte)

11
-

Cirilo Garces (Maasin, Southern Leyte)

12
-

Michaelangelo Alcober (Tacloban City)

13
-

Armando Hidalgo (Tacloban City)

14
-

Alejandro Aseo (Tanauan, Leyte)
NPA group caught in surprise by 43IB operating troops
By Maj. MANGINTONONG A. TOCALO, (INF) PA
March 30, 2006
CAMP LUKBAN, Catbalogan, Samar – More or less fifteen (15) members of the NPA terrorist were surprised by the attack of the 43rd Infantry Battalion operating troops led by 2Lt. Joyner Z. Gascon at Sitio Kaslaan, Barangay Hindangan, Sogod, Southern Leyte at about 4:30 in the afternoon of March 23, 2006.
The Communist Terrorists (CT's) were in hiding having their rest and at the same time preparing for their dinner when the attack took place which resulted to a firefight that lasted for about seven (7) minutes. The CT's scampered to different directions and fled away leaving behind eight (8) M16 rifles, magazine with live ammunitions and voluminous subversive documents of high intelligence value.
There was no casualty in the government side, while there were undetermined number on the CT's as bloodstains were observed on the route of their withdrawal.
The troops are currently conducting hot pursuit operations to track down aforementioned CT's. Likewise, checkpoints in different areas had been established and hospital establishments in the area were being monitored for the possible treatment of CT's casualties.
Major General Bonifacio Ramos, the commander of 8th Infantry Division commended the troops for their gallantry in action, stealth movement and skillful maneuver that led to the recovery of the aforementioned high powered fire arms.
This action is a manifestation that the 8th infantry division in this part of the region is indeed worthy of emulation. Our soldiers once demonstrated their noble act risking their lives during the Guinsaugon, Saint Bernard rescue operations hoping to save ones life. But more so, the just successful combat operation of our soldiers speaks of their skills in combat as protector of our people.
Solon calls for alternative to "5-6" lending business
Press Release
By Alliance Of Volunteer Educators (AVE)
March 30, 2006
MANILA – A party-list representative on Wednesday said there is a need for the money-lending sector to come up with a one-stop shop for small-medium entrepreneurs to avert the further proliferation of the so-called "5-6" lending business.
AVE Rep. Eulogio "Amang" Magsaysay said the rising number of people engaged in money-lending in the country is a positive indicator that the so-called "underground economy" is thriving.
"We need to protect the interests of these small-scale entrepreneurs if we want to attain a robust economy," Magsaysay said.
Magsaysay was reacting to a special report by a major newspaper on foreign moneylenders preying on the vulnerability of these Filipino vendors out to secure loans from banks and other financial lending institutions to finance their businesses.
"These illegal money-lenders charge exorbitant interest rates, don't pay taxes to the government and violate trade rules. These money-lenders exist because there is a strong demand for them," Magsaysay said.
Magsaysay said most small-scale businesses in the country have been and are still being financed by these "5-6" money-lenders.
"Pumunta ka sa talipapa, ang puhunan ng mga nagtitinda ng baboy, manok, karne, bigas, gulay, ay inutang sa mga nagpapa 5-6. Bumili ka sa mga sari-sari store, ang puhunan dito ay galing din sa mga foreign money lenders na ito," Magsaysay said.
"Marami ang umuutang sa kanila dahil madali lang ang pag-utang. Notebook at ballpen lang ang kailangan," Magsaysay said.
But what these borrowers don't realize, Magsaysay said, is that in the end, they are the ones who go bankrupt while it is these modern-day "shylocks" who become financial giants.
Magsaysay said the number of foreign "shylocks" in the country has multiplied over the past years and their trade has become a million-peso industry.
"Ibig sabihin, malaki ang pera sa ganitong sistema. Our banks and lending institution could perhaps take a look at this and perhaps come up with viable loan requirements that will be easy for small-scale businessmen to comply with, requirements that can match the notebook and ballpen requirements of these illegal money-lenders" Magsaysay said.
34th Infantry Battalion captures NPA camp
By OSCAR A. LABRO
March 29, 2006
CATBALOGAN, Samar – The joint operations of the 34th Infantry (Reliable) Battalion and the Scout Rangers resulted in the capture of a CPP/NPA camp situated at the vicinity of Barangay Hagbay of San Jose de Buan and Barangay Bay-ang of San Jorge, Samar last March 16, 2006. The said CPP/NPA camp, according to the military officials, was being used as a mini-hospital where sick and wounded communist terrorists were being treated. The recovered camp is composed of twelve (12) makeshift huts, which included a kitchen used as a mess hall and a session hall that can accommodate more or less than thirty (30) communist terrorists.
An interview conducted with Col. Glorivine Dida, Battalion Commander of the 34th IB based in San Jorge, Samar, revealed that his men composed of two squads from the Charlie Company under Sgt. Cabudsan and Cpl. Red, together with two sections of scout ranger students under 1Lt. Celestino and 2Lt. Panes, encountered five (5) communist terrorists under an unknown leader in the same vicinity and engaged in a firefight that lasted for more that fifteen minutes. There were undetermined wounded CT's as evidenced by bloodstains along their route of withdrawal towards the north-east direction. Reports said that the terrorists were using full high-powered firearms. Recovered in the camp site were one (1) unit electric generator, voluminous subversive documents of high intelligence value, personal belongings, medical kits and assorted medicines.
As of this date, Col. Dida said that his troops are undergoing massive pursuit operations to locate and intercept the withdrawing terrorists. The battalion, under Col. Dida's command, will further intensify all their actions in order to protect the people and eventually defeat the rebel groups.
The capture of the said camp is a result of the recently held peace and development forum conducted in San Jose de Buan, which was a joint effort of the local government officials, other coordinating agencies and the military. The barangay folks have favorably responded to the calls of the military to report harassment, extortion and other related illegal activities of the CPP/NPA in the area. It must be recalled that most barangay chairmen in this municipality have confirmed the reports that a minimum of three thousand pesos (P3,000.00) per quarter were taken from their Internal Revenue Allotments to support the NPA. Just recently, these people have signified their withdrawal of support to these illegal activities that resulted in the evacuation of some families from their barangays to the town proper. Barangay Resolutions were reported to have flocked the military authorities requesting security assistance. The Peace and Development Forum was seen to be an effective campaign against NPA activities and the realization of the people's rights for the protection of their civil rights and maintenance of peaceful lives in their communities.
Something is wrong at Transco, consumer group says
Press Release
By NASECORE
March 29, 2006
PARAÑAQUE CITY – "Will the consumers be the ones to pay for the costs of capital projects that the National Transmission Corporation (Transco) implemented without the prior approval of the regulator?"
This was the reaction of the National Association of Electricity Consumers for Reforms (Nasecore) on the recent Order of the Energy Regulatory Commission (ERC) penalizing Transco PhP9.4 million for implementing capital projects without first seeking the regulator's approval as required by the Electric Power Industry Reform Act (EPIRA).
"It is ironic that a government owned-and-controlled corporation indispensable to the restructuring of the electricity industry has flagrantly violated the EPIRA. This is flagrant as it involves not one project only but 21 upgrading projects worth PhP16.991 billion. Something is definitely wrong with Transco," Pete Ilagan, president of Nasecore, said.
Ilagan added: "Majority of the Filipino consumers do not know that the cost of these Transco capital projects will be recovered through the transmission rates charged to the consumers. And this includes those that were implemented without prior approval of the ERC. The question is will the ERC, as an independent regulator, allow it?"
The consumer advocacy group hopes the ERC will also institute criminal action against the officers of Transco or any utilities that will violate ERC rules pursuant to Section 46 of EPIRA.
Under the said section, the penalty of prision correctional or a fine ranging from Five thousand pesos (P5,000.00) to Five million pesos (P5,000,000.00), or both, at the discretion of the court, shall be imposed on any person, including but not limited to the president, member of the Board, chief executive officer or chief operating officer of any utility found guilty of violating or refusing to comply with any provision of the EPIRA or its IRR. If the offender is a government official he shall also be dismissed from the government service with prejudice to reinstatement and with perpetual or temporary disqualification from holding any elective or appointive office.