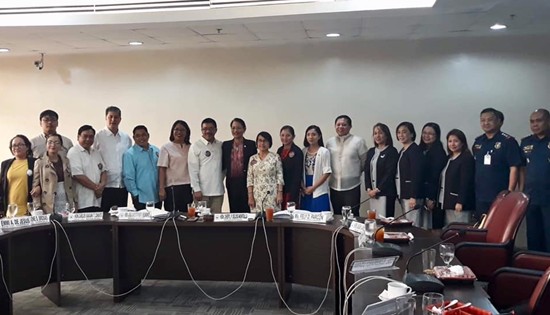 Meeting with the Technical Working Group on the Human Rights Protection Bill last December 2018. The TWG includes representatives from Karapatan ang Makabayan bloc.
Karapatan lauds passing of Human Rights Defenders Bill on third and final reading, calls for an end to all attacks against defenders, communities
Press Release
June 4, 2019
QUEZON CITY – On June 3, 2019, the House of Representatives passed House Bill 9199, or the Human Rights Defenders Bill, on its third and final reading.
"Everyone's right to defend and uphold human rights is in peril. In the context of a repressive government's non-stop suppression of people's rights, we welcome this development as a long overdue measure for the protection of the people's right to defend human rights. This comes at a most critical time when human rights defenders and activists are being killed, tortured, disappeared, illegally arrested, criminalized and slapped with trumped-up charges, and harassed in a myriad of ways. Throughout different regimes, the situation of HRDs and the risks that they face have gone from worse to worst and this bill, if passed into law, should provide stronger accountability measures for state actors who systematically and routinely violate people's rights," said Karapatan Secretary General Cristina Palabay.
Karapatan initiated and participated in the drafting and filing of the HRD bill, and have campaigned and lobbied tirelessly for its passage. "Since 2007, a proposed measure has already been filed. We know this is an uphill battle, but for human rights defenders who already have one foot in the grave, we are determined to see this through," added Palabay, citing that since 2001, 58 human rights workers of Karapatan have already been killed in the course of their work as HRDs.
The Karapatan officer noted that the Philippines is among those who first adopted the United Nations Declaration on Human Rights Defenders in 1998, but a domestic law has yet to be enacted in accordance with the declaration. "This bill comprehensively underscores the needs and dangers of human rights work vis-à-vis State-sponsored attacks, and it is a vital measure for the people, their communities and human rights defenders to continue our work. We are criminalized and tagged as 'enemies of the State', 'terrorists', 'destabilizers' and other labels to justify the attacks against us, executed under the implementation of counterinsurgency programs and other repressive policies. There is an orchestrated and systematic effort to undermine and discredit HRDs, and it is methodically done to strip us of our voices," she explained.
House Bill 9199 is complemented by the same initiative in the Senate, with Senator Leila de Lima's filing of Senate Bill No. 1699. Among the salient points of the proposed HRD bill is the recognition of human rights defenders and their work, the recognition of the rights of human rights defenders, obligations of State actors, the creation of a Human Rights Defenders Protection Committee, and stringent measures of those found violating the law. The bill also seeks measure for redress of women human rights defenders and activists in the LGBTQIA++ community who experience sexualized and gender-based attacks.
Palabay cited the cases of Atty. Benjamin Ramos who was killed in November 2018 because his work as a human rights lawyer; of Elisa Badayos, regional coordinator of Karapatan who was killed during a fact-finding mission in December 2017; of Bernardino Patigas, Escalante City councilor and human rights worker who was killed in April 2019; Jolita Tolino, an indigenous volunteer teacher who was charged with trumped-up charges of murder and frustrated murder; and trade unionist Maojo Maga, who wrongfully convicted of fabricated charges. "The harrowing experiences of Atty. Ramos, Elisa Badayos, Bernardino Patigas, Maojo Maga and Jolita Tolino depict the everyday dangers that hundreds of HRDs face," she further stated.
"Despite efforts of state forces to demonize rights advocates, at the end of the day, we are ordinary Filipinos – teachers, priests, trade unionists, lawyers, artists, health workers, indigenous leaders, farmers, among others. We are not enemies, but are staunch development actors for a life of dignity for all. We expose human rights violations and demand accountability from duty-bearers. As we witness more human rights violations, the onslaught of repressive policies, and the shrinking of the so-called civic space, these are all telltale signs of the need to fight back for the people's basic rights and fundamental freedoms, in all venues possible including the legislative arena," concluded Palabay.
New farm-to-market roads to improve trade in Leyte towns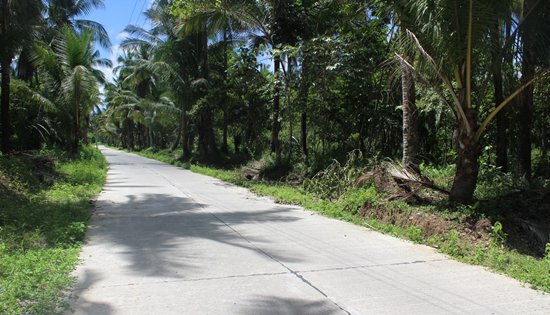 By DPWH 2nd LED
May 31, 2019
LA PAZ, Leyte – The Department of Public Works and Highways (DPWH) Leyte second district engineering office has recently completed seven farm-to-market road projects meant to improve road access and trade in three Leyte towns.
These projects include the concrete paving of Brgy. Calaghusan to Caltayan and Brgy. Cogon to Buracan roads both in La Paz budgeted at P5 million each, Brgy. Tigbao to Romualdez road in Dulag worth P6 million, and four farm-to-market (FMR) roads in Mac Arthur; Brgy. Casuntingan to Osmeña, Brgy. Liwayway to Danao, Brgy. Sta. Isabel and Brgy. Gen. Luna roads with a total worth of P21 million.
According to Gerald Pacanan, the completion of these projects would increase agricultural productivity, income opportunities, and provide easier access to basic social services such as health centers and educational facilities to these communities.
"These concreted roads will help our hardworking farmers transport their farm products to commercial areas easier. Eventually, it will improve the overall economic progress of these towns," he said.
For 2018, the district is tasked to implement a total of eight FMR roads with a total length of 4.2761 kilometers, of which one is still ongoing. FMR projects is funded under the convergence program of the DPWH and the Department of Agriculture that aims to promote inclusive growth and poverty reduction in the country's hard to reach areas through better road connectivity.
DPWH-Biliran DEO completes new school building under 2018 DepEd fund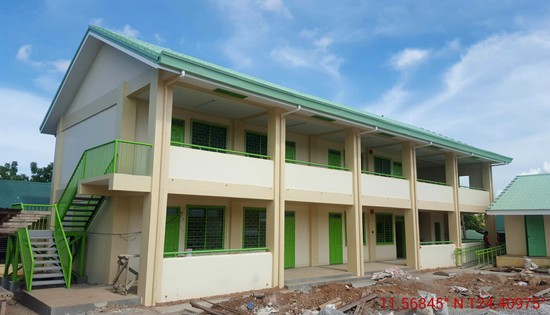 By DPWH-Biliran
May 31, 2019
NAVAL, Biliran – The Department of Public Works and Highways (DPWH) Biliran District Engineering Office recently completed new 2-storey, 4-classroom school building at Brgy. Larrazabal in Naval town amounting to P10M.
This school building now rise at Naval National High School with more or less 160 students to benefit the said project.
According to David P. Adongay Jr., District Engineer, the P10M school building is equipped with toilets and ceiling fans to provide the students a conducive place for learning.
"With good school buildings and classrooms, it will motivate our students and teachers to perform well in their studies and teachings," Adongay said.
DPWH-Biliran DEO is currently implementing 17 school building projects under the 2018 Department of Education (DepEd) - Basic Educational Facilities Fund (BEFF). Out of the 17 school building projects, one is completed, 15 are underway and one is up for implementation by the contractors.
Adongay said that most of these school buildings have commenced in the month of January and now posts an accomplishment of 48.78% as of April 30, 2019. The school building projects has a total appropriation amount of P118.25M and are target to be completed on June, 2019.
Leyte school teachers await school opening with new classrooms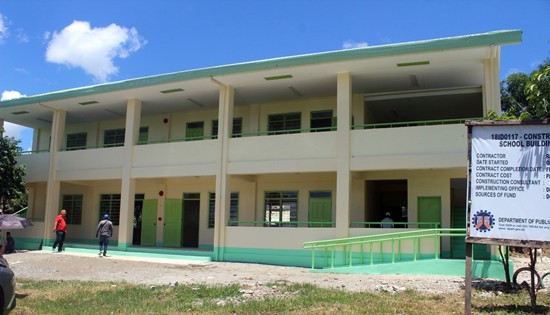 By DPWH 2nd LED
May 31, 2019
BURAUEN, Leyte – Teachers of Hibunauan National High School (NHS) in Burauen, Leyte await school opening with more classrooms, as the Department of Public Works Highways (DPWH) Leyte second district engineering office has recently completed its school building project here.
According to Bryan Colilihan, school head of Hibunauan NHS, teachers have been preparing to occupy the new school facility intended for Grade 10 students under the general academic strand. A total of 560 students are enrolled for the opening of the new school year.
The two-storey, four-classroom building is worth P9.5 million funded under the Basic Educational Facilities Fund (BEFF) of 2018. BEFF is an annual budget for school building program, which covers the improvement and maintenance of school facilities.
Gerald Pacanan, DPWH Leyte 2 district engineer said that the district targeted to complete more classrooms ahead of school opening so that students and teachers can utilize them.
"This is in support to the government's strengthened education program. We, at the DPWH and in coordination with Department of Education (DepEd) commit to provide more conducive learning facilities for students," he added.
He also highlighted the increasing number of population in schools particularly in the secondary level with the addition of senior high, prompting the government to allocate more funds for school facilities.
For 2018 BEFF, the district is tasked to implement 25 school building projects with a total allocation of P371.39 million.
DPWH readies Leyte school building before class opening
By DPWH 2nd LED
May 31, 2019
BARUGO, Leyte – In anticipation with the incoming school year 2019-2020, the Department of Public Works and Highways (DPWH) Leyte Second District Engineering Office completed a two-storey school building in Barugo, Leyte.
Evangeline Mercado, the school principal of Barugo National High School said that this educational infrastructure project will be used as Science laboratory and computer rooms. The school will accommodate a total of 1,245 students from grades 7 to 12.
This P9.6 million worth of school building project is in convergence with the Department of Education (DepEd) funded under the Basic Education Facilities Fund (BEFF).
District Engineer Gerald Pacanan guaranteed that the district engineering office complies with the National Structural Code of the Philippines, and conforms with the quality standards for school infrastructure to be resilient to strong typhoons, major earthquakes and other calamities.
"The completion of this project is just in time to benefit the students enrolled for this coming school year, and the office made sure that they find safety while learning in their second home," added Pacanan.
Overall, the department is tasked to implement 25 school building projects in Leyte II worth P371.39 million.
DPWH completes high-rise classrooms in Dagami, Leyte
By DPWH 2nd LED
May 31, 2019
DAGAMI, Leyte – The Department of Public Works and Highways Leyte second district engineering office has recently completed the construction of a high-rise six-classroom school building at Patoc National High School (NHS) in this town.
According to Gerald Pacanan, the government allocated a total of P12.9 million for this project, built in strict compliance to the standards and specifications of the Department of Education and DPWH.
"Before we officially turn over building to the school, we follow strict protocols and conducts inspection to ensure that standards are followed. We take note even the slightest problem and address them to the contractor," he said.
The school building is provided with standard toilet and sanitary facilities, storage rooms and proper ventilation, each classroom installed with two oscillating ceiling fans. It is also equipped with fire alarm system and fire extinguisher.
Zenaida Parado, Patoc NHS principal said that this new learning facility will be used by grades 9 and 10 students. 678 students are expected here to attend classes on the first of school.
For 2018 BEFF, the district is tasked to implement 25 school building projects worth P371.39 million, of which 17 has already been completed and 8 are still ongoing.
BEFF is an annual budget for school building program, which covers the improvement and maintenance of school facilities.
Army troops overrun enemy encampment, 1 CNT killed
By DPAO, 8ID PA
May 30, 2019
CAMP LUKBAN, Catbalogan City – Troops belonging to 14th Infantry (Avenger) Battalion while conducting focus military operations overrun an enemy encampment of the Communist-NPA Terrorists (CNTs) at Sitio Bagong, Barrio, Brgy. Pinanag-an, Borongan, Eastern Samar on May 30, 2019 at 7:30 AM.
The fire fight against more or less 50 CNTs lasted for about 1 hour and 30 minutes that resulted to one enemy killed (body count) and the recovery of one (1) .357 magnum with four (4) live ammos, one (1) improvised explosive device (IED), two (2) magazines for AK-47, two (2) rifle grenades, one (1) M203 ammunition, fifteen (15) backpacks, assorted medicines, three (3) blasting caps, five (5) cellular phones, one (1) detonator (bomb switch), assorted ammunitions (for AK-47, M16, Garand rifles), and subversive documents with high intelligence value. While no casualty on the government side.
The discovery of the said enemy encampment was attributed to the information provided by the civilian populace to the military.
Maj. Gen. Raul M. Farnacio, Commander, 8th Infantry Division and Joint Task Force STORM believed that the CNTs are on the run since the Army launched its relentless internal security operations in the far-flung communities influenced by the terrorists.
In his statement, Maj. Gen. Farnacio said that "Ito ay nagpapatunay na epektibo ang mga ginagawang mga programa at hakbang ng ating mga kasundalohan sa tulong na rin ng ating mga kababayan upang matigil na ang pananamantala, pag-impluwensiya ng mga rebeldeng NPA sa mga liblib na kanayunan sa rehiyon."
"Muli kung ipinaaabot sa ating mga kapatid na rebelde, na nais na magbalik loob, huwag na kayong mag-alangang sumuko. Ang gobyerno ay may nakalaang programa para sa inyo ang Enhanced Comprehensive Local Integration Program o ECLIP. Masarap ang mabuhay na payapa at kapiling ang pamilya," Farnacio added.
DPWH ensures proper roadworks safety management in Leyte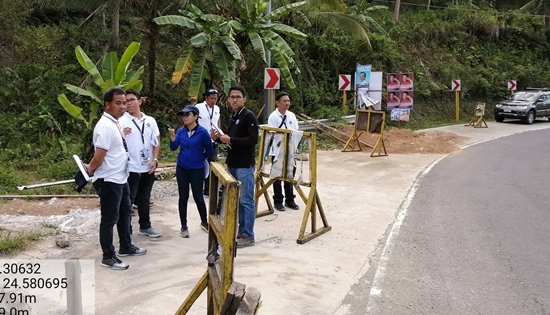 By DPWH 2nd LED
May 28, 2019
CARIGARA, Leyte – To ensure that the standardized system of signs and traffic management in observed in all maintenance and construction roadwork sites, the Department of Public Works and Highways (DPWH) conducted its regular roadwork safety assessment in Leyte second district.
According to Gerald Pacanan, DPWH Leyte 2 district head, the office strictly requires the contractors and the maintenance team to provide adequate signage and traffic control devices in all areas where they have ongoing works.
"The safety of the travelling public is our utmost concern. So we always remind our project engineers to closely monitor the construction sites if safety management is properly complied," he said.
Bureau of Quality and Safety engineers from the central office, Czar Manuel Rosuello, Ehlma Lacuaren, and Reynald Rodriguez led the inspection.
During assessment, various documents are evaluated including the approved roadwork safety and traffic management plan, contractor's traffic operational program, and materials test results for road signs, temporary markings and other traffic control devices.
Among the projects inspected were the widening of Hibucawan bridge in Jaro town, Talisay bridge in Dulag, Lemon and Masalago bridges both in Capoocan, Carigara bridge in Carigara and road restoration projects of damaged portland concrete cement pavement in Burauen, Leyte.
"Rest assured that all the findings of the Road Safety Assessment Team (RSAT) are noted for immediate actions," Pacanan said.
RSAT was created through department order no. 99 series of 2016 following reports on road accidents due to failure of some contractors to install proper signage and safety barricades to warn and inform motorists of the ongoing works.
Moreover, worn-out signage made of tarpaulins and wrong detour signage attributed to the number of road accidents ranging from minor to severe fatalities.
For 2019, the district is task to implement 87 projects worth P1.57 billion.
Aid provided to 2,000 people displaced by clashes in Basilan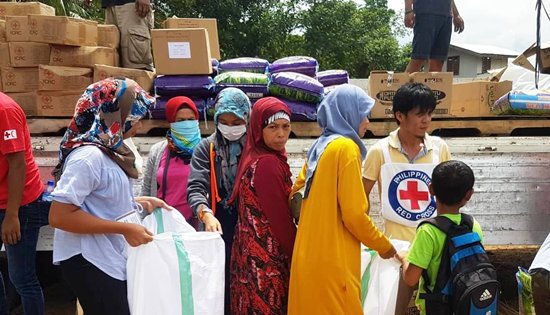 By ICRC
May 27, 2019
MANILA – Nearly 2,000 people in Basilan province, southern Philippines, have been coping with their displacement for over a month after armed clashes broke out between government security forces and armed groups in Sumisip municipality.
"We are deeply concerned about the effect of prolonged displacement on these families. Unable to take care of their farms, these families struggle to provide for their loved ones," said Piotr Dregiel, head of the International Committee of the Red Cross (ICRC) office in Zamboanga.
According to the Municipal Social Welfare and Development Office (MSWDO) in Sumisip, around 200 families that fled their homes in April 2019 due to the fighting have been staying in Barangay Mangal. In addition, almost 190 families displaced to Barangay Tumahubong by intermittent clashes since June 2016 have not yet returned home due to the fear of being caught in the fighting.
"Though they received initial assistance from the authorities, they need further support due to their continued displacement," Dregiel said.
To address the needs of these 2,000 displaced people, the ICRC delivered assistance on 25 May through the Philippine Red Cross (PRC). Each family received 25 kilograms of rice, 1 litre of oil, 1 litre of soy sauce, one kilogram of sugar, half kilogram of salt, 12 tins of sardine, and hygiene material including shampoo, bath and laundry soap, sanitary pad, toothbrush and toothpaste that would cater to a family of five for at least 15 days.
The ICRC is a neutral, impartial and independent organization whose exclusively humanitarian mission is to protect the lives and dignity of victims of armed conflict and other situations of violence and to provide them with assistance. It has an international mandate to promote knowledge for and compliance with international humanitarian law.
"We remind all parties to the conflict about the need to protect civilians and those who are not or no longer participating in the hostilities. They must not be targeted, and their lives and dignity are to be protected at all times," stressed Dregiel.
DTI, IFAD launch program to link farmers to food manufacturers
By DTI-OSEC-PRU
May 27, 2019
PASAY – The Department of Trade and Industry (DTI) and the International Fund for Agricultural Development (IFAD) launched a joint program to link farmers to food manufacturers. The Rural Agro-Industrial Partnership for Inclusive Development (RAPID Growth) program was launched on 24 May at the IFEX Philippines: Next Food Asia at the World Trade Center.
"The RAPID Growth program is close to my heart because it empowers and enables those at the bottom of the pyramid. Increasing rural income and decreasing poverty is one of the main goals of the Duterte administration," said DTI Secretary Ramon Lopez.
With a total cost of P4.7 billion, the RAPID Growth program will be funded by IFAD and implemented by DTI as it upgrades the agri-based SMEs to create a huge sustainable market demand for the output of specific agricultural farmers.
Lopez added that "This is the reason why we say that the RAPID project has a good model since it will all be market-driven, and there will be specific support systems that will upgrade the operations of the SMEs as well as the productivity and yield of farmers. The program will assist both ends of the value chain: the farmers and the micro, small, and medium enterprises (MSMEs)."
Around 1,050 MSMEs and 78,000 farmers of coffee, cocoa, coconut, and selected fruits and nuts will receive training, supplies, and financial assistance from the program, among others.
RAPID Growth will pilot in four areas and focus on four agricultural products: coco coir in Leyte, coffee in Bukidnon, cacao in Davao del Norte, and calamansi in Agusan del Sur. The areas were chosen based on the number of MSMEs, production area, and poverty incidence. The program will then be implemented in 16 more provinces in six regions (Samar and all the five regions in Mindanao).
IFAD Country Director for the Philippines Alessandro Marini said that RAPID Growth is their biggest investment in the Philippines. He added that poverty incidence among farmers is 34% and to truly eradicate poverty, there should be sustained and inclusive agriculture growth.
RAPID Program Head and DTI Region 11 Assistant Regional Director Edwin Banquerigo added that RAPID aims to foster inclusive and sustainable development in the Philippines by creating a market-driven approach to agri-production. Specifically, projects under the RAPID Growth program will establish value chain-based development, increase production capacities of farmers, ensure innovative agri-financing, strengthen market linkages, create jobs and employment opportunities, and upgrade and modernize MSMEs.
Without addressing roots of poverty, Duterte's Magna Carta of the poor to fail miserably – labor group
Press Release
May 26, 2019
QUEZON CITY – Labor group Bukluran ng Manggagawang Pilipino (BMP) is not at all optimistic that the recently signed into law Republic Act 11291 or the Magna Carta of the Poor by President Rodrigo Duterte will even make a dent to address the ever-growing number of families falling below poverty levels.
The group claimed that the law will "fail miserably" in aiming for the reduction of poverty and or even increasing the poor's access to social services as state policies continue to favor the economic elite.
"RA 11291 is a mere codification of what is already supposedly being implemented or should be by agencies. An overstatement of the mandate of agencies but does it raise a finger at the glaring causes and contributors to the perennial issue of poverty will amount to nothing but cosmetic theatrics to an administration severely failing to deliver change, said Ka Leody de Guzman, chair of BMP.
According to the new law, the poor shall be classified as persons whose income falls below the poverty threshold as defined by the National Economic and Development Authority (NEDA), and those who cannot afford their minimum basic needs of food, health, education, and housing.
He argues that a mere reiteration of the administration's innate duty to advance the interests of the poor is pointless without properly identifying the root causes and the policies that contributed to its catastrophic rise.
De Guzman said, "despite its overarching scope, RA 11291 is a classic case of doublespeak. Its ambiguity only highlights its deafening silence on the factors that contributed to poverty"
He cites the continued practice of contractualization and circumvention of constitutionally guaranteed labor rights and the regionalization and municipalization of wages in industrial hubs as the obstacles to achieving the law's objective.
The labor leader adds that recently enacted laws such as Tax reform law and the Rice import tariffication law will only exacerbate the miserable conditions of those living below poverty levels.
He pointed out that the TRAIN Law has been discovered to have contributed to inflation by the state think-tank Philippine Institute for Development Studies and the Rice import tariffication law deprived Filipino farmers 95 billion pesos in income says the Philippine Chamber of Agriculture and Food Inc..
"Not unless this administration veer away from the path of neo-liberal globalization and the socially generated value is equitably distributed, the man-made crisis of privation will worsen beyond Duterte's six-year term," he said.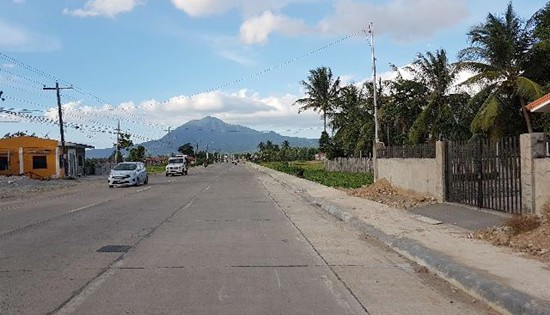 Completed covered drainage canal at Brgy. Atipolo Section in Naval town. This project is under 2018 funding with a contract cost of P74.58M implemented at Pob. Naval to Brgy. Atipolo, Naval, Biliran and at Brgy. Talahid to Brgy. Matanggo, Almeria, Biliran.
DPWH-Biliran DEO completes P74.58M drainage project along BCR
By DPWH Biliran
May 24, 2019
NAVAL, Biliran – The Department of Public Works and Highways (DPWH) -Biliran District Engineering Office (DEO) recently completed the construction of drainage project on two road sections along Biliran Circumferential Road (BCR) amounting to P74.88M.
The said project is located at Pob. Naval to Brgy. Atipolo in Naval town and at Brgy. Talahid to Brgy. Matanggo in Almeria town.
David P. Adongay Jr., District Engineer said that the road sections are subjected to excess run-off water during rainy days which sometimes cause flooding along the National road.
"With the completed project, flooding along our National Road will be prevented, thereby preventing our existing concrete road from deterioration against water," said Adongay.
"This will earn the government savings in rehabilitating damaged pavement in the future," he added.
The project entails the construction of covered drainage with a total length of 3,321.00 ln.m., constructed after a 3.05 m. widened shoulder. This is funded under the FY 2018 DPWH Infrastructure Program under contract with Rex E. Morales Construction.
Moreover, Adongay revealed that under 2019 implementation, the construction of drainage project will continue at Brgy. Tabunan in Almeria town with an appropriation amount of P15.88M.
The project entails the construction of concrete covered canal with a total length of 136.0 linear meter. It is to be constructed after the existing concrete paved road at one side only.
Aside from drainage project, Adongay said that flood control projects are also lined up for 2019 implementation amounting to P305.6M to protect lives and properties subjected to heavy floods during rainy days.