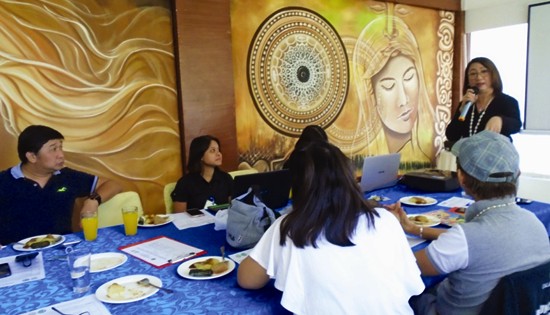 NNC-4A RNPC Carina Z. Santiago opens the technical rendezvous between CNN-4A and HIMSoG-8 by welcoming her team to Tacloban City and voicing out her expectations of the activity. Santiago once headed NNC-8.
CNN-4A wants MELLPI functions as HIMSoG-8
By JACK C. GADAINGAN
November 27, 2019
TACLOBAN CITY – To become members of their own Regional Nutrition Evaluation Team (RNET) doing Monitoring and Evaluation of Local Level Implementation Protocol (MELLPI Pro) was one of the Communicators Network for Nutrition of Region-4A members concerns to relate themselves as the members of the Harmonized Initiative for the Spread of Good Nutrition in Region 8 (HIMSoG-8), who are already active conducting MELLPI Pro region-wide as members of Region-8 RNET.
This developed during the Technical Exchange between the NNC-Calabarzon media-group partner CNN-4A and NNC-8 media-group partner HIMSoG-8 conducted on October 24, 2019 at the Leyte Park Hotel, here.
Ten CNN-4A members, guided by their Regional Nutrition Program Coordinator (RNPC) Carina Z. Santiago, visited Eastern Visayas Region, for an exchange of accomplishments and Sharing of Best Practices between the two nutrition advocate media-groups. Such technical rendezvous is second for HIMSoG-8 already, as on July 15-17 a contingent of 13 practitioners of quad-media from Region 1 who called themselves the Regional Organization of Nutrition Development Advocates of Region 1 (RONDA 1) of Ilocos Region also visited Region 8 for similar purpose, to widen the media-partner's horizon of accomplishments through exchanges of notes with the other regions' counterparts.
It was gathered that NNC-4A leadership and CNN-4A members were astounded to learn that all members of HIMSoG-8 are actually members of the Eastern Visayas RNET and/or members of nutrition evaluation teams in their respective localities. This is aside from the HIMSoG-8 leadership who is likewise sitting as member in Regional Technical Working Group (RTWG) and other nutrition bodies.
The only apprehension raised by the visiting group in regards the setup, was of "bias" coming into play should the media-group be doing evaluation of their own localities, which practically negated by the fact that MELLPI Pro is – a purely document-based evaluation, that leaves no chances for baseless-adjustments
It was learned, that Mach 6-7, 2019 36 Nutrition Stakeholders from Eastern Visayas including HIMSoG-8 members who were actively involved in the yearly conduct of Monitoring and Evaluation of Local Level Plan Implementation (MELLPI) on nutrition programs and services gathered for a two-day roll-out training on the updated monitoring and evaluation protocol on nutrition dubbed "MELLPI Pro" at the Commission on Audit (COA) Training Center, Palo, Leyte.
The MELLPI Pro replaces the traditional MELLPI, the nutrition programs implementation assessment tool for localities adopted in the 80s. The new upgraded system emphasis: a) assessment of LGUs' progress toward compliance to quality standards, b) evidence-based validation, and c) mentoring through joint discussion for learning and action discussion with LGU or nutrition worker assessed. An added feature (of MELLPI Pro) is the Performance Assessment of Nutrition Workers namely: Nutrition Action Officers, District/City Nutrition Program Coordinators and Barangay Nutrition Scholars (BNSs).
Said new protocol connoting professional, progressive, promotional, process, and profitable is for full implementation by year 2020 – with this year (2019) as the transition period. By then under MELLPI Pro all local government units (LGUs) and their corresponding lead nutrition workers nationwide shall undergo assessment and evaluation:
At the regional level, the Regional Nutrition Evaluation Team (RNET) shall visit all provinces and highly-urbanized and independent cities; at the provincial level, the Provincial Evaluation Team (PET) shall visit all municipalities and component cities; at the city and municipal level, the City/Municipal Evaluation Teams (C/MET) shall visit all barangays. Meanwhile the National Nutrition Evaluation Team (NNET) shall evaluate the National Honor Award (NHA), and the 1st and 2nd Year CROWN Maintenance Contenders.
NMP welcomes incoming OIC-DED Ligutom
By National Maritime Polytechnic
November 27, 2019
TACLOBAN CITY – Labor Attaché Ponciano M. Ligutom officially assumed his post as the new OIC - Deputy Executive Director (DED) of the National Maritime Polytechnic (NMP).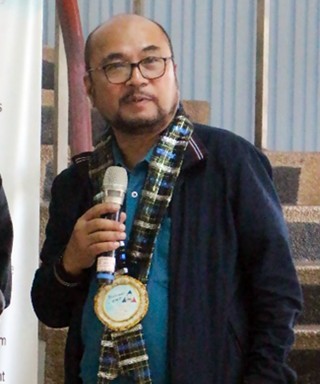 NMP OIC-DED Ligutom delivering his message.
Pursuant to Administrative Order No. 498, series of 2019 issued by the Department of Labor and Employment (DOLE), Labatt Ligutom will temporarily replace NMP's incumbent DED, Ms. Mayla N. Macadawan, who is on approved study leave in Malta.
During the "Meet-and-Greet" conducted this morning, NMP Executive Director Joel B. Maglunsod expressed his confidence that Labatt Ligutom would be of great help in steering the Agency in pursuit to the delivery of its mandates and functions. Likewise, Labatt Ligutom in his message expressed his warm acceptance as the newly designated OIC DED of NMP.
"I am happy to be assigned here. Training is not very new to me because teaching in academic institutions is part of my advocacies. I believe that the learnings, insights, experiences and practices of people should be shared to others because theory that has no practice is dead, and practice without theory has no direction. I am already old at the Department but I have not lost my interest and idealism because I always believe that we can always contribute something to any organization. I believe in portability of the person, because when you are a leader or a manager you can be assigned to any organization. You don't need to be a doctor in order to be a good hospital administrator" said OIC DED Ligutom.
With his experience from his previous assignments, OIC-DED Ligutom is confident that he will be able to share ideas towards NMP's commitment.
"I am looking forward to a very good experience for the days or months that I will be with you. I will always support the direction of the Department and I will share all my learnings, insights, and experiences with you. To me, a life that is not shared is a life that is not worth living", he ended.
OIC-DED Ligutom was formerly assigned in the Philippine Overseas Labor Office (POLO) in Oman and Rome where he took care of the concerns of the Overseas Filipino Workers (OFWs), looked for their work opportunities, and prepared them for their reintegration to the country.
He is a Career Executive Service Officer (CESO III) and preceding to his assignment as Labor Attaché, he had been the Regional Director of DOLE Regional Office X (Northern Mindanao), Regional Office XI (Davao City), Regional Office IX (Zamboanga Peninsula), Regional Office Caraga Region, and Regional Office VI (Western Visayas). He was also the Director of the Bureau of Local Employment in 2008.
Save the Children Philippines calls for humane, dignified treatment of children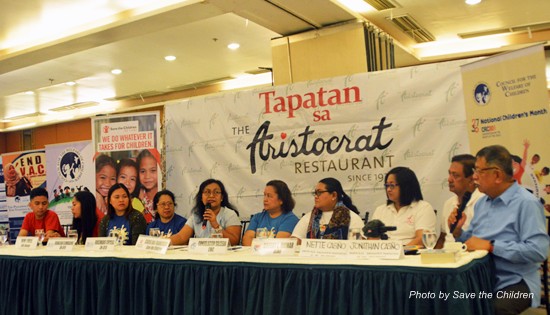 Press Release
November 26, 2019
MANILA – Every five minutes, a child dies of violence across the world, according to Save the Children's Ending Violence in Childhood Report in 2017. The report revealed a staggering 1.7 billion children who experience violence in many forms and 80 per cent of the incidents happen at home.
Save the Children, a global movement that advocates for children's rights in 120 countries called for an end to all forms of violence against children.
In the Philippines, three out of five children suffer one or two forms of violence at home and often, parents, siblings and relatives are the perpetrators according to the 2015 National Baseline Study on Violence against Children (NBS-VAC) conducted by the Council for the Welfare of Children (CWC).
Lawyer Alberto Muyot, Chief Executive Officer of Save the Children Philippines said violence takes place at home, in school, online platforms, in communities and in armed conflict and in disasters.
"All children have a right to a childhood without violence," said Muyot. "Physical and humiliating punishment violates a child's physical integrity, human dignity and equal protection of the law."
Save the Children Philippines reiterated the call for humane and dignified treatment of children in time for the World Children's Day celebration in November and the 30th year of ratification of the Convention on the Rights of the Child.
Muyot also lamented the prevailing culture of violence in schools. He said the NBS-VAC of CWC reveals that 3 out of 5 children experienced bullying. Of this figure, 14.3 percent of children experienced physical violence in school; 23 percent of children experienced psychological violence in school; and 5.3 percent of children experienced sexual violence in school.
Carolina Francisco, Child Protection Manager of Save the Children Philippines, said Positive Discipline establishes open communication and nurturing relationship between parents, carers and teachers and children.
"Corporal punishment have devastating impact on children," said Francisco, adding that "young children who experience corporal punishment are left with feelings of fear, shame, rage, revenge and hostility."
Francisco was guest at the weekly Tapatan in Aristocrat media forum on Monday where she emphasized the importance of practice of Positive Discipline at home, in schools and communities.
She also stressed that children who identified themselves as members of LGBTQI and children with disabilities are the most vulnerable to suffer from physical and humiliating punishment.
Save the Children Philippines partners with the Department of Education (DepEd), the Department of Social Welfare and Development (DSWD) and local communities to promote Positive Discipline to teachers and parents to end violence against children.
The Philippines is the 31st country to ratify the United Nations Convention on the Rights of the Child (UNCRC), a landmark legal document that highlights the rights of every child to:
• life, survival and development;
• protection from violence, abuse and neglect;
• education that enables children to fulfil their potential;
• be raised by, or have a relationship with, their parents; and
• express their opinions and be listened to.
The convention, now on its 30th year of ratification tasks governments to adopt legislative, social and educational measures to protect the child from all forms of physical or mental violence, injury or abuse, neglect or negligent treatment, maltreatment or exploitation, including sexual abuse, while in the care of parents, legal guardians and person who has the care of the child.
So far, there are 58 countries that have stepped up legislation to ban corporal punishment on children in schools, at home and in communities.
Save the Children founder Eglantyne Jebb wrote the Declaration of the Rights of the Child in 1923 and was adopted by the League of Nations, the forerunner of United Nations. The document became the basis of the UN Convention of the Rights of the Child.
DPWH completes 2 new school buildings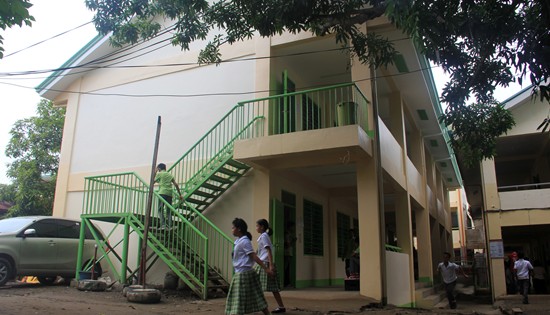 By BON JOSEPH N. ASTILLA
November 25, 2019
CALBAYOG CITY – New school buildings at Sta. Margarita National High School and Calbayog National High School (CCNHS) are completed through the Department of Public Works and Highways (DPWH) under 2018 Basic Education Facilities Fund (Batch 3).
The two-storey four-classroom school building at Sta. Margarita is being occupied at the present by the grades 11 and 12. Before the realization of the project, the school made use of their stage and TLE room as makeshift classrooms for senior high students. As such, their principal Gloria Begonte Tamidles is very thankful for the new building because as she further added both previous venues are not conducive for learning.
On the other hand, the two-storey four-classroom school building at CCNHS is also being commended by their principal, Dr. Calick Arrieta, for its very fast implementation. It took about less than 3 months to complete. Dr. Arrieta stated it's a big help to the institution considering the influx of students every year.
The DPWH, in partnership with the Department of Education, is always on the look-out on how to improve the educational facilities of every school. Towards this end, the community can very much expect more projects to come.
NTF is a dangerous superbody that imposes de facto martial rule in PH – Karapatan
By KARAPATAN
November 21, 2019
QUEZON CITY – Human rights alliance Karapatan said, after President Rodrigo Duterte's recent joint command conference with the National Task Force to End Local Communist Armed Conflict (NTF-ELCAC), that the "NTF's militarist whole-of-nation approach to the armed conflict in the country is nothing but a path that brings the nation into a black hole of authoritarian rule."
"The government is well-aware that armed conflicts are rooted on the decades-long injustices perpetrated by the State against Filipinos, including those who seek for genuine societal reforms that address poverty and countless forms of exploitation, yet it refuses to back down on programs and policies such as the Rice Tariffication Law, its Build-Build-Build program and TRAIN law that impact on the welfare of the people. Through the NTF, the Duterte government uses a counterinsurgency program that employs brutal forms of attacks against communities and human rights defenders to pacify their opposition to these anti-people programs. It continues to weaponize the courts and the whole judiciary to go after critics. It continues to militarize the civilian bureaucracy, including line agencies that should deliver social services and local governments," said Cristina Palabay, Karapatan Secretary General.
The NTF, Karapatan said, is a dangerous superbody that imposes de facto military rule in the country. "Its logframes and indicators of success are measured through a yardstick that disregards political rights and civil liberties while ensuring the smooth implementation of government programs and projects that benefit big business and corrupt actors in power," Palabay said.
Karapatan cited the smear campaigns and legal offensives against government critics, activists, development and humanitarian workers, the raids and arrests of human rights defenders in Negros and Manila, and the killings of farmers as among the by-products of the NTF's campaigns.
Even local government executives who champion the rights of their poor constituents are not spared, Palabay said. This week, Interior and Local Government Secretary Eduardo Año has called out Pasig City Mayor Vico Sotto for backing the arrested workers of Regent Foods Corporation and for bailing them out from jail. The arrested workers are part of those who went on strike last October 16, 2019 on the alleged physical and verbal abuses, non-implementation of the collective bargaining agreement, non-recognition of the new leadership within the union; and alleged contractualization schemes by the Regent Foods Corporation.
"The cries of the arrested workers are valid and can be considered as a concrete example of how ordinary Filipinos suffer from the injustices committed by the powerful. However, Año and the NTF discourage the likes of the young chief local executive Sotto from promoting a just and humane form of political leadership and governance," she said.
Karapatan also cited the killings of two barangay chairpersons in Samar, barangay captains Apolonio Lebico and Wilmar Calutan, by suspected military agents this year, when they aided their constituents in filing complaints against elements of the Armed Forces of the Philippines before the Commission on Human Rights on alleged violations in their communities.
"The actions of the NTF and Año only prove that this government has engendered rights violations. We reiterate our call to rescind Executive Order #70, which has resulted to the creation of the NTF, and for the Duterte administration to stop its attacks against the Filipino people," Palabay concluded.
Access road leading to Kawayan port in Biliran improved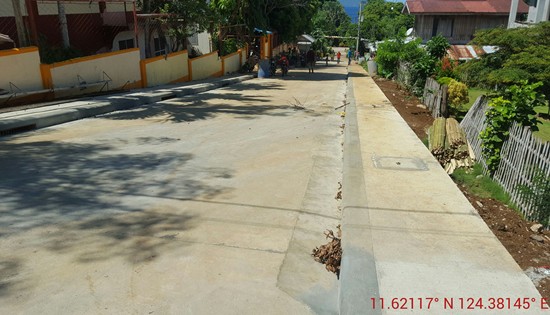 By DPWH-Biliran
November 18, 2019
NAVAL, Biliran – The construction/ improvement of access road leading to seaport in Kawayan town, Biliran Province has been completed by the Department of Public Works and Highways (DPWH)- Biliran District Engineering Office (DEO).
David P. Adongay Jr., District Engineer said that the damaged substandard local road was replaced with a new concrete pavement to provide a smooth surface and safe riding condition for the travelling public.
The project involves the rehabilitation of damaged substandard local road in Kawayan town proper with a width of 6.10 meters, a thickness of 0.23 m. and a length of 0.70 lane km with construction of 742.0 meters covered drainage.
The P12.35M project under contract with MB Ang Construction was completed on October 24, 2019.
According to Adongay, the newly completed road project leading to seaport complements the improvements done to Kawayan's port.
The Biliran Provincial Government and the Local Government Unit of Kawayan is already making its move in expanding the Kawayan port for future roll-on roll-off (Ro-Ro) port in the town.
Presently, the Naval port is the only seaport that is in service of transporting goods, commodities and passengers to and from Cebu.
The improvement of access road leading to Kawayan port will be a big help in economic development not only just in Kawayan town but also in the entire province.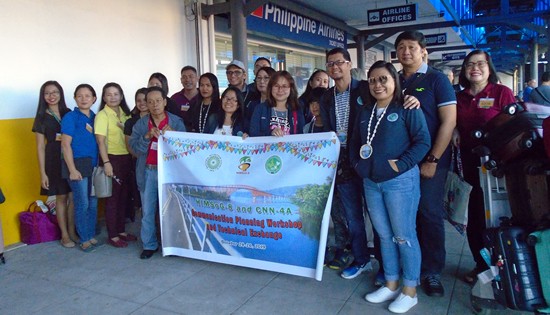 HIMSoG-8 headed by President Antonio Pueblos welcomed the officers of NNC-Calabarzon headed by RNPC Carina Z. Santiago (center) and contingent media-partner CNN-4A headed by its president Red Alano.
NNC-Calabarzon media-group partner CNN-4A visits Eastern Visayas for technical exchange with HIMSoG-8
By JACK C. GADAINGAN
November 17, 2019
TACLOBAN CITY – Carina Z. Santiago, Regional Program Coordinator of National Nutrition Council (NNC) Region-4A (Calabarzon) together with Lourdes B. Orongon and Ezra Minette B. Lasin, Nutrition Officer III and Nutrition Officer II respectively from the same region, headed a contingent of 10 practicing media from Calabarzon calling their group as the "Communicators' Network for Nutrition in Region 4-A" (CNN-4A) to a visit of Eastern Visayas Region for a Technical Exchange with NNC-8 media-group partner Harmonized Initiatives of Media for the Spread of Good Nutrition in Region 8 (HIMSoG-8) on October 24-26, 2019.
The CNN-4A was headed by its President Red C. Alano, Vice President (VP) for Print Antonio R. Antazo Jr., VP for Broadcast Emil Jun B. Delos Santos, VP for Social Media Kier Gideon Paolo Gapayao, Auditor Genielyn M. Tobias, Chairman of the Board of Directors Janet G. Buelo, and members Nanacy G. Quizon-Vidal, Maria Victoria A. Carino, Maricel Manza and Mayrenel C. Manalo.
A contingent from HIMSoG-8 likewise headed by its President Antonio C. Pueblos, VP Jacob C. Gadaingan, Broadcaster Cecelia P. Tibo, cable-TV broadcast providers Evelyn Bacol, Nelson Braga, and Mathew Manuel, and News Editor Albert Lesiguez, and two personnel from NNC-8 Novida B. Rico and Clytie Sta. Cruz welcomed the visiting party during their arrival 5AM at Tacloban City Airport.
Of common goal, as both media organizations are involved in the fight against hunger and malnutrition and in promotion of good nutrition – with CNN-4A the media-group partner of NNC-4A within its jurisdiction Calabarzon area. Meanwhile HIMSOG-8 in partner with NNC-8 for the Eastern Visayas Region. The two advocacy groups conducted their technical rendezvous after a brief breakfast at the Leyte Park Hotel, here.
The Technical Exchange consisted with presentations of each media-group's accomplishments and Sharing of Best Practices with both presidents doing the power-point presentation reporting, Pueblos for HIMSoG-8 and Alano for CNN-4A.
HIMSoG-8 Treasurer Ray Gaspay, publisher of Samar News.com and HIMSoG-8 member Sarwel M. Meniano, chief of Philippine News Agency (PNA) Region 8 joined the group for the technical exchange, and other activities.
In the afternoon, the Calabarzon group was escorted by the Eastern Visayas group to an Environmental Scanning to the Super Typhoon Yolanda Marker (Anibong Shipwreck), the Mat Weavers and Products in Basey town, the newly constructed Town Hall of Basey and Basey's Oldest Church, the 2.16 kilometers long "San Juanico Bridge" connecting Samar and Leyte Islands, and the newly upgraded MacArthur Park. The evening of the first day (Oct. 24, 2019) featured a fellowship, loaded with more bonding initiatives, exchanges of tokens, with good food and live music.
The following day NNC-4A and CNN-4A continued with their more serious tasks like "Communication Planning for CY 2020": consisting of Workshop Overview, Review of Print and Radio Placements and various IEC Material, the Philippine Plan of Action 2017-2022, Review of Calabarzon Communication Plan 2013-2015, and Actual Communication Planning Workshop.
For its last salvo, the CNN-4A gave way to its 3rd Quarter Meeting, consisting of review/approval of the highlight of the Previous Meeting, and other organizational concerns.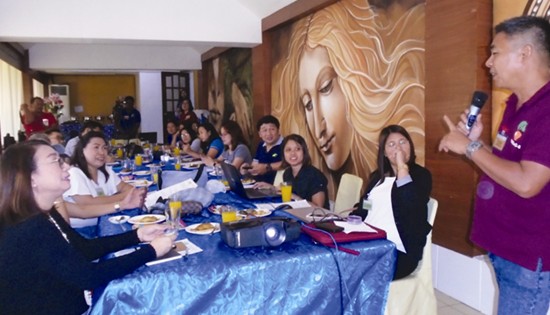 HIMSoG-8 President Antonio Pueblos makes the first presentation on the Technical Exchange with CNN-4A by presenting first the accomplishments of HIMSoG-8.
8ID identifies six soldiers who died at Borongan encounter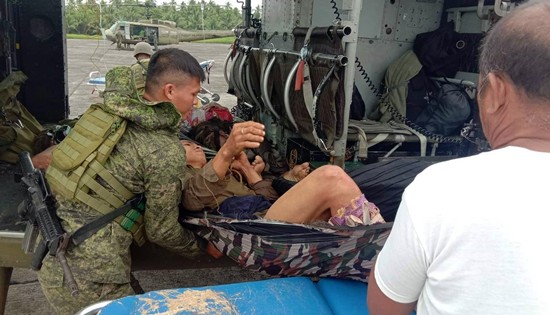 By DPAO, 8ID PA
November 13, 2019
CAMP LUKBAN, Catbalogan City, Samar – The 8th Infantry Division identified the six (6) soldiers who paid ultimate sacrifice during an encounter with the New People's Army (NPA) Terrorists at Sitio Bangon, Brgy. Pinanag-an, Borongan City, Eastern Samar in the late afternoon of November 11, 2019.
The troops were conducting a military operation in response for the persistent reports from the civilians about the presence of CNTs in the area. While the troops were on their way to their rebels' lair which is also being used as a bomb-making facility, they encountered the NPA terrorists who employed several improvised anti-personnel mines.
The valiant soldiers who sacrificed their lives against the NPA who used landmines as an attack are: Sergeant Rex C Jadulco; Corporal Ronaldo O Go; Corporal Limar L Banug; Private First Class Kent Loyd M Agullo; Private First Class Junmar D Buranday; and Private Charlie P Del Rosario.
The National Democratic Front (NDF) including the Communist Party of the Philippines (CPP) and the NPA are signatories, bans the use of landmines which they have neglected, the Comprehensive Agreement on Respect for Human Rights and International Humanitarian Law. In connection with the "Ottawa Convention" or "Mine Ban Treaty" that seeks to end the use of Anti-personnel Landmines (APLs) worldwide to end suffering and casualties.
Remains of the soldiers together with the deceased NPA rebel were immediately airlifted to Camp Vicente Lukban, Catbalogan City and were transported to a funeral home in Catbalogan for post mortem and proper funeral services while 20 wounded soldiers are still in the hospital at stable condition and undergoing treatment.
After the funeral services, the remains will be transferred to the 8ID headquarters.
The 8ID gave the assurance that immediate assistance be accorded to the bereaved families.