Basey LGU conducts massive Jathropa tree planting
By NINFA B. QUIRANTE (PIA Samar)
June 24, 2007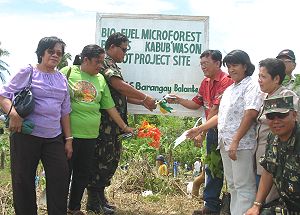 Army's 801st Infantry Brigade commanding officer Col. Francisco Lanuza and Basey mayor Vic Labuac in a ribbon cutting ceremony during the launching of Baktas Kabub'wason project held on Friday in Brgy. Balante, Basey, Samar.
CATBALOGAN, Samar – In support to President Gloria Macapagal-Aroroyo's 8 by '08 priority programs on Green Philippines, Basey LGU gathered more than 300 well meaning individuals from Basey and other government agencies to a massive jathropa and coconut planting on June 22, 2007.
The massive tree planting activity dubbed as "Baktas Kabub'wason" (Walk for the Future) was well attended by the 62nd Infantry Battalion, students from the Valeriano C. Yancha Memorial Agricultural School (VCYMAS), LGU officials, officials from the 57 barangays, Department of Environment and Natural Resources (DENR) Provincial Environment and Natural resources Officer (PENRO) and Community Environment and Natural Resources Officer (CENRO), Philippine Coconut Authority (PCA) and Samar media.
Originally initiated for the Department of Agrarian Reform (DAR) Agrarian Reform Communities (ARCs) Baktas Kabub'wason was conceptualized by SB Anita Ogrimen, Mayor Vic Labuac, commanding officer of 62nd IB LtCol. Jonathan Ponce and DAR's visionary Chito dela Torre who also heads the Provincial Agrarian reform Support Services Office.
Although Basey Mayor Vic Labuac and SB Anita Ogrimen failed to get a fresh mandate from Basey, both officials actively attended to the tree planting and other corollary activities.
The site, some 30 kilometers from Basey proper is a part of 86-hectare public land being maintained by the Samar State College of Agriculture and Forestry (SSCAF) said Labuac.
It was named BIO-FUEL MICROFOREST Baktas Kabub'wason Pilot Project Site, located in Barangay Balante, Basey Samar.
Samar PENRO George Guillermo who joined the activity on the site urged the media to take pictures as it is rare, he said to mobilize such number to 'green the countryside'.
When PENRO Guillermo was asked why jathropa, he cited the economic benefits of the plant which he said, just abound in the wild. He cited that Philippine Forest Corporation has assured farmers that it is willing to buy jatropha fruits.
Jathropa curcas, is a multi-use, multi-benefit plant that grows well in arid regions in marginal soil, thriving on even the poorest stony soil unsuitable for food crops, said CENRO Elias Aya-ay.
Jathropa curcas seed can be used as Bio-diesel for any diesel engine without modification. Some 31 to 37% of oil is extracted from a jatropha seed, PENRO Guillermo added.
PCA Samar Chief meanwhile assisted the others who opted to plant coconuts. Some 230 coconut seedlings of wawa and orange dwarf varieties were withdrawn from the PCA Regional Nursery. Wawa known for its rich sap can be used in tuba (wine) and vinegar manufacture.
Re-elected SB member Anita Avila and Barangay Villa Aurora Chieftain Meliton Lancanan also vowed to plant some more in their private lands as they both believe in the economic importance of the otherwise wild plant.
Search for Miss Pintados - a search for a cause, more than just a beauty search
By Philippine Information Agency (PIA 8)
June 24, 2007
TACLOBAN CITY, Leyte – What makes the Search for the Miss Pintados different from the usual beauty tilts is its being a beauty and talent Search with a cause, that of making the candidates appreciate the qualities and values of a true Filipina, realize the spirit of volunteerism and their social responsibility particularly for the well-being of the street children of the Region.

Caring for disadvantaged fellowmen and working for them without waiting anything in return is most fulfilling, this is what the 2007 Miss Pintados candidates realized as they shared "An Afternoon with the Street Children" at the Family Park, Magsaysay Boulevard, Tacloban City, on June 23.
More than one hundred street children from all over the City of Tacloban and the 15 semi finalists for Miss Pintados 2007 enjoyed the afternoon being treated to the terrific magicians from the 8th Infantry Division of the Philippine Army courtesy of Major General Armando Cunanan.
Watching the street children and the candidates playing parlor games together, watching with awe at the antics of the soldier magicians, eating the same food, this writer wonders who was enjoying more. Who is who? To the writer, the players are all the same youthful children playing and sharing fun together, no barriers, no rich or poor, no one beautiful and ugly.
There is a wonderful law of nature which states that the three things we crave most in life – happiness, freedom and peace of mind – are always attained by giving them to someone else.
The candidates do not discover and enhance their God-endowed talents, they also find their heart and happiness in sharing their time and charm in bringing happiness to the street children.
This is the secret why the Search for the Miss Pintados continuous to attract contestants every year for the last twenty years, it is a search with a difference. This is the reason why most of the Miss Pintados candidates become volunteers to the various Pintados Foundation undertakings long after the Search. This is the secret to the success and more beautiful aura of the candidates after the Search.
One very good example is that Miss Sheena Marie Cubillo, the reigning Miss Pintados who is a nurse by profession is now helping mother the Miss Pintados candidates. The beautiful Miss Rhea Mangacat, a former Ms. Pintados beauty who is now a flight stewardess of the Philippine Airlines will come home on June 27 just to be of help during the Search for Miss Pintados 2007 Pageant, the night of the same day.
Indeed, there is no beautifier of complexion or form or behavior, like the wish to scatter joy and not pain to the people who need people. It is good to share a meal with disadvantaged, and bring joy to those who have almost forgotten what smile and joy is all about.
For as long as the Search for Miss Pintados of the Pintados Foundation is able to mobilize people into action, building real people and future leaders in the process, able to build real people, and for as long as the people will continue to accept and support the cause of the street children, the Search for Miss Pintados is here to stay.
Borongan is now the first city of Eastern Samar
By ALICE NICART (PIA Borongan)
June 21, 2007
BORONGAN, Eastern Samar – In what can be called an overwhelming victory, Boronganons gave an overwhelming 10,176 "Yes" votes for its cityhood against the 3,452 "No" in the Plebiscite held yesterday which thus converted Borongan town into a component city of Eastern Samar province.
The seemingly hot issue has finally been halted when majority of the votes was revealed midway of the municipal canvass.
Asked why couldn't it be more (the number of votes cast) as in the recently held national election, a COMELEC officer who requested anonymity said the plurality of votes is what matters between the affirmative and the negative.
It was observed though, that voters came in trickles to the voting precincts up to the midday but the electoral process still revealed that more people are in wanting for change; to become a dweller in a city with better social services.
Towards the end of the canvass however and when the cityhood issue became crystal clear, an informal program and party was done at the plaza where the cityhood advocates and supporters sang and danced in jubilation.
In his message Mayor Fidel Anacta thanked all the supporters for the cityhood and appealed further for calmness and sobriety of those who had different views from theirs in the LGU and instead cooperate and contribute their ideas for a well meaningful development plan for Borongan city.
"Human naman an election, timaha ta na an gibinirubingkil. Kay an amon paniguro ha LGU in dire la para ha amon kundi para han aton kabataan ug han nasunod pa nga mga henerasyon", said Mayor Anacta who is fondly called "Spanky". (Election is over, let us now put to rest this politicking. Our intention at the LGU has never been for our own good but for our children and the next generation).
In a short interview this morning, Mayor Anacta was consistent in his vision. Asked what are the next steps, he said the establishment of a city hospital is of his paramount importance, because of the numerous patients who approach him everyday. He wants to provide them better health care and services, he added. He also hopes to find a bigger workplace for the city government employees because that the present one is small and considering that five new mandatory divisions will be put in place, he concluded.
Yesterday's plebiscite was graced by COMELEC Regional Director Adolfo Ybańez and some of his support staff. Regional Election Atty. Richard Japson was also present with Atty. Corazon Montallana. Noticeable also were the municipal election officers who gave their hand as well for the entire process.
The Non-Working Day Proclamation for yesterday's big event in Borongan was signed by Executive Secretary Eduardo Ermita.
46th IB partners with Kiwanis International to distribute books to Samar schools
By NINFA B. QUIRANTE (PIA Samar)
June 21, 2007
CATBALOGAN, Samar – The 46th Infantry Battalion of the Philippine Army, led by Lt. Col Luis Vincent Tacderas based in San Jorge, Samar has partnered with the Kiwanis International and Asia Books Foundation to distribute 11 boxes of library books to schools in Samar.
In a simple distribution ceremony for Kiwanis Book Bank Project, Marit Stinus-Remonde, Secretary of Division IA (Cebu and Bohol) a Danish national who is the wife of Cerge Remonde spearheaded the distribution.
Kiwanis International is a thriving organization of service and community-minded individuals who support children and young adults around the world. More than 600,000 Kiwanis-family members in 96 countries make their mark by responding to the needs of their communities and pooling their resources to address worldwide issues, said Ms. Remonde.
Ms. Milagros Fabilonia, principal of San Jorge Central Elementary School accepted the books for her 700 pupils.
Fabilonia said that the book-giving was very timely for the books issued to them by DepEd were damaged with the flooding late last year.
It was Tacderas who facilitated the distribution since it was him who was introduced to Remonde during the Asean Summit in Cebu. Tacderas then expressed his desire to bridge between Samar schools and Kiwanis for the noble purpose.
Aside from San Jorge, Daram, Matuginao and San Jose de Buan were also recipients of the books.
Remonde said that this event is under the Kiwanis Book Bank Project. The project does not require any counterpart from intended beneficiaries, it is just required that they have, and maintain a library.
Aside from distributing books, Kiwanis is also committed to support health and nutrition program that could otherwise affect children and their development.
Books were also distributed to Samar School of Agriculture and Forestry (SSCAF) in San Jorge with books intended for their newly-opened courses in Criminology, Hotel and Restaurant Management and Practical Nursing.
BFAR prepares for 1st Eastern Visayas Mariculture Congress
By MARIVIC ALCOBER (PIA 8)
June 20, 2007
TACLOBAN CITY, Leyte – To ensure the successful conduct of the "1st Eastern Visayas Mariculture Congress" which will be held at the Tacloban Convention Center, the Bureau of Fisheries and Aquatic Resources (BFAR), Region 8 through the efforts of its Regional Director Ernesto Hilvano, in coordination with other government and non-government organizations, is now on its toes preparing for said Congress.
In a recently called inter-agency meeting, BFAR Regional Director bared that the proposed two-day Mariculture Congress which carries the theme "Mariculture Parks: The New Frontier to Economic Growth", is tentatively scheduled on October 17-18, 2007.
During the meeting, it was agreed that the proposed Steering Committee will compose of Dir. Hilvano as Chairman, and Leyte Provincial Governor Jericho "Icot" Petilla and Dr. Gil Asoy as Co-Chairmen, while the member agencies are: the Office of the Presidential Assistant, Department of Agriculture, Department of Trade & Industry, Department of Science & Technology, National Economic & Development Authority, Department of Tourism, Philippine Information Agency, and the Tacloban City Mayor's Office. Likewise, said Committee will also be joined by the Regional Fisherfolk Representative, and the Federation of Filipino-Chinese Chamber of Commerce.
To make sure that all matters regarding the Mariculture Congress will be readily attended to, the offices involved were divided into inter-agency working committees and were given their respective assignments suited to their functions.
The proposed activities involved during said Congress, which will have an expected participants of 1,000 coming from Leyte and Samar, will be technical sessions, exhibit, and industry tours to be conducted on the second day.
The recommended areas for the field tours are the Mariculture Park in San Juanico Strait, with Dr. Asoy as tour coordinator; and the Mariculture Zone in Quinapondan. Projects to be visited include the seaweed farms; aquaculture; pearl culture; hatcheries; oyster culture; sea urchin culture; fish sanctuary – Lawaan; and Leyte, Leyte. The group will also visit the McArthur Park and other historical sites in the area.
The Mariculture Congress aims to serve as a venue for investors from the private sector, research experts and government agencies to discuss modern technologies and current issues to promote a modernized, profitable and sustainable mariculture industry. At the same time, it plans to tackle technical and social aspects and issues of mariculture park and/or zone establishment.
Trillanes probe asked to open safehouses, secret detention places
Press Release
By KARAPATAN
June 19, 2007
QUEZON CITY, Philippines – The Philippine human rights alliance KARAPATAN welcomed the planned probe on extrajudicial killings of former soldier and now senator-elect Antonio Trillanes.
KARAPATAN Secretary General Marie Hilao-Enriquez said, "We laud Senator Trillanes for this move to put the Arroyo administration to task for the unabated extrajudicial killings."
KARAPATAN likewise welcomes the pronouncements made by top anti-Arroyo military officials who said that they will provide the detained senator-elect with evidence once he begins work in the Senate next month.
KARAPATAN asked for the Trillanes probe to open safehouses, military camps and pinpoint secret places of detention to determine the fate of victims of enforced disappearances. "This will bring an end to the sufferings of relatives of hundreds of victims who continue to go through the pain of loss and uncertainty over the fate of their loved ones," Hilao-Enriquez added.
"We hope that the investigation would bring more uniformed men and women who are in-the-know out of the woodwork to really bring the perpetrators to the bar of justice and ascertain the fate of those who were abducted and are missing up to now," Hilao-Enriquez said.
The human rights group lambasted the Arroyo government for coddling the general referred to by the two military officers to be responsible for the physical elimination of activists. "What Trillanes and the unnamed generals refer to as 'mission orders' and death squads from the military intelligence is consistent with the Arroyo government's enhanced national internal security plan," Hilao-Enriquez said.
As early as 2005, KARAPATAN has attributed extrajudicial killings and enforced disappearances to a national policy of the Arroyo government, Oplan Bantay Laya I and II, which they say "consider civilians to be fair target on allegations of being communist sympathizers." In March 2007, UN Special Rapporteur on Extrajudicial, Summary or Arbitrary Executions Prof. Philip Alston said that one of the causes of the killings is the "vilification, labelling or guilt by association... of a wide range of groups – including human rights advocates, indigenous organizations, religious groups, student groups, agrarian reform advocates, and others" to be classified as 'fronts' and then as 'enemies of the state' that are accordingly considered to be legitimate targets."
Since Ms. Arroyo assumed presidency in 2001, KARAPATAN recorded 863 civilian victims of extrajudicial killings by suspected state security forces, among them 411 activists belonging to different political organizations. 180 persons have been victims of enforced disappearance. Many more have been abducted and were missing for days before surfacing dead or incarcerated.
Borongan holds Grand Rally for cityhood
By ALICE NICART (PIA Borongan)
June 19, 2007
BORONGAN, Eastern Samar – Exactly two days before the Plebiscite which will convert Borongan town into a component city of Eastern Samar province, a grand rally was conducted last night at the town's plaza which bore the theme: "Yes to progress, yes to cityhood!".
In his welcome talk, the three timer mayor, Fidel Anacta Jr. appealed to the audience to consider the future of Borongan's generation, the children and the poor who are assured of more benefits once the economic rewards of being a city are put in place.
He further appealed apparently to his political rivals to set aside once and for all, politicking, and instead create a unified stance for "Yes" vote in the Plebiscite tomorrow, Wednesday, June 20. According to Anacta, "It's now or never" saying further that if Borongan will not achieve it this time, it (cityhood) shall not happen anymore in the future adding that the Local Government Code's annual income requirement is getting higher. He said that the current requirement by which Borongan had been exempted is already pegged at P100M while it has only completed the P20M as previously required. He stressed that no other sector, organization, much less, persona could ever offer such a huge amount which could change tremendously the lives of the Boronganons for good.
Likewise, reelected councilor Danny Amboy revealed an honest personal feeling when he approached the microphone. According to him he has started shying off himself from the public when the cityhood issue and increased IRA began to be talked about in just any place of Borongan because according to him a negative perception of some narrow-minded people has reached them in the municipal hall, which said that the new IRA will be divided among themselves. Amboy dismissed the wrong notion and appealed likewise for their critics to be reasonable.
That nasty rumor was vindicated by the supportive pronouncement of big time businessman (at least by Borongan standard) Oscar Ty who owns the famous Uptown Mall. "Oca" as friends call him expressed support to the cityhood, which according to him is sent likewise by his business comrades. He said that there is no problem with them because once the economic activity becomes busy, that would mean more investments, more money in circulation, more competition and cheaper goods, products and services.
DTI Provincial Chief Eleanor Alido also explained her view. At present, according to her, we buy more of our raw materials and agri products from outside Eastern Samar and with this act, the province's money flows out of the place and never returns. When some finances could be granted for farming and livelihood as in acquiring more IRA allocation to provide assistance to marginalized sectors, then it can spell a difference in the lives of the Boronganons. She jibed that the cityhood thing is like winning the jackpot Lotto game that there is no reason why people should not vote "Yes".
However, in his closing remarks, SBM Jessie Solidon expressed dismay over the negative stance of a candidate he voted for he said, in the recently held provincial election. The Veterinarian turned legislator said what a waste of his vote when he heard of the crackling negativism of the elected lady. He said he thought that she would go for development of the people and place and not assert of Borongan being "not yet ready?"
Nonetheless, Solidon's sinking mood was thwarted by a resounding applause of the audience as though telling him that the lady's remark was "no big deal", because the cityhood will obtain the plurality of the votes.
The grand rally was attended by barangay officials, municipal and provincial employees and the several others who opted to stay outside the plaza fence while they listened to the speakers.