Leader of NPA remnants in Leyte surrenders to Army's 19th IB
By MAJOR OTHELO D. YAÑEZ, (FA) PA
February 7, 2008
CAMP LUKBAN, Catbalogan City – Continuous pressure is being experienced by the CPP/NPA in Leyte as it's leadership has been effectively decimated. Many of its key leaders and members voluntarily surrendered and chose to live normal lives within the folds of the law. This trend was established through the successful internal security campaign of the 19th Infantry Battalion, 8th Infantry Division, Philippine Army.

Photo shows the firearms and ammunitions which NPA leader surrenderee alias Nabil turned over to the 19th IB. (PIA 8)
On February 4, 2008 at about 5:30 o'clock in the afternoon, Jessie Payod alias Nabil, Team Leader, Squad "Abe", "Buhawi" Platoon, Mount Amandewin Command, North Leyte Front (NLF), voluntarily surrendered to 19IB and 802nd Brigade. A little later after he submitted himself to the unit, the alias Nabil openly revealed himself as the one who was tasked by the NLF Committee to safe keep some of the NPA's high-powered firearms in the hinterlands of Albuera, Leyte. He likewise indicated that he himself is willing to pinpoint the exact location of the NPA arms cache. Reacting to the said revelations, Col. Raoul Reyes, Commander of 802nd Brigade, directed LtC. Henry M. Bumiltac, CO of 19IB, to send a Reaction Force to locate the arms cache. The latter then sent one (1) platoon led by 2Lt. Jose Laurel M. Sibullas (INF) PA to Barangay Talisayan, Albuera, Leyte to locate the said arms cache. With the help of the alias Nabil, the operating troops found the arms cache, and recovered five (5) M16 Armalite Rifles bearing serial numbers: RP 118828, RP 207467, RP 3401432, RP 114585 and RP 104856; eleven (11) long and twelve (12) short magazines for M16 rifle with four hundred seventy four (474) rounds of caliber 5,56mm ammunition for M16 rifle; one (1) Rifle Grenade: and one (1) Fragmentary Grenade.
According to the NPA leader, the recovered firearms and the other items belonged to their former leaders and fighters who either died in armed engagements; or deserted due to hardships and distrust within their organization; or lied-low for some other reasons.
Earlier on February 1, 2008, base on a tip-off information from a disgruntled former Communist Terrorist (CT) member, 19IB also conducted a raid in Brgy. Caghalo, Carigara, Leyte and confiscated a Garand and a Springfield Rifles, three (3) caliber .22 revolvers and assorted ammunitions for M14 and M16 rifles.
LtC. Bumiltac says that most of the remaining leaders and members of the NLF are now contemplating to return to the folds of the law due to various factors. The sincerity of the government in providing livelihood assistance projects, livelihood training, and cash rewards for those NPAs who surrender with high-powered firearms has improved many lives and reunited many broken families.
Bumiltac further reports that life in area has significantly improved in terms of peace and security since the NLF was effectively decimated late last year.
Col. Reyes asserts that the decline of the NPA movement in Leyte, Southern Leyte and Biliran could be attributed to the relentless efforts of the Brigade in protecting the cleared barangays from being re-infiltrated by the insurgents. REYES claims that the sustained establishment of Integrated Community Safety System in its barangay would effectively harden each community against the CPP/NPA.
MGen. Armando L Cunanan, the Commander of the 8th Infantry Division, added that aside from the peace and security aspects, the economic development activities sprouting all over Leyte and its immediate environs and the delivery of basic government services and effective governance are the main reasons why insurgency are now ceasing to persist. He congratulated the troops of 19IB and 802nd Brigade for the significant stride towards the attainment of President Gloria Macapagal-Arroyo's objective to defeat the CPP/NPA/NDF by yearend 2010.
Icot to stay with LAKAS
By Provincial Media Relations Center (PMRC Leyte)
February 7, 2008
TACLOBAN CITY, Leyte – Amid the brouhaha with the LAKAS and KAMPI parties in the national scene, particularly in the Lower House, Leyte Governor Carlos Jericho Petilla said he is staying with the LAKAS party here in Leyte despite moves by other colleagues in the local government, who have opted to join the party formed by President Gloria Macapagal-Arroyo.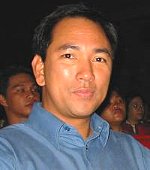 Governor Icot Petilla
Gov. Petilla, a close ally of the president in the Eastern Visayas region, said he sees no reason at the moment to change his political affiliation.
"I don't see any reason to transfer to any other party at the moment, unless it would bring forth more benefits for the people of Leyte," Gov. Petilla said.
He added that other provincial leaders who opted to accept invitations to join KAMPI have their own reasons for doing so.
The governor otherwise disclosed he has neither been convinced by a person or any other group to form part of the KAMPI party.
"No, there has been no one who approached me on that," he said.
Party-jumping among the ruling coalition of LAKAS and KAMPI has been observed lately and is reportedly a move that is seen to tow the line-up for national and local leaders in the 2010 elections. The unseating of House Speaker Jose de Venecia is seen to burn the alliance between these two big administration parties.
Gov. Petilla for his part, has belonged to the LAKAS party since he ran office in 2004 and won to sit his first term as governor that same year. In the elections last May 2007, he likewise ran under the LAKAS ticket after being personally handpicked by President Arroyo to run as a senatorial bet under the administration slate but later withdrew in favor of a reelection as provincial governor of Leyte.
Most of 20 port projects in Eastern Visayas completed, port official says
By Philippine Information Agency (PIA 8)
February 7, 2008
TACLOBAN CITY, Leyte – Almost all the twenty port projects in Eastern Visayas have been completed, the unassuming Philippine Ports Authority Regional Office 8 Manager Winfred G. Elizalde informed as he disclosed the status of the twenty port projects in Eastern Visayas.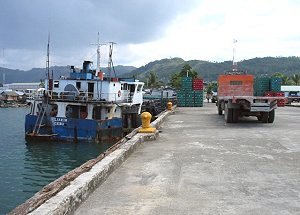 This is indeed good news to the people of Region 8. Through these port projects, the delivery of basic goods and farm produce such as vegetables and livestock is made more easy, economical and efficient as travel time to and from destinations as well as transportation costs are considerably reduced. These port projects will also promote domestic tourism.
These twenty projects include 2 which are SONA/Strong Republic Nautical Highway Network projects; 4 which are SONA projects; 2 which under the Strong Republic Nautical Highway Network projects; and 12 which are under the Anti-Hunger Mitigation Program.
The San Ricardo Port Improvement Project located at Barangay Benit, San Ricardo, Southern Leyte, is on-going with 25.15 percent completed as of December 25, 2007. This project which amounts to P75, 399,487 is a SONA/ Strong Republic Nautical Highway Network project.
Another SONA/Strong Republic Nautical Highway Network project, the Construction of Ro-Ro Ramp and Passenger Terminal Building in Naval Biliran is on-going and has been reported to be 64.04 percent complete as of January 2008.
The Port Expansion Project in Maripipi, Biliran, a SONA project with a total budget of P49,049,991, is still on-going and 75 percent complete as of January 2008.
Three other SONA projects have been completed. The Port Development Project in Limasawa, Southern Leyte which amounts to P13,374,376 and the construction of Port Terminal Building also in Limasawa, amounting to P4,240,655, have been completed as of January 25, 2008.
The third completed SONA project is the Reconstruction, Widening and Extension of R.C. Wharf in Maasin City, Southern Leyte which amounts to P91,340,000.
The two projects under the Strong Republic Nautical Highway Network are the Liloan Ferry Terminal Expansion Project amounting to P62,895,875 which was completed as of September 21, 2007; and the Port Improvement Project in Kawayan, Biliran with a budget of P13,940,000, which was reported to be substantially completed as of January 2008.
Of the 12 projects under the Anti-Hunger Mitigation Program, ten have been reported to have been completed.
These include the Rehabilitation of Carigara Port in Carigara, Leyte amounting to P5,125,826 which was completed as of December 19, 2007; the Improvement of Almagro Port in Almagro, Samar amounting to P7,400,945 which was completed as of November 4, 2007; the Improvement of Sto. Niño Port in Sto. Niño, Samar with a budget of P8,763,492 which was completer as of October 28, 2007; the Improvement of Pasanghan Port in Pagsanghan, Samar with a budget of P6,059,901 which was completed as of October 28, 2007; and the Improvement of Ligaya Port in Ligaya, Rosario, Northern Samar with a budget of P13,628,644 which was completed as of October 4, 2007.
Also included are the Improvement of Biri Port in Biri, Northern Samar amounting to P8,144,484 which was completed as of October 4, 2007; the Port Expansion Project in Hilongos, Leyte with a budget of P91,509,653 which was completed on August 9, 2007; the Port Improvement Project (Construction of RC Pier) in San Isidro, Leyte with a budget of P29,444,366 which was completed on June 4, 2007; the Port Improvement Project (Rehabilitation of Causeway and Reclamation) with a budget of P9,897,759 which was reported to be substantially completed of January 31, 2008; and the Port Improvement Project in Padre Burgos, Southern Leyte with a budget of P11,883,074 which was reported to be substantially completed as of January 2008.
The two still on-going projects under the Anti-Hunger Mitigation Program are the Calbayog Port Expansion Project with a budget of P46,3030,335 which is 41.64 percent completed as of December 25, 2007; and the Vinisitahan Port Development Project in Barangay Vinisitahan, San Antonio, Northern Samar with a budget of P32,646,242 which is 70 percent complete as of December 2007.
Chiz challenges JDV to make good of his words
Press release
By Office of Senator Chiz Escudero
February 5, 2008
MANILA, Philippines – If he can't get a fair hearing in the House he once headed, ousted Speaker Jose de Venecia is most welcome to spill the beans in the chamber he worked so hard to abolish, Sen. Chiz Escudero today said.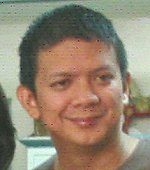 Senator Chiz Escudero
"If he needs a venue, as the House now appears to be hostile territory to him, he will find a cordial place in the Senate to make his confessions. The good Speaker should treat this as an open invitation, courtesy of an institution he once labored mightily to destroy", Escudero said.
Should the former fourth highest official in the land decide to testify in the Senate on anomalies committed by the administration, he should be prepared to be rebutted by government officials who I think must appear and for their sake must not let JDV's accusations go unchallenged", Escudero said.
With De Venecia's encyclopedic knowledge on the workings of the present government, including deals it had entered into, then the Speaker must tell all, and the Senate provides the venue, for such a narration.
Escudero said the former speaker should stand by his words at the halls of Congress yesterday. "Hamon ko di dapat tumigil sa bitin at bakit ngayon ka lang speech. Hamon ko di lamang sa salita pero pati gawa patunayan niya ang bukambibig niyang moral revolution", Escudero ended.
Reference: Judee Aguilar (5526601 loc. 6540)
Win or lose to Marquez, Pacquiao to fight again June 28 in Macau
By ALEX P. VIDAL / PNS
February 5, 2008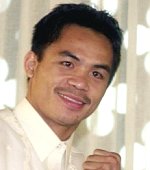 Pacquiao
ILOILO CITY, Philippines – Even if Manny Pacquiao (45W, 35 KOs, 3 losses) will suffer a knockout defeat, which is beyond imagination for those who root for him, in his March 15 12-round shootout with World Boxing Council (WBC) superfeatherweight champion Juan Manuel Marquez at the Mandalay Bay Resort and Casino Hotel in Las Vegas, he is still illegible to climb the ring for a possible world title shot at David Diaz's WBC lightweight crown within the period of three months.
This became apparent after BoxRec.com reported that the Filipino fighter's next assignment will be on June 28, 2008 in Macau, China against an unnamed opponent which, sources said, could be the 31-year-old Diaz, conqueror of Pacquiao's trilogy partner Erik Morales.
Diaz (33W, 17 KOs, 1 loss) will himself risk his WBC jewels also on March 15 in the Marquez-Pacquiao aperitif versus Ramon Montano (14 W, 0 loss). Win or lose to Montano, Diaz could still fight after a period of three months – even if he will kiss the canvas.
Under the rules of the Games and Amusement Board (GAB) boxing division and probably the Nevada State Athletic Commission, a fighter who suffers a knockout (KO) cannot fight for the next 60 days or two months.
Promoters of the supposed Pacquiao-Diaz setto must have anticipated this possible "technical glitch" in the megabuck showdown in China's gambling capital in advance the reason why they chose June 28 as the date of the possible title clash.
Aside from Diaz, promoters of the 29-year-old General Santos City phenom is also eyeing the voracious but extremely dangerous Edwin Valero, the unbeaten Venezuelan who has been banned from fighting in the United States for his failure to secure necessary brain test.
Jollibee GK-Village holds turn-over rites
By BONG PEDALINO (PIA Southern Leyte)
February 3, 2008
BRGY. MAHAYAHAY, Bontoc, Southern Leyte – A turn-over ceremony for 100 houses was formally held here January 30 for the poorest of the poor beneficiaries, the low-cost housing project undertaken by Gawad Kalinga (GK) and duly funded by Jollibee Foods Corporation.
A symbolic key was personally handed over to the homeowners by personalities of the giant food firm headed by Ms. Gisela Tiongzon-Velasco, the Executive Director of Jollibee Foundation, along with some Franchisee, like Willard Chan, the Franchise owner of Jollibee Baybay and Ormoc.
Also around was Bontoc Mayor Pedro Fustanes, who was the owner of the two-hectare lot which was donated for the construction of the houses, including another two-hectare open space he intended to let the village use for the livelihood needs of the new community.
Others present were Engr. Dominador Clavejo, provincial director of the Department of Science and Technology (DOST), for the proposed flour mill to be put-up in the place, together with Fe Norma Valuis, provincial director of the Department of Labor and Employment (DOLE) with her companion, Mario Tictic.
CFC-GK provincial head Dr. Jerome Paler led the community of CFC members who witnessed the activity.
Rev. Msgr. Cesar Garces, Parish Priest of Bontoc, earlier said mass and blessed the houses.
In an interview with Ms. Velasco, Jollibee Foundation Executive Director, shortly before the ceremonies began, she disclosed that the amount of P6 million was used for building the houses, at P60,000 per unit cost of materials.
But she stressed that customers of Jollibee contributed immensely to that money through their coin campaign in all the branches that raked in over a million pesos.
All the employees and personnel of Jollibee, aside from chipping-in cash, also shared their time and efforts during GK-Jollibee Build schedules, when the houses were still in various stages of construction last year, Velasco added.
With the houses now complete, the next thing for the benefactor to look into will be the sustainability of the community by helping them in their farm livelihood until such time the homeowners will be on their own, said Velasco.
"We also raised money through the coin bank in our stores and we were able to raise more than a million pesos from that alone, so this is also a tribute to all our customers plus our employees' help in building the houses," Velasco informed.
She added: "From here on, our pledge to our partners is that we will be with them at the start. We will help you start up and do something but beyond that is no longer our control. It's all in their hands. Our intervention will be on livelihood program because that will spell out the sustainability of the community."
It was learned that so far Jollibee has tied up with GK for two communities, one in Las Piñas in Luzon, and this one for the Visayas.
And the selection of the date for the turn-over was deliberate: January 30 was also the 30th anniversary of the successful food business Jollibee.
President Arroyo issues EO 690, transfers LRA to DENR
By PURIFICACION S. DALOOS
February 3, 2008
TACLOBAN CITY, Leyte – President Gloria Macapagal-Arroyo has recently transferred the authority and supervision of the Land Registration Authority (LRA) to the Department of Environment and Natural Resources.
Executive Order No. 690 signed by President Arroyo on December 28, 2007 transfers the LRA from being an attached agency of the Department of Justice to the DENR which is the government agency that exercises supervision and control over alienable and disposable public lands.
LRA is mandated to issue decrees of registration and certificates of title and register documents, patents and other land transactions for the benefit of landowners, Agrarian Reform-beneficiaries and the registering public in general.
Regional Executive Director Alfredo Pascual says that EO 690 mentions that "the transfer of LRA from DOJ to DENR is being done in order to have a concerted and well-coordinated effort in formulating policies as well as planning and implementing programs and projects of the LRA."
RED Pascual notes that in region 8, the LRA and the DENR particularly the Land Management Service, are working in close coordination with each other. "The implementation of the Land Administration and Management Project (LAMP) in the region has made this smooth working relation between the DENR & the LRA possible," RED Pascual adds.
The transfer is consistent with the "Administrative Code of 1987", which provides that the President, in order to achieve simplicity, economy and efficiency, has the continuing authority to reorganize the administrative structure of the Office of the President.
Calicoan remains a peaceful haven for tourists
By Philippine Information Agency (PIA 8)
February 2, 2008
TACLOBAN CITY, Leyte – Calicoan Island off Guiuan, Eastern Samar remains a peaceful haven for people including the tourists, Mayor Annaliza Kwan stressed, in reaction to news reports saying that armed men raided a resort in said island.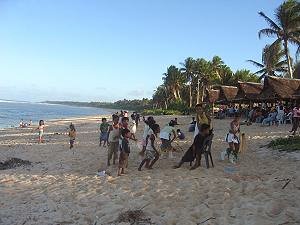 "I do not want people to think that Calicoan is not safe," Mayor Kwan said. The people of Calicoan and Guiuan as a whole are hospitable and peace-loving people, Mayor Kwan added.
The incident described in the news reports that appeared in the newspapers are allegedly related to land disputes and that the alleged armed men were actually hired blue guards.
Mayor Kwan informed that at 5:00 o'clock in the morning of Saturday, she received reports that between 2 and 3 o'clock that morning, "armed men" about seven of them entered the beach house of a certain Betty Jerusalem who is in the United States and forcibly brought the three caretakers to the beach where they were covered with clothes.
The three caretakers said they heard the sound of chainsaws which were used to destroy the beach house and the adjacent beach house and cottages of the Monay Beach Resort owned by a certain Abby Garado who is also in the United States.
Mayor Kwan said she immediately dispatched several policemen to the area to investigate. The policemen reported that when they arrived at the area, the whole place was already secured with barbed wires and being guarded by blue guards.
The reported incident sprang from personal conflicts and should not dampen the enthusiasm of the tourists, Mayor Kwan said. She assured the public that everything is under control and peaceful in her town, where the best catch of fish, abalone and other seafood abound.
Calicoan Island is the flagship tourism destination of Eastern Visayas in line with President Gloria Macapagal-Arroyo's Central Philippines Super Region which is being eyed as the Center of Tourism in the Philippines.
Calicoan Island boasts of its panoramic view and its offering of the best of both worlds, a surfing destination facing the Pacific and placid waters and white beaches facing Leyte Gulf on the other side.
Eastern Samar government offers hand tractors to lowly farmers
By ALICE NICART (PIA Eastern Samar)
February 2, 2008
BORONGAN CITY, Eastern Samar – Some 312 hand tractors are now ready for distribution at the Department of Agriculture, Office of the Agricultural Services this province (DA-OPAS) to farmers, should they meet the requirements.
This was learned from Mr. Jesus Agda, the Provincial Agriculturist in an interview.
Agda stressed that this is however a loan and not a dole out as wrongly perceived in the past by most rural folks to government assistance.
"This is a loan Governor Evardone entered with the Development Bank of the Philippines (DBP) in cooperation with the Sangguniang Panlalawigan", Agda stressed. "In their desire to help our farmers, they bought these tractors with the borrowed money from the bank, that is why the farmer-beneficiaries should also take in consideration this government initiative," he added.
He added that the mode of payment is on quarterly basis at P5,000 for three years, but they will have to pay the P6,500 as equity. It was also learned from Mr. Agda that the total cost of the hand tractor is P80,644.
Since it was made known to the farmers of the province, about 28 units of hand tractors have already been given individually to 28 farmers from far Arteche, Dolores and Oras towns.
"But there are still 312 of those tractors waiting for interested takers," Agda said. All they have to do is comply with the following requirements: first, the applicant must be 18 to 65 years old, he must have a collateral, proof of it is a Tax Declaration for at least half of a hectare, he must enter into a Memorandum of Agreement to be signed by his municipal mayor, Agricultural Technician and lastly, he must submit an accomplished application form with a 2x2 picture.
The Agricultural Development Program of Governor Evardone is also in line with one of President Gloria Macapagal-Arroyo's priority agenda being "food in every table of every Filipino family".