Evardone opposes 124% power rate increase in Eastern Samar
By Philippine Information Agency (PIA 8)
March 11, 2008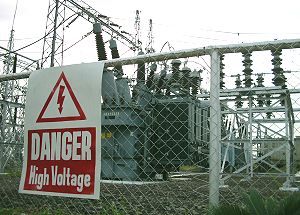 TACLOBAN CITY, Leyte – Eastern Samar Governor strongly opposed the imposition of 124% increase in power rate being charged by the Eastern Samar Electric Cooperative (ESAMELCO).
In separate interviews with the local radio stations in Tacloban, Governor Evardone said that the increase is exorbitant especially at this time when the people of Eastern Samar are still reeling from the damages of the recent flash floods.
Governor Evardone said that when he learned about this increase on Sunday, he immediately called Manager Aberia of ESAMELCO. He was told that the increase is due to the increase in the transmission of power that caused the electric cooperative to incur P7 million.
The Governor said that he informed President Gloria Macapagal-Arroyo about this, and the President also believes that no increase should be allowed at this time. The President told Governor Evardone to tell the manager of ESAMELCO not to collect increases at this time.
Further, Governor Evardone said he also called up the President of Philippine Transmission Corporation (TRANSCO) to inform him of the predicament of the people of Eastern Samar.
Governor Evardone called up a public hearing on Tuesday, together with the management of ESAMELCO so that the appropriate action will be taken into effect.
Meanwhile, Governor Evardone called on the people of Eastern Samar not to pay the increase in power and to just pay with the old rate. Although, the manager of ESAMELCO assured him that those who have paid with the new rate will be refunded, Governor Evardone said that it will be too taxing to the people as the issuance of the refund will entail a lot of paperwork.
The ESAMELCO implemented the increase without consultation whatsoever with the people, Governor Evardone said. The old rate of power in Eastern Samar is about P4.50 per kilowatt hour. With the increase, Eastern Samar will have the most expensive power in the country. This is not good for the program of the President of inviting investors in the tourism industry to put up their business in Eastern Samar, Governor Evardone said.
Basey farmfolks join jathropa propagators
By NINFA B. QUIRANTE (PIA Samar)
March 10, 2008
CATBALOGAN CITY, Samar – After a year of convincing farm folks, a local organization of farm folks in Basey, Samar is now drawing in new members who share the vision of planting more tuba-tuba (jathropa) for livelihood.
As of December 31, 2007, some 212 Basaynon-farmers have engaged in tuba-tuba planting, according to the record of Teodorico Purbos, President of the Baktas Kabub'wason Rural workers Association.
Baktas Kabub'wason (Walk to the Future) is an organization of Basaynons believing in the economic benefits that tuba-tuba could bring.
In this effort, Basey now has some 71,424 shrubs planted in a 28,000-hectare distributed in 32 out of its 51 barangays.
Of these, it is Barangay Villa Aurora that tops both the number of tuba-tuba planted and hectarage, the report added.
It was no less than the Chairman of the Philippine National Oil Company (PNOC) Alternative Fuels Corporation (AFC) who visited this historic town on March 8, 2008 on the occasion of the Baktas first general assembly.
In his speech, Chairman Renato S. Velasco assured the tuba-tuba planters that PNOC is willing to buy their tuba -tuba seeds.
Mayor Didi Estorninos of Basey has joined the bandwagon himself and planted some in his farmland.
The likes of Army Officer Jonathan Ponce, Department of Agrarian Reform Officer Chito dela Torre and then Sangguniang Bayan Member Anita Ogrimen hatched the idea of the tuba-tuba project in support to the program of PGMA's Biofuels Act.
Tuba –tuba known as jathropa curcas has gained a wide following of planters in Mindanao, Luzon and in Palawan.
Aside from Velasco, Army Brigade Commander Francis Lanuza of the 801st Bde, PIA Regional Director Olive Tiu and Prof. Roberto Visco of UP also graced the occasion.
Senate sets April Spratly probe, JPEPA vote
Press Release
By Office of Senator Miriam Defensor-Santiago
March 9, 2008
PASAY CITY, Philippines – Sen. Miriam Defensor-Santiago, chair of the Senate foreign relations committee, said that the public hearing on the controversial 2005 Spratly Islands agreement, as well as the Jpepa committee report, will be taken up on April 28, when Congress resumes session after the Holy Week break.
"Following Senate practice, the Spratly Islands investigation will probably be assigned to two committees: foreign relations committee for the constitutional and legal aspects, and blue ribbon committee for the criminal aspect," she said.
Santiago said that the 2005 tripartite Joint Marine Seismic Understanding (JMSU) among the Philippines, China, and Vietnam, raises the issue of whether it violates the constitutional provision on Philippine sovereignty or jurisdiction over defined national territory.
"A mere scientific or technical cooperation agreement, which does not diminish or threaten Philippine sovereignty or jurisdiction, is constitutional," she said.
The JMSU will collect data and information on the potential oil and gas reserves in the area, planned to last for three years, at US$15 million.
Santiago said that former Sen. Franklin Drilon, when he was justice secretary, issued a 1990 opinion stating it was "legally feasible" for the Philippines and Australia to conduct a similar Offshore Seismic Project.
She quoted Drilon, who ruled: "the project proposal which involves data-gathering, processing, and interpretation techniques envisioned pre-exploration activities which are not covered by constitutional limitations."
"Drilon in 1990 said that a seismic project with Australia was legally feasible. Now Drilon in 2008 is saying that a similar seismic project with China could be a legal basis for impeaching President Arroyo. He will have to explain his mental calisthenics before the committee," she said.
Santiago said that in his 1990 opinion, Drilon stated that after completion of the seismic project, "the President may enter into a service contract with a wholly-owned Australian corporation for large-scale exploration, development, and utilization of petroleum resources in accordance with P.D. No. 87, and other pertinent laws."
"In 1990, Drilon approved not only the seismic project, but even a service contract with a foreign country for the use of petroleum resources. By contrast, in 2008, Drilon implies that a similar seismic project, without a service contract is already illegal and exposes the President to impeachment. This is a flip-flop that shows intellectual inconsistency," she said.
Santiago cited the 1992 ASEAN Declaration on the South China Sea issued in Manila, where ASEAN foreign ministers resolved, "without prejudicing the sovereignty and jurisdiction of countries having direct interests in the area, to explore the possibility of cooperation in the South China Sea relating to the safety of maritime navigation and communication, protection against pollution in the marine environment . . ."
Santiago said the 1992 Declaration was followed by the 2002 ASEAN-China Declaration on the Conduct of Parties in the South China Sea, which she said "is merely a political declaration, without binding legal force, seeking to turn a sea of disputes into a sea of cooperation, pursuant to the policy of the late Chinese leader Deng Xiao Ping."
Deng advocated the principle of "putting aside the disputes and jointly exploiting," the area of the South China Sea.
"There is a curious question of timing. Since the pact was signed three years ago, why is it only now that it is being assailed as alleged presidential misconduct? What is the basis for the charge by a foreign writer that it is an alleged sellout?" she said.
Santiago warned that RP-China relations should not be dragged into the political fray, noting that China has extended preferential loans to the Philippines for various development programs, and is now the main financial provider for Southeast Asia, ahead of the World Bank, the Asian Development Bank, and aid programs from the US and Japan.
"The anti-Arroyo campaign should not be turned into an anti-China campaign. We should consign power plays to the domestic arena. International relations and diplomacy are too important to our national interest to be used as partisan political ploys. It takes decades to build up good interstate relations," she said.
In another development, Santiago said that when Congress resumes on April 28, she will release a Full Committee Report recommending conditional concurrence with Jpepa.
"Ordinarily, a committee report is only two pages, bearing the signatures of committee members. But this time my committee report will be so extensive that it will be a bound volume. Jpepa is an extraordinary treaty, raising significant issues of constitutional and international law," she said.
Santiago said that Jpepa committee report will comprise at least four documents: the standard format with the signatures of nearly all 23 senators who are members of the two committees; the draft Senate resolution setting out the conditions for concurrence; the report on the constitutional and legal issues filed by herself as chair of the foreign relations committee; and the report on the trade and industry issues to be filed by Sen. Mar Roxas as chair of the trade and commerce committee.
The senator said she finished Jpepa hearings in November last year, but Sen. Edgardo Angara requested additional hearings that took another month.
"In January, the Senate could not take up Jpepa, because the budget always takes priority. In February, it was overtaken by the NBN probe. This March, there is an extended Congress break. That is why April, when session resumes, is the earliest date available," she said.
Santiago said she hopes Japan will accept the conditions, without resubmitting the Jpepa to the Japanese Diet or parliament.
"The constitutional issues are paramount. Hence, the Senate should ensure that the Supreme Court will not declare Jpepa unconstitutional. If we do not take scrupulous care in the Senate and the court declares it unconstitutional, such declaration of unconstitutionality will not be a valid defense, if Japan later sues the Philippines for nonperformance of contract obligation. This is a provision of the Vienna Convention on the Law of Treaties," the senator said.
Santiago will be abroad until November this year, to campaign for the post of judge of the International Court of Justice where, if elected by the United Nations, she will be the only female among 15 judges elected worldwide on the basis of the highest qualifications in international law.
But Santiago said she plans to be in Manila when session resumes in April, so that she can deliver her Jpepa sponsorship speech and defend it, as well as preside over the Spratly Islands hearing, before resuming her hectic campaign schedule abroad.
Relief operations to a flooded Eastern Samar continues
By SENTAY B. QUITORIO
March 9, 2008
BORONGAN, Eastern Samar – PAGCOR (Philippine amusement and Gaming Corporation) conducted a 5-day Medical Mission side by side with a Relief Operation following orders from the President Gloria Macapagal-Arroyo. It started March 7 to end March 11, 2008 in identified priority municipalities.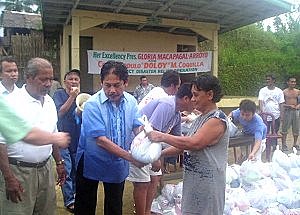 Cong. Doloy Coquilla assisting in a relief operations.
According to the report of the Provincial Social Welfare and Development 40,859 families are affected, 17 dead, 4 missing, 31 injured as of press time. While an estimated total damage cost at P199,308,926.50. PSWDO also reported that these damages include that infrastructure, agriculture and damage to personal properties. Further the social welfare office confirmed that it is based on the reports submitted by 12 municipalities only, and that they are still waiting reports from other towns.
During the Presidential visit of PGMA last February 23, 2008 in Dolores, the families of the victims of flood received 20 thousand pesos, and later 5 thousand pesos from Governor Ben P. Evardone. The provincial government also distributed food packs as immediate answer to the needs. While PGMA committed 200 million, half of it goes to Northern Samar, to rehabilitate damages.
Governor Evardone and the employees of the provincial government offered a "requiem" mass for the eternal rest of the 17 victims of the flood.
Prior to these operations of PAGCOR, Non-government Organizations, local catholic church, private individuals and groups aside from government initiated out-reach programs joined forces to provide immediate relief to the victims of the calamity.
While Congressman Teodulo M. Coquilla of the Lone District of Eastern Samar also allocated P5 million worth of food packs distributed to affected families and individuals all over the province followed by series of medical missions in areas where there is an outbreak of diarrhea. Coquilla also confirmed to have received help from colleagues in congress.
Congressman Coquilla and Governor Evardone received the relief goods and medicines from PGMA through PAGCOR before it was airlifted by C130 at the Villamor Airbase last March 6, 2008.
PAGCOR team headed by Jun Evangelista confirmed that their team brought to the province medicines and relief good for 10 thousand individuals. Governor Ben Evardone and the social services prioritized recipients according to accessibility. The recommended Barangays are along the rivers of Dolores, Oras, Maydolong, Balangkayan, Borongan, Arteche and Can-avid.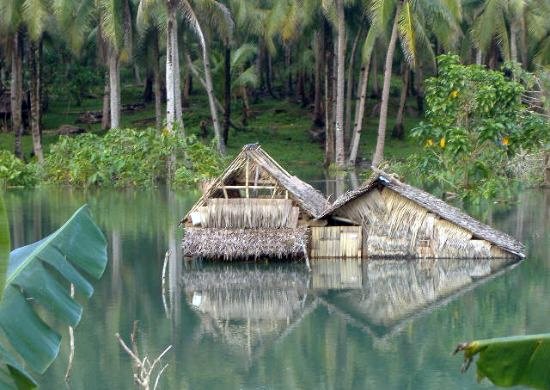 A flooded area in Eastern Samar (photo by Sentay Quitorio)
PNOC-AFC chair lauds people of Basey in Samar for initiating jathropa farming
By Philippine Information Agency (PIA 8)
March 9, 2008
TACLOBAN CITY, Leyte – Philippine National Oil Company-Alternative Fuels Corporation (PNOC-AFC) Chairman, Dr. Renato Velasco commended the people of Basey, Samar for coming together to form Baktas Kabub'wason Association, the main activity of which is planting of jathropa trees in support of President Arroyo's Alternative Fuels Program.
Chairman Velasco said that the group (jathropa) in Basey is one of the most organized in the Visayas. Most of the 51 barangays of the municipality have jathropa planters already. The association has a management group which is headed by Lt. Col. Jonathan Ponce who is the commanding officer of the 62nd Infantry Battalion based in Basey, Samar.
The group is being supported by the local government unit, the military and several government agencies, Chairman Velasco said. The local government has pledge to plant jathropa in at least 5,000 hectares of land in the municipality.
Chairman Velasco disclosed that the local government unit and the PNOC-AFC could forge a memorandum of agreement whereby partnerships and assistance will be given the jathropa group on a long term basis of 15 years.
If the group is able to plant 5,000 hectares of jathropa and there is assurance of sustainability of supply, then the PNOC-AFC can set up a buying center in the municipality.
Chairman Velasco assured the planters that the PNOC-AFC will buy all the seeds they will harvest. He cautioned them though to be careful with the choice of variety of jathropa to plant because there are varieties which give higher yield of oil.
Starting with 12 barangays when the project was officially launched in June of 2007, Chairman Velasco lauded that almost all the 51 barangays are already planting, six months after the launching.
Chairman Velasco was in Basey on March 8, as the Guest in the first General Assembly and Jathropa Seminar of the Baktas Kabub'wason Association.
Lt. Col. Ponce informed that Baktas Kabub'wason means Walk for the Future. He said that the project was conceptualized to provide the people in Basey, alternative livelihood. The people readily accepted the idea because they will be able to harvest the fruits, 6 months or 8 months after planting. Besides, jathropa continuously bears fruits. It is hoped that this will solve the poverty problem in this part of the country.
Biliran tops national poverty incidence improvement for 2006
By RAY P. GASPAY
March 8, 2008
CATBALOGAN CITY, Samar – The province of Biliran has marked the highest improvement against poverty in the country for 2006 with an improvement rating of 15.1% from that of 2003 according to the latest 2006 Philippine Poverty Statistics released on Wednesday by the National Statistical Coordination Board (NSCB).
Biliran improved dramatically to the top post from being ranked 75 in 2003 followed by the provinces of Siquijor and Quirino who were then in rank 61 and 25 respectively of the same year.
In Region 8, Northern Samar dropped significantly to rank 77 from rank 30 in 2003, Eastern Samar to rank 68 from rank 12 in 2003, Leyte to rank 63 from rank 50 in 2003, Samar to rank 36 from rank 26 in 2003, while Southern Leyte has improved to rank 14 from rank 67 in 2003.
For poverty situation in 2006, Biliran improved to 31.4% from 46.5% in 2003, while Southern Leyte has improved to 29.0% from 31.9% in 2003. The province of Samar has slightly worsen its poverty situation in 2006 to 40.2% from 38.7% in 2003, Leyte has worsen to 40.5% from 34.6% in 2003, Eastern Samar to 42.7% from 33.9% in 2003, while the big casualty is Northern Samar to 52.2% from 33.8 in 2003.
Southern Leyte remained to be the least poor province in Eastern Visayas while Northern Samar is a new entrant in the ten poorest provinces in 2006 at rank 7 along with other new entrants of Tawi-Tawi (rank 1), Apayao (rank 4), Lanao del Sur (rank 6) and Abra (rank 9).
Tawi-Tawi was listed the poorest province in 2006 with 8 out of 10 families classified as poor. Provinces that remained among the 10 poorest provinces from 2003 to 2006 were Zamboanga del Norte (rank 2), Maguindanao (rank 3), Surigao del Norte (rank 5), Masbate (rank 8) and Misamis Occidental (rank 10).
In the national level however, poverty worsened from 2003 to 2006. Poverty incidence increased to 26.9% for families in 2006 compared to 24.4% in 2003. This is however lower than the 27.5 % poverty incidence in 2000. In terms of poverty incidence among population, out of 100 Filipinos, 33 were poor in 2006, compared to 30 in 2003.
The statistical board defines "poor" as those who cannot afford basic needs for food, health, education, housing and other social amenities. The poverty threshold refers to the cost of minimum basic needs, food and nonfood. The statistical board said a Filipino family of five needed a monthly income of P6,274 in 2006 to stay out of poverty. For Metro Manila, where the cost of living is higher, a family of five needs P8,569 monthly income to keep out poverty.
Ranking of Provinces in Region 8 in Terms of Improvement in the Poverty Incidence Among Families from 2000 to 2006
PROVINCE

POVERTY INCIDENCE

Rank in terms of improvement (National)

2000
2003
2006
2000-2006
2003-2006
Philippines
27.5
24.4
26.9
-
-
Southern Leyte
26.3
31.9
29.0
67
14
Biliran
33.3
46.5
31.4
75
1
Samar
45.5
38.7
40.2
26
36
Leyte
34.9
34.6
40.5
50
63
Eastern Samar
45.9
33.9
42.7
12
68
Northern Samar
39.8
33.8
52.2
30
77
SOURCE: National Statistical Coordination Board
DENR 8 hosted national budget reprogramming workshop 2008
By PURIFICACION S. DALOOS
March 8, 2008
TACLOBAN CITY, Leyte – Almost two hundred participants coming from all regional offices of the Department of Environment and Natural Resources (DENR) in the country have converged at the Leyte Park Hotel in Tacloban City on February 28 to March 1, 2008, to formulate the fiscal year 2008 work and financial plan.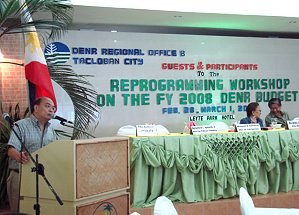 DENR Undersecretary for Staff Bureaus Manuel Gerochi (L photo)) exhorts planning and finance officers of the DENR to anchor their planning work on public service by coming-up with an efficient and responsive work and financial plan.
As hosts of the significant affair, Regional Executive Director Alfredo S. Pascual of DENR-8 together with Tacloban City local government Executive Assistant Bernardita B. Valenzuela as representative of Mayor Alfred Romualdez, warmly welcomed the participant s from all over the country. In his welcome address, RED Pascual expressed that it was the first time that the DENR Region 8 hosted a national budget reprogramming workshop, and the DENR 8 takes pride in hosting such workshop and wished that the participants will enjoy the simple amenities Tacloban City can offer.
Undersecretaries Demetrio L. Ignacio of the Policy and Planning Office; Teresita Samson Castillo of the Special Projects/Social Mobilization; and Manuel D. Gerochi of the Staff Bureaus as well as the respective Bureau Directors from the DENR Central Office provided the guidance to the participants in coming up with their respective outputs.
USEC Manuel Gerochi urged the participants to anchor their planning work on public service. Programs of the different sectors of the DENR which are so dynamic should be synchronized in order to come up with a responsive and efficient work and financial plan that can serve the mandate of the DENR. USEC Gerochi disclosed that Secretary Jose L. Atienza's leadership currently focuses on restructuring programs and evaluation of systems to bring out reforms in administrative processes, policies and operational practices and put these in a framework necessary in coming up with a responsive long term plan.
DENR'S priority thrusts for the year include among others: poverty reduction and hunger mitigation to be implemented through the Department's Community Based Forest Management Program including agro forestry development and land disposition program for agricultural, residential, school sites and industrial purposes; socio economic development through the mining industry revitalization program, industrial tree plantation, clean waterways program, coastal management program and extended continental shelf; biodiversity conservation through the promotion of ecotourism and implementation of biological diversity conservation programs and monitoring of wetlands; mitigation of the effects/impact of climate change through the planting of 40 million seedlings on denuded and degraded areas, improvement of air quality through intensified law enforcement and monitoring, geohazard mapping and determination of carrying capacity of highly critical areas, vulnerability assessment on climate change impact and effective rehabilitation technology for degraded ecosystems.
Meanwhile, participants of the workshop were given the chance to visit some of Tacloban City's favorite tourist destinations such as the San Juanico Bridge, Santo Niño Shrine, Macarthur Landing Memorial National Park in Palo, Leyte and the Eagle's Peak in Santa Rita, Samar. Other participants bought some souvenir items made of tikog products from the local producers in Basey. Samar.