Leyte to join trade, investment expos in foreign countries
By Provincial Media Relations Center
July 9, 2011
TACLOBAN CITY – The province of Leyte is gearing up to join trade and investments fair in other countries this year to strengthen investments campaign to the province.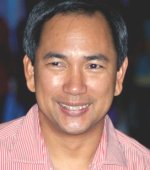 Gov. Icot Petilla
It was learned from Leyte Governor Carlos Jericho Petilla that the provincial government of Leyte, through the Leyte Tourism and Investment Promotions Center (LTIPC), is planning to join international trade and investment fair in London and one other country in Europe within the year.
The governor said tourism and economic boost in the province could come in good and viable investments from interested and dependable investors in and outside the country.
Joining investments fair, the governor said, is one way not only to promote the locality but also to encourage investors and businesses to come.
It also intends to provide linkages between and among the private sector groups and the government agencies and instrumentalities. Joining international fairs is opening the door of opportunities for the province even wider.
"We are looking at trade and fairs to give us the opportunity to show our capabilities, our products and our market," Gov. Petilla said.
He added going global in Leyte's 'selling mission' is hoped to lead the influx of investments in the province and the region and the creation of employment opportunities for the people.
Tourism wise, the province has earlier identified island beach getaways, diving and eco-tourism spots, spa and wellness attractions, as well as cultural destinations as the province's main offerings to travel trade players in trade exhibitions.
"Admittedly, the government is not a good investor. We cannot do this on our own, we rather need investors to invest on us," Gov. Petilla said.
Still high on his priority list, he added, is for the province to have a "destination hotel" that could lure tourists and provide jobs for the locals.
Meanwhile, earlier in March this year, the province of Leyte through the Department of Trade and Industry Leyte Provincial Office, showcased export quality products at the National Trade Fair 2011 in Manila. These export quality products were from the gifts, decors, and handicrafts sector. The Leyte producers had the opportunity to meet new buyers particularly institutional buyers in Manila.