Daram Mayor aims an Organic Vegetable Production from Women's Farm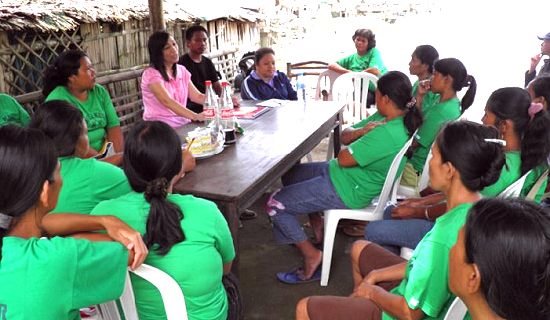 Mayor Lucia Latorre-Astorga with Daram Mobile Kusina Women's Organization in a meeting on the implementation of Organic Vegetable Production.
By MYRA M. TAMBOR
July 10, 2011
DARAM, Samar – Mayor Lucia Latorre-Astorga surprised the residents of a far flung barangay Nipa in the island municipality of Daram when she visited the place without notice this week. Awed, the residents altogether approached the simply visiting Mayor as she comes nearer to the center of the barangay.
Her intention of visiting the place is to meet with her Mobile Kusina Women's organization, popularly known as MK, and introduce to them the Organic Vegetable Production Project for MK's, where her administration is currently implementing under the sustainable agriculture program. With an agriculturist companion, Mr. Richard Milod, an expert in sustainable agriculture from a partner non-government organization ADF, the Mayor discussed with the women and barangay officials the concept of the project.
Barangay Nipa, is just one of the 6 pilot MK gardens who's actual training on organic farming is underway within the week. The others are situated in Birawan, Ubo, Badiang, Cabil-isan and Tugas. With the on-going 3-year program on nutrition in various elementary schools in partnership with Jollibee Foundation and ZFF, the Mayor hopes that the garden will cater the need for vegetables of the said program without purchasing it from the nearby towns while at the same time fulfilling the goals of the LGU in addressing the malnutrition problem of the island.
Hence, positively responding to the MDG's goal of reducing under five and maternal deaths and addressing micro-nutrients needs of the children and mothers. The project also hopes to make the garden a livelihood opportunity primarily for women but generally for the community itself. Saying that organic vegetable is "in" the market today, the Mayor said, this simple intentions may and could be turned out into large and increase income among families in Daram.