Palm Grass Hotel to screen a community-created short fiction film to remember the 1898 Cebu Revolution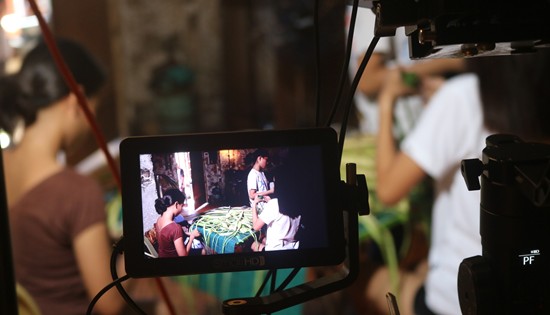 Press Release
May 10, 2018
CEBU CITY – Palm Grass, Cebu's only heritage hotel, as part of its Heritage Awareness Campaign, offers a series of firsts to the public in commemoration of the 120th year of the Cebu Revolution vs. Spain.
On May 20, 2018, Cebuanos mark the 120th anniversary of the second phase of the 1898 Cebu Revolution, when Cebu Katipunan leader Heneral Luis Flores regrouped the Cebu Katipuneros after a temporary setback upon Leon Kilat's murder on April 8, 1898.
This May 20, 2018, 6 p.m. to 9 p.m. at Hawanan Tres de Abril, Palm Grass will hold a special screening of the short film fiction, "Kinasing" by video creator Prospero Laput of Hong Kong-based Asia-Pacific Focus Features, in cooperation with Palm Grass Hotel and Cebu students.
This will be the first time in Cebu that a short fiction film would tackle the modern-day relevance of the 1898 Cebu revolution, where a fictional descendant of Heneral Luis Flores meets a lovely puso-maker from Pasil.
Puso, specifically, the kinasing, is the central object in this short film and is used to highlight a historical context and progression.
In this film, the puso-makers are honored in a song based from a poem that tells about their pains, struggles, dreams and journey towards a better society. Young Cebuano artists composed, arranged and interpreted the song.
In addition, students from two state universities, mga Iskolar ng Bayan of Cebu Normal University and University of the Philippines-Cebu, are a huge part of this film production as they are involved from writing the script, casting, and crewing the short film.
"It's a real challenge to organize a short-film production with very fresh talents who either just graduated from school or are still in school. But somehow community-driven projects like this are getting to be a familiar terrain in my marketing and communications content creation portfolio. And Palm Grass did an excellent job in organizing the kids into a formidable indie film crew!" says Laput.
In March 2018, Palm Grass Hotel, with UP-Cebu alumnus Prospero Laput of Asia-Pacific Focus Features, led workshops on Motion Graphics and Video Creation participated in by selected University of the Philippines-Cebu and University of San Carlos students. The workshops were able to produce two videos on the 1898 Cebu Revolution vs. Spain.
Palm Grass, the Cebu Heritage Hotel, is facilitating awareness on the 1898 Cebu Revolution by hosting and leading the community, especially the youth, in creative ways to relive this nearly forgotten period in Cebu history.
Complimentary cocktails will follow after the Kinasing film screening.
Millenials dominate 11th Olango Challenge in Cebu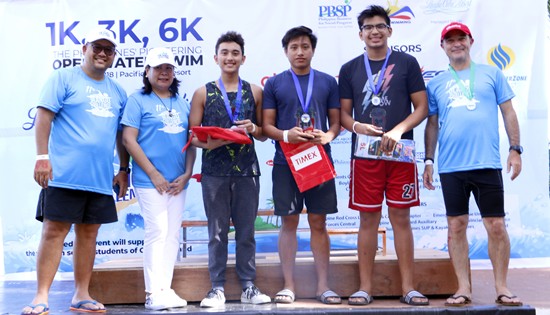 By PBSP
May 9, 2018
CEBU CITY – Twenty-year-old Jux Keaton Solita and 15-year-old Raven Faith Alcoseba were declared 6-kilometer competitive champions during the 11th Olango Challenge organized by Philippine Business for Social Progress (PBSP) and Philippine Swimming, Inc. (PSI) in Cebu last Saturday.
Solita, a student of University of Santo Tomas (UST) in Manila, bested his contemporaries, including Cebu elites Alfred Latrell Pacabis and Michael Ichiro Kong, with a time of one hour, twenty-three minutes, and 15.56 seconds.
Alcoseba, on the other hand, thwarted former champion Karen Mae Indaya's chance of a three-peat by besting the 6-kilometer competitive female swim in 1:33:13.87. Seventeen-year-old Indaya, meanwhile, finished second with 1:36:58.37, followed by Erica Lukang, 23, with 1:37:59.88.
For the 6-kilometer competitive male swim, Batangueno Ron Villamor, 16, came second with one hour, 24 minutes, and 17.69 seconds, while fellow UST swimmer Allen Miranda finished third with 1:24:30.60. This is the first Olango challenge that featured 6K competitive male winners not hailing from Cebu.
Meanwhile, Charles James Lipura (53:33.02) and Justine Garrido (1:02:46.28) took the 3K competitive male and female titles while Renz Corbin emerged as the 3K fun champion with 53 minutes and 49.02 seconds. Kevin Alvarez and Jose Antonio Aboitiz had a 1-2 finish in the 6K fun side with a time of 1:00:29 and 1:04:28, respectively.
Around 130 swimmers participated in the country's premier open water swimming event organized for the benefit of senior high school students on Olango island.
The Olango Challenge follows the format of the open water swim category of the Beijing Summer Olympics in 2008 and will feature the competitive men's and women's 6K and 3K divisions; and the 6K, 3K, and 1K fun categories. Swimmers navigated a rectangular race course fronting Pacific Cebu Resort.
Swimming for classrooms
It was the first time for 14-year-old Francexianour Travero to join the 6-kilometer competitive swim of the Olango Challenge, making him the youngest swimmer of the category. In spite of having previous experience in other open water swimming events, he finds the Olango Challenge the most challenging because of the distance and the current, making his finish one of the most fulfilling experiences of his life.
"What also makes it special is the idea that I, a 14-year-old, was able to contribute to students like me," he said.
Travero is joined by his uncle and friends from Leyte's Energy Development Corporation, who have been supporting the event since last year.
Supporting organizations and government agencies helped ensure the safety and success of the event. Officers and rubber boats from the Navy were deployed while the Philippine Coast Guard Auxiliary provided 14 marshals around the racecourse. A combined 30 lifeguards from the Philippine Red Cross-Lapu-lapu Chapter and PSI, 18 paddler-marshals from Island Buzz Philippines SUP and Kayak Adventures, and 10 divers from Kapit Sisid Free Divers also served as marshals of the event.
Doctors and nurses from the Cebu Provincial Health Office as well as paramedics and ambulance unit from the Emergency Rescue Unit Foundation were also present. Fifteen radio communicators from the Kabalikat CVCOM, meanwhile, ensured the smooth coordination between the safety teams.
Launched in 2008, the event has gathered over 900 swimmers and raised more than P15 million to fund nine classrooms in Candagsao, Caw-oy, Tungasan, and Talima elementary schools on Olango island.
It also supported the senior high school education of 190 students from Sta. Rosa and Nemesio-Epifania Memorial National High Schools through the provision of shielded metal arc welding equipment, sewing machines for dressmaking classes, immersion uniforms, assessment fees for national and technical vocational certifications, and monthly allowances for the students.
This year, the proceeds from the swim meet will be used to provide laboratory equipment for more schools on the island.
The event is sponsored by Aboitiz & Company, Dow Chemical Philippines, Inc., Oriental Port & Allied Services Corporation, Mactan Enerzone, the Visayan Electric Company, Ramon Aboitiz Foundation, Inc., City Savings Bank, FINIS, GMR Megawide Cebu Airport Corporation, TMX Philippines, Inc., MEDICard Philippines, PASAR Corporation, Monde Nissin Cebu, Philpacific Insurance Brokers And Managers, Inc., Philippine Long Distance Telephone Company, Pocari Sweat Philippines, Golden Prince Hotel & Suites, SM Investments Corporation, Cebu Trip Rent-A-Car, Scotty's Dive Shop, All Flip Flops, Boyla Diving Resort, Wellmade Motors & Development Corporation, Castle Peak Hotel, and San Miguel Brewery, Inc.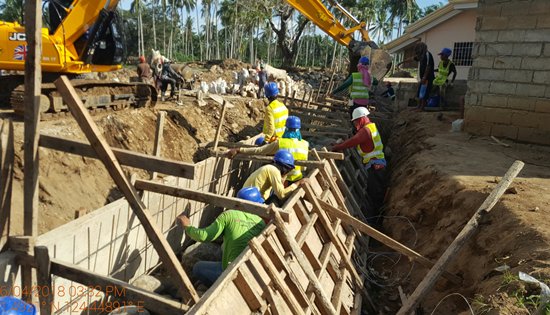 P18.510M Construction/ Extension of Flood Control Structure along Busali River, Phase 2, Biliran, Biliran is on-going with 38% accomplishment as of April 30, 2018 under contract with B.M Marketing. The completion of this project will provide a structure that will avert flooding thereby preventing damage to the existing Bridge located along the National Highway which is the only access in going to the only Provincial Hospital and Port under PPA from the eastern part of the island.
DPWH-Biliran DEO in full swing of 2018 project implementation
Press Release
May 8, 2018
NAVAL, Biliran – The Department of Public Works and Highways Biliran District Engineering Office (DPWH-BDEO) is now in full swing in the implementation of its year 2018 Infrastructure Projects.
Contractors mostly started at their own risks to attain the target schedule and to avail of the good weather condition.
As of April 30, 2018, the district has an overall actual accomplishment of 16.82% with a positive slippage of 3.30%.
Previously, the district has been allotted P1.8B for the implementation of 61 projects. However, Engr. Rosario B. Rosete, Planning and Design Section Chief said that the budget for one project which is the Rehabilitation/ Major Repair of CarayCaray Bridge project along Biliran Circumferential Road (BCR), Naval, Biliran will be reverted to DPWH Central Office due to damages on abutments caused by Tropical Storm "Urduja" on December, 2017 which is supposed to be the site for the major repair.
Out of its 60 projects, 38 are on-going, 18 are Not-Yet-Started (NYS) and four are already completed with now a budget amount of P1.6B.
The completed projects are the P3.6M road widening at Villa Enage, Biliran, Biliran; P1.4M rehabilitation/ major repair of Kaulangohan Bridge along Biliran Circumferential Road (BCR), Caibiran, Biliran; P943,000 rehabilitation/ major repair of Cabadiangan Bridge along Naval-Caibiran Cross Country Road (NCCR), Naval, Biliran; and P1.4M rehabilitation/ major repair of Calambis Bridge along BCR, Caibiran, Biliran.
Rosete said that the district had already bid-out 52 projects as of April 30, 2018 while eight projects are scheduled to be bid out on a later date.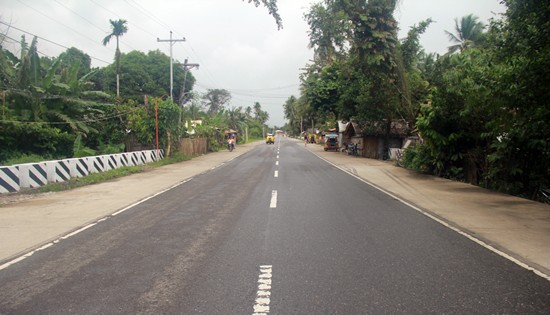 Improvement/Widening of DaangMaharlika (SM) (San Isidro-San Juanico Bridge), K0742+000-K0742+054; K0742+086-K0742+798; K0742+820-K0743+374
DPWH: 2017 Projects at 91.34%
By MAE ANGELICA R. COMOTA
May 7, 2018
CALBAYOG CITY – The Department of Public Works and Highways Samar First District Engineering Office (DPWH-SFDEO) reports a 91.34% accomplishment on its 2017 Regular Infrastructure Projects.
According to District Monitoring Engr. Nena Dotado, as of April 30, 2018, 44 projects are completed while 15 are still ongoing. Most of these ongoing projects cost P50M and above and cover the improvement and widening of Daang Maharlika and the upgrading of the District's major bridges.
Setbacks in project implementation include problems with Road Right-of-Way acquisition and the arrival of Typhoons Urduja and Agaton during the latter part of last year.
The District office has put in place measures to reach its targets, citing proper coordination between the District's project engineers and the contractors as the key to speeding up project implementation.
"I have already issued a memorandum directing our project engineers to fast track the remaining 2017 projects. We also now have a monthly coordination meeting with contractors so that any issues and concerns regarding project implementation can be quickly and easily resolved," said Construction Chief Engr. Carlos Rañola.
On top of the 2017 projects, SFDEO is also implementing 146 regular infrastructure projects for 2018 and records a 4.11% accomplishment as of date of report.
Research institution, community raise concerns over DENR's lift of suspension on special use in protected areas
Press Release
May 7, 2018
QUEZON CITY – The Center for Energy, Ecology, and Development (CEED), a think-do institution focused on issues pertaining to the integrity of ecosystems, questioned the DENR's recent lifting of the suspension on the issuance of Special Use Agreements in Protected Areas (SAPAs).
SAPAs are binding instruments that allow individuals or groups to access and use protected areas to supposedly reduce poverty incidence and earn revenues for the management of protected areas. The DENR indefinitely suspended the issuance of SAPAs on 2011.
"The reasons for reopening protected areas to special use are unclear. It is also uncertain whether previous issues surrounding SAPAs are addressed in the additional rules. Is the community given priority employment? Are there now benefit sharing schemes with the community? Are there stricter standards for applicants to ensure that they are indeed stakeholders of the protected areas and not just big companies coming in to earn profit?" CEED Legal and Policy Officer, Atty. Avril De Torres said.
According to CEED Executive Director Gerry Arances, the need to protect our environment is a key element of adaptation to climate change. "In this age of climate change, we should know that the conservation and protection of our ecology generates more benefits than its extraction and utilization. The development fees that may be earned from the use of protected areas are negligible compared to a healthy environment's protection from disasters, promotion of biodiversity, and resiliency from climate change impacts."
"Being consistently in the top 10 most vulnerable countries to the impacts of climate change, the ability of our country's ecosystems to deliver essential services is already under stress. Regardless of the profits that may be generated from SAPAs, we shouldn't subject our last frontiers to further stress by allowing special use," De Torres added.
Concerned Citizens of Sta Cruz, Zambales Chairperson Doctor Ben Molino strongly objected to the issuance of SAPAs, "even without special use agreements, the protected areas in Zambales are already in peril from existing coal plants and destructive mining operations. We cannot and should not allow further activities that would lead to further destruction of our lands, seas, and bays."
"This measure does not only open protected areas to use, it could also potentially open a floodgate for more ecological destruction," Arances added.
Duterte's "strongman" image, a facade of cowardice
By KARAPATAN
May 4, 2018
QUEZON CITY – "Strongmen" like Rodrigo Duterte exercise power through State terror and violence with impunity, couched in populist language that misleads the public and trains the guns of his armed forces and police on his perceived enemies – the people.
His "strength" comes from dehumanizing the urban poor and workers by calling them "drug addicts" and "lazy criminals," by tagging activists and political dissenters as "terrorists," and by branding any and all criticism to his anti-people policies as forms of "destabilization."
Contrary to Duterte's statement that he has not put his critics in jail, Karapatan's documentation puts the number of activists arrested and still currently detained under Duterte at 173, out of the 503 political prisoners in the Philippines. Majority of them are peasant and trade union leaders, members of people's organizations and organizers who have been working with the poor communities to push for genuine agrarian reform, living wages and security of tenure, accessible social services, among others.
The number includes the six young peasant organizers illegally arrested in Mabinay, Negros Oriental, peasant leaders of Compostela Farmers Association, farmers in Batangas, teachers and supporters of Lumad schools – all charged with false criminal offenses in an attempt to justify their incarceration. Rafael Baylosis, peace consultant of the National Democratic Front of the Philippines, and his son-in-law, trade union organizer Marklen Maojo Maga, were also arrested and are detained because of fabricated charges.
His vengefulness against his critics who are vocal against human rights violations in the country has resulted to the drawing up of a fake terror list which includes UN experts and human rights defenders and to the daily threats and harassment against activists. Laced with so much vitriol, his vindictive orders and pronouncements against foreign observers and missionaries like Sr. Patricia Fox have resulted to violations on the exercise of free speech and expression. His mad thirst for sole control of power is driving him to persecute officials in other branches of government who do not share his propensity for brazen acts of violence.
Duterte's "strongman" persona is actually a facade of cowardice of a megalomaniac. Like all other previous and current despots and tyrants, his so-called strength is an expression of his greed for power. What he truly fears is the people's exercise of our sovereign will to exact justice and accountability.
Asian grassroots movements, civil society groups launch protest action against ADB "dirty energy policy"
Press Release
May 4, 2018
MANDALUYONG CITY – Members of Asian grassroots movements and civil society groups staged a lightning rally at the gates of the Asian Development Bank (ADB) Headquarters on the 2nd day of the Bank's Annual Governors Meeting, bearing signs that call for the international financial institution to "Stop Funding Dirty Energy."
According to Asian People's Movement on Debt and Development (APMDD) Coordinator Lidy Nacpil, the protest action served to drive home the urgency of Asian people's call for ADB to halt all forms of support to dirty fossil fuel energy projects, especially coal plants.
"Each year, our call against the Bank's support for dirty energy intensifies in urgency. For every inaction towards the problem of fossil fuels, which has been established to be the main driver of climate change, Asian lives and livelihood grow all the more vulnerable as they are situated at the frontline of climate change's adverse impacts," said Nacpil.
"However, ADB's response to our urgent, repeating calls has remained to be that of non-committal lip service," she added, citing the Asian groups' "unfruitful" recent engagement with ADB on its Energy Policy.
APMDD Deputy Coordinator Mae Buenaventura stated that the groups' call for a review of ADB's old and continuously fossil-fuel-supportive 2009 Energy Policy has been met by a lukewarm response from ADB President Takehiko Nakao, signifying a lack of seriousness on the part of the major financial institution to address pressing concerns of civil society groups and people's movements regarding the proliferation of dirty energy in the region and in their communities.
"ADB has merely claimed to have instituted restrictions in its 2009 Energy Policy, but these are grossly inadequate in the face of the intensifying climate crisis," said Buenaventura.
"This non-committal and business-as-usual response to the Asian people's call for an end to ADB's support for fossil fuels runs counter to the Bank's projection of itself as an institution that listens to civil society groups and an institution that champions clean energy," she added.
According to Buenaventura, the ADB has sought civil society's input into its 2030 Strategy, but instills none of the changes urged by the groups. Although the Bank recognizes the significance of a number of global development platforms, such as the Sustainable Development Goals and the Paris Agreement on Climate Change, she claimed that the agenda and operations in ADB's Strategy for 2030 and its Energy Policy show no alignment with them.
"Strategy 2030 makes no new commitments that address civil society concerns," said Environics Trust India Sreedhar Ramamurthi.
"Worse, for all of ADB's championing of clean energy, its Strategy 2030 leaves the brunt of work in the pursuit of a clean energy direction to individual countries, while the Bank continues to make funding for fossil fuel available," Ramamurthi continued.
According to him, ADB's outdated and unreviewed 2009 Energy Policy also leaves the Bank great room for continuing support for destructive fossil fuel industry activities and false climate solutions.
"Activities that promote continued coal utilization – such as coal bed methane extraction and use, coal gasification, and coal scrubbers – along with the push for the myth of clean coal energy through the practice of Carbon Capture and Storage (CCS) are all proliferating with green light from a supposed pro-clean energy ADB," said Ramamurthi.
Philippine Movement for Climate Justice National Coordinator Ian Rivera called out the Bank's record of financing coal projects that reached $10.735 billion from 2009-2017. Rivera brought attention to projects such as the Mundra Ultra Mega Power Project in India, Korea Electric Power Corporation's 200-MW coal-fired power plant in Cebu province, the Masinloc Power Partners Ltd.'s 600-MW coal-fired thermal power plant in Zambales province and the 552-MW coal-fired power plant in Kauswagan, Lanao del Norte.
"Clearly, the Bank's failure to adjust its energy policies and strategies is a result of its continued, strong financial interest in coal-based power projects," said Rivera.
"Amidst the fact that these projects emit millions of tons of CO2 each year and that there are global and community efforts to reject fossil fuels which ADB recognizes, the Bank's financial interest in coal remains unbudged," he continued.
According to Rivera, ADB's continued inaction on pressing global climate demands has incited further determination and commitment from climate and energy justice activists to press for the transformation of energy systems in Asia.
"We challenge ADB, an institution which claims to be for Asian people's development, to stop being an obstacle to this process of energy transformation and to align itself with the agenda of the Asian people – individuals and communities on the ground that have been impacted most by ADB's policies and strategies," he said.
"Development, the end of poverty, and the addressing of climate change can be achieved not through ADB's business-as-usual approach, but through proactive strides towards clean, renewable and democratic systems," he continued.
As a continuation of Asian civil society groups' effort to compel ADB's rethinking of its energy policies and strategies, groups have also reportedly handed over a letter – signed by nearly 150 Asian organizations and networks, which has been endorsed and supported by organizations from other parts of the globe – to the ADB President and Board of Governors.
Civil society groups, communities launch protest action against ADB as "anti-development bank"
Press Release
May 3, 2018
MANDALUYONG CITY – Hundreds from Asian civil society organizations and Filipino communities stormed the gates of the Asian Development Bank on its 51st Annual Meeting, demanding the financial institution to be held accountable for and to cease its continuous push for anti-poor and anti-development strategies across Asia and the Pacific.
For its 51st Annual Meeting, the Asian Development Bank has developed Strategy 2030 as its new long-term corporate strategy which groups and communities condemn to largely ensure private sector profit at the expense of vulnerable communities and the environment.
According to NGO Forum on ADB Executive Director Rayyan Hassan, the proposed strategy emphasizes the need to unlock private capital into development projects while abandoning systems for ensuring due diligence and compliance with requirements on environmental impact and social impact assessments.
"This is a clear threat to the communities and environment that will be facing the aftermath of various ADB-funded projects. Coupled with ADB's long-standing immunity against any accountability, the people are left vulnerable to destructive project impacts without no one to answer for them," stated Hassan.
Sanlakas Secretary-General Atty. Aaron Pedrosa lambasted ADB for falsely posturing as a partner for Asia and the Pacific in combating poverty and in promoting a more resilient and sustainable environment amidst its major role in the privatization of basic services such as water and power, and in pushing coal and other dirty technologies in the region.
"Due to the history of ADB's conditionalities forcing countries to resort to the privatization of basic services, the region's impoverished and marginalized suffer through the deterioration of the quality and accessibility of basic services and sharp increases in costs," said Pedrosa.
"Along with these harmful debt conditionalities, ADB also continues to increase the poverty and vulnerability of communities and their environment by introducing and financing dirty energy through coal projects," he continued.
Asian People's Movement on Debt and Development Coordinator Lidy Nacpil cited the bank's vital role in the introduction of coal-fired power plants in the Philippines alone through the implementation of EPIRA in 2001.
"Through EPIRA, which liberalized Philippines' power industry, the country was made vulnerable to big coal investors. Today, we have an avalanche of coal plant projects being railroaded; with ADB leading the growth of Philippines' dirty energy through its million dollar loans for projects like the Korea Electric Power Corporation's 200-MW coal-fired power plant in Cebu and the rehabilitation of Masinloc Power Partners Ltd.'s 600-MW coal-fired thermal power plant in Zambales province," said Nacpil.
Center for Energy, Ecology, and Development Legal and Policy Officer Atty. Avril De Torres pointed out ADB's role in promoting dirty energy as contradictory to its projected agenda for inclusivity and sustainability in the Asia-Pacific region and its projected alignment with the Paris agreement on climate change and other global development platforms.
"In spite of the well-established fact that fossil fuels, especially coal, spike the risk for climate change and in spite of many countries and communities in the Asia-Pacific region standing on the frontlines of climate change impacts, the ADB still pushes for fossil fuel sourced energy more than it does for clean energy," stated De Torres.
According to Philippine Movement for Climate Justice National Coordinator Ian Rivera, ADB's clean energy commitment of $2 billion a year is trumped by its financing of coal projects that reached $10.735 billion from 2009-2017.
Rivera also condemned ADB's push for myths of dirty coal being "clean and efficient" despite "clean coal" technology still greatly contributing to GHG emissions and warming of the planet – branding it as yet another of ADB's false development solutions.
"If the ADB is truly serious in aligning with global development and climate commitments, it should explicitly aim for ending its financing and pushing for anti-development and anti-climate technologies like coal power – which only serve private interests while being of great disservice and injustice to the people," said Rivera.
"In contrast to the anti-people and anti-environment development rhetoric rampant in ADB's support for destructive policies on energy and other sectors, there are alternatives towards genuine development – as seen in largely untapped clean energy – which actually safeguard people's interests through the promotion of more democratic and sustainable systems," concluded Rivera.