Second quarter fishery production in Eastern Visayas up by 12.1%
By PSA-8
September 27, 2019
TACLOBAN CITY – The fishing industry in Eastern Visayas expanded as the region's total fishery production went up to 30,408 metric tons (MT) during the second quarter in 2019 from 27,124 MT in the same quarter in 2018, posting an increase by 12.1 percent.
In the second quarter of 2019, Eastern Visayas ranked fifth among the regions with low fishery production in the country with 2.7 percent contribution to the country's total fishery production.
Among provinces, Samar recorded the highest volume of fishery production at 9,376 MT, comprising 30.8 percent of the total fishery production in the region. Leyte ranked second at 6,442 MT, accounting for 21.2 percent of the region's total fish production. Southern Leyte, meanwhile, had the lowest volume of production at 1,659 MT, which only comprised 5.5 percent of the total fishery production.
Volume of production in commercial fishing went up by 49.2 percent, from 2,833 MT in the second quarter of 2018 to 4,227 MT in the same quarter of 2019. All provinces registered increases in commercial fishing, except Southern Leyte and Leyte posting a decline of 52.0 percent and 15.4 percent, respectively. Samar, meanwhile, registered the highest volume of production in the second quarter of 2019 at 1,941 MT, accounting for 45.9 percent of the total commercial fishery production in the region.
Samar island dominated (Eastern Samar, Samar and Northern Samar) the municipal fishery (both marine and inland fishing) production in Eastern Visayas with 76.4 percent combined share to the total municipal fishery (both marine and inland fishing) production in Eastern Visayas during the second quarter of 2019. Biliran, meanwhile, registered the lowest contribution with 6.3 percent share or 1,214 MT during the second quarter of 2019.
The region's total volume of production in municipal fishing (both marine and inland fishing) registered an increase by 6.2 percent, from 18,238 MT in the second quarter of 2018 to 19,373 MT in the same quarter of 2019. All provinces registered increases in municipal fishing, except Samar, which recorded a slight decline of 1.2 percent. Northern Samar recorded the highest increase by 16.4 percent, from 3,397 MT in the second quarter of 2018 to 3,954 MT during the second quarter of 2019.
Volume of production in aquaculture recorded an increase by 12.5 percent, from 6,052 MT in the second quarter of 2018 to 6,808 MT in the same period of 2019. All provinces registered increases in aquaculture, except Samar and Northern Samar which recorded a decline in production by 19.4 percent and 5.7 percent, respectively.
Among provinces, Leyte topped the production of aquaculture at 4,358 MT, comprising 64.0 percent of the total aquaculture production in the region. Samar ranked second at 2,038 MT, accounting to 29.9 percent share of the region's total aquaculture production. Biliran, meanwhile, registered the lowest contribution with 0.2 percent share or 11 MT during the second quarter of 2019.
More than three fifths or 63.7 percent (19,373 MT) of the total fishery production in the region constituted municipal fishing. Aquaculture contributed 22.4 percent (6,808 MT), while commercial fishing accounted for 13.9 percent (4,227 MT).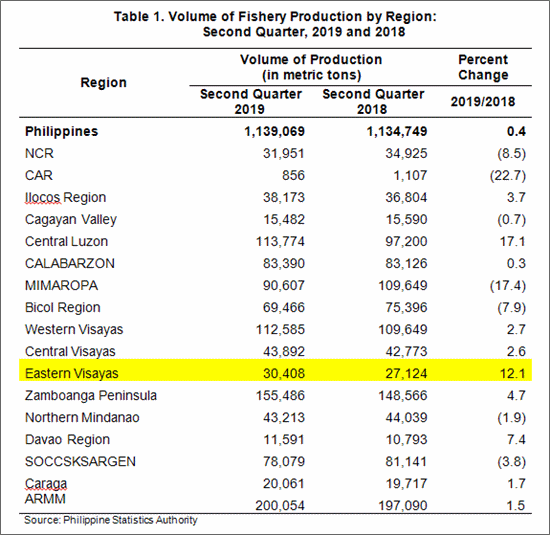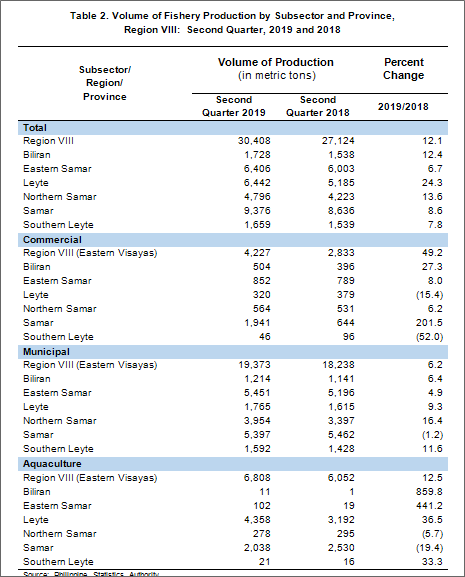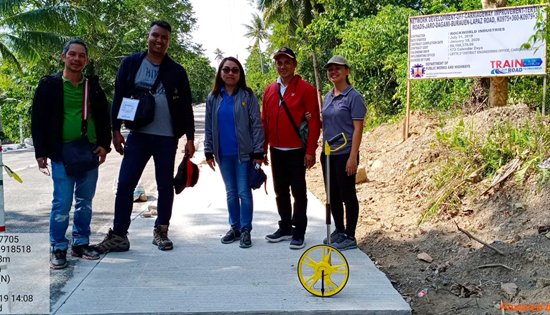 The Quality Assurance Team from the DPWH Central Office accompanied by Leyte II DEO engineers inspects ongoing projects of Leyte second district.
DPWH-QAU assesses Leyte infra works
By DPWH 2nd LED
September 27, 2019
CARIGARA, Leyte – Ensuring progress in compliance and work quality, the Department of Public Works and Highways (DPWH) -Quality Assurance Unit (QAU) conducted a three-day assessment of projects in the second district of Leyte.
The QAU Team Engineers Julius Gonzales, Krister Bill Umoso and Angela Kyra Porciuncula spearheaded the inspection on September 23-25, 2019, as they were assisted by the Leyte 2 project engineers.
District Engineer Gerald Pacanan said that among the projects inspected were construction and off-carriageway improvements along Jaro-Dagami-Burauen-La Paz road, construction of flood mitigation structures along Binahaan river in Pastrana, Leyte and along Daguitan Marabong river in Brgy. Batug, Dulag, Leyte, construction of bridge in Brgy. Uyawan, Carigara, Leyte, strengthening of Hibuga bridge along Mayorga-La Paz road, and construction of multi-purpose building in Brgy. Sto. Niño, Capoocan, Leyte.
"It is necessary that the QAU is here with us to continuously monitor and assess the quality of our projects implemented, as it shows the transparency of doing our works in compliance with the design and standard specifications of the department," added Pacanan.
The QAU is a quarterly assessment or quality audit of on-going and completed projects undertaken by different district offices in order to check whether all infrastructure projects are implemented in compliance to plans and standard specifications.
12 new inspectors to augment DOLE RO-8 workforce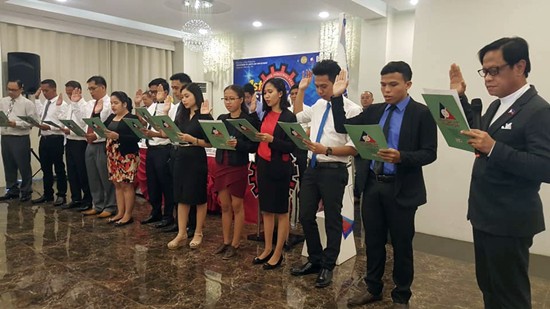 By NORMA RAE S. COSTIMIANO
September 26, 2019
TACLOBAN CITY – As addition to the workforce of DOLE Regional Office VIII, twelve (12) new labor inspectors took their oath before Regional Director Yahya A. Centi last September 18, 2019 at Costa Brava Hotel, San Jose, this city.
Director Centi warmly welcomed all the new inspectors and introduced them to the members of the Tripartite Industrial Peace Council as the oath-taking ceremony took place during the 1st TIPC Summit.
"As your Regional Director, I'd like to welcome you to DOLE RO VIII. Your functions as inspectors will be very crucial to this organization and I am hoping that you will all do your best to assist us in meeting our targets and objectives", said Director Centi.
The new inspectors were hired as contractual employees of the agency and are tasked to conduct inspection on establishments in Eastern Visayas employing foreign nationals as one of the President's marching order to DOLE.
Among the new inspectors, nine (9) were appointed as Labor and Employment Officer III (LEO III) while the remaining three (3) as Labor and Employment Officer II (LEO II).
In order to capacitate the newly-hired inspectors to perform their assigned tasks and responsibilities effectively, they all attended the "Two-Day Basic Course for Labor Inspectors Assigned to Inspect Workplaces Employing Foreign Nationals" held at Palm Grass, The Heritage Hotel, Cebu City last 23-24 September 2019.
Labor Inspection is one of DOLE's flagship program which aims to further strengthen the implementation of the visitorial and enforcement powers under the Labor Code, as renumbered, towards securing a higher level of compliance with labor laws and standards, and ensuring continuity and sustainability of compliance at workplaces.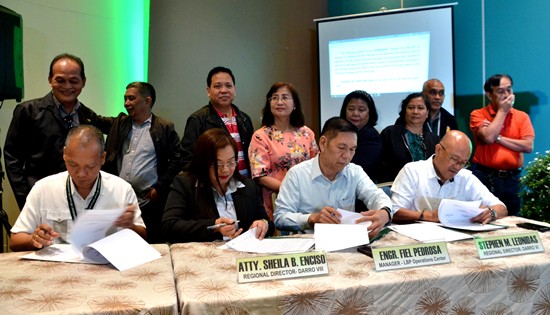 R-L: DAR-8 Regional Director Stephen Leonidas and Land Bank of the Philippines-Agrarian Operation Center (LBP-AOC) Manager Fiel Pedrosa sign a Memorandum of Agreement that would hasten the processing of claim folders and eventually fast track the distribution of lands under the Comprehensive Agrarian Reform Program (CARP) in Eastern Visayas. Others in photo are, former DAR-8 Regional Director Sheila Enciso (2nd from left) and LBP-AOC Agrarian Affairs Officer Elmo Mangrobang (extreme left) also sign the documents as witnesses. (Jose Alsmith L. Soria)
DAR, LBP sign agreement to fast track land distribution in EV
By JOSE ALSMITH L. SORIA
September 24, 2019
TACLOBAN CITY – Just few minutes after his installation as the new Regional Director of the Department of Agrarian Reform (DAR) in Eastern Visayas, Stephen Leonidas entered an agreement with the Land Bank of the Philippines (LBP) to hasten processing of claim folders leading to the speedy distribution of landholdings throughout the region covered under the Comprehensive Agrarian Reform Program (CARP).
Leonidas, representing DAR in Region-8, and Fiel Pedrosa, manager of the Land Bank of the Philippines -Agrarian Operation Center (LBP-AOC), formally signed the said agreement on September 3 this year at the Oriental Hotel shortly after Leonida's installation.
In the said document, it is emphasized that in order not to delay the conduct of joint field investigation by the two agencies, advance survey plan (AdSP) shall no longer be accepted as basis in the request for the conduct of the said activity but a duly approved survey plan (ASP).
Municipal Agrarian Reform Program Officers (MARPOs) are directed to attach only approved survey plan in submitting claim folders with request for joint field investigation.
Further, MARPOs are likewise directed to finalize the identification of farmer beneficiaries prior to the conduct of the joint field investigation, while ARBs (agrarian reform beneficiaries) Oath, using CARPER LAD Form No. 37, should be available during the conduct of said activity.
It is also emphasized in the agreement that LBP representatives will no longer interfere in the determination of whether or not the landholding/s subject of joint field investigation is/are covered by CARP, as well as in the identification of farmer beneficiaries, for these fall under DAR's jurisdiction. LBP-AOC is confined only to land valuation.
In the event where the land is eroded, affected by waterlogged, or traversed by a road, but were not reflected in the approved survey plan, correction or amendment of the survey plan will no longer be required, instead, DAR's geodetic engineers will ipso facto compute the affected area and have them stipulated in the joint field inspection report to be executed by the joint inspection team.
Furthermore, lands with 18 percent slope that are already developed and with history of cultivation shall still be covered and documented.
Moreover, the two agencies likewise agreed to consider for acquisition lands with 18 percent slope though underdeveloped but with interested farmers who are willing to make the land productive.
Meanwhile, survey teams of the different DAR Provincial Offices are directed to submit immediately the survey returns of landholdings scheduled for joint field investigation from September 2019 to March 2020 to the Department of Environment and Natural Resources-Land Management Service (DENR-LMS) so these could be approved prior to the scheduled dates.
Leonidas, disclosed that these agreements were reached during the levelling off session with the MARPOs in Region-8 on August 20 and 22 this year at the Hotel Costa Brava in this city to thresh out issues that cause delay in the issuance of Memo of Valuation (MOV) and/or Certificate of Deposit (COD) by the LBP-AOC, and eventually fast track CARP implementation.
The signing of the agreement was witnessed by the Assistant Regional Directors and Provincial Agrarian Reform Program Officers (PARPOs) from DAR, Elmo Mangrobang from the LBP-AOC, and Notary Public Atty. Christopher Ryan Rosal who notarized the document.
DOLE RO-8 holds first TIPC Summit
By NORMA RAE S. COSTIMIANO
September 21, 2019
TACLOBAN CITY – The Department of Labor and Employment Regional Office No. VIII held the very first Tripartite Industrial Peace Council Summit on September 17-18, 2019 at Hotel Costa Brava, San Jose, this city.
The activity was aimed at revitalizing and strengthening the Tripartite Industrial Peace Councils in the region as a solid path for furtherance of tripartism and social dialogue.
The tripartism summit was attended by around one hundred fifty (150) participants who are members of the RTIPC and Provincial TIPCs coming from the seven field offices of the region, namely: North Leyte PTIPC, West Leyte PTIPC, Southern Leyte PTIPC, Biliran PTIPC, Samar PTIPC, Eastern Samar PTIPC and Northern Samar PTIPC.
DOLE RO-8 Director Yahya A. Centi formally welcomed all the guests, speakers and participants to the two-day summit with the theme, "Strengthening the Building Blocks of Tripartism and Social Dialogue: A Key to Sustainable Development".
"The DOLE Regional Office No. 8 takes pride in being the host to the First TIPC Summit ever held in Eastern Visayas. I really am so eager to have this gathering come to reality considering the great role and contribution of TIPC as an avenue in advancing tripartism and social dialogue in this region. This is our commitment to put forward the progress of decent work in a rapidly changing world", said Director Centi.
Director Centi also emphasized the significance of tripartite social dialogue in providing crafting solutions to different labor and management issues.
"TIPC underscores the importance of tripartite social dialogue in forging solutions to various labour and management issues and in fostering harmony in workplaces. In our own experience and even in many other countries, tripartite dialogues are proven to result to equitable decision-making resulting to benefit of stakeholders", Director Centi added.
Present to grace the occasion were Mr. Richard Ang, from the Office of the Presidential Assistant for the Visayas and Honorable Leo Bahin from the City Government of Tacloban who gave their messages of support to the historic event.
Different relevant topics were presented by the invited resource persons coming from the region and DOLE bureaus. During the first day, Atty. Miguel T. Tezon discussed about "Tripartism and Social Dialogue: Workers' Perspective" while Atty. Ryan D. Mancera tackled the same topic focusing on the perspective of employers.
Atty. Tezon, who is also a member of the RTIPC-Eastern Visayas gave the basics of tripartism and social dialogue. He encouraged the TIPC members to be active in the cause of putting labor and management in equality.
On the other hand, Atty. Mancera as employer himself shared his personal experiences in managing people well leading to good labor relations. He likewise gave empowering pieces of advice and challenges.
"We would not have been able to achieve these if we had not come together with the same vision. That is the power of synergy. The theory of synergy is that 1+1=3. And that is the same synergy, the same power that I hope we will gain from the Tripartite Industrial Peace Council", said Atty. Mancera.
Two other topics were discussed during Day 1 – "Salient Features of Amended OSH Law" delivered by Dr. Felix F. Labanda Jr. from the Bureau of Working Conditions and "Social Dialogue: Labor Market Performance in Region VIII" presented by Ms. Geselle Frances P, Zeta of the National Economic Development Authority Regional Office VIII.
Highlights during the first day of the summit were the presentation and ratification of the Constitution and By-Laws of the RTIPC-EV and the unveiling of the official RTIPC Seal. The seal consists of a symbolic icon to institutionalize tripartism that represents labor-management-government partnership in promoting higher value levels of productivity and competitiveness, enabling healthy and peaceful labor-management relations and ensuring compliance with core labor standards.
On Day 2 of the summit, two equally significant topics were likewise discussed. Atty. Maria Consuelo S. Bacay, OIC-Director of Bureau of Labor Relations gave the participants updates on BLR programs and services as well as the Security of Tenure Bill. It was followed by a discussion on the Republic Act No. 11210 or the Expanded Maternity Leave Act given by Atty. Gerard Peter C. Mariano, Attorney III of the Bureau of Workers with Special Concerns.
During the open forum, Ms. Judith Buhay from the National Anti-Poverty Commission expressed delight on the conduct of the summit and requested that it will be a yearly thing.
The first TIPC Summit was concluded by a closing remarks delivered by Atty. Cecilio I. Baleña, OIC-Assistant Regional Director. Atty. Baleña said that DOLE is hoping for a stronger cooperation from both the labor and management sectors.
"With this summit we hope that all of us, especially our partners in the labor and management sectors will altogether work and do their part in the promotion of tripartism and social dialogue", said Atty. Baleña.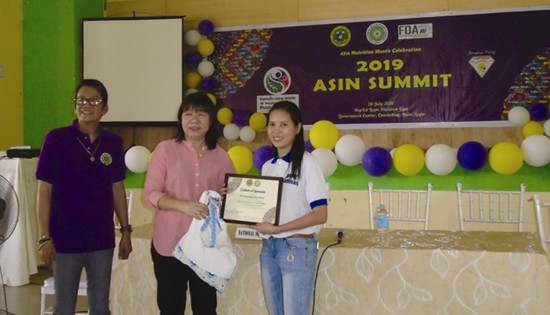 RNPC Dr. Catalino P. Dotollo Jr. and DoH Dr. Lelibeth Andrade award a plaque and token to Felma Omalay of Salinas Foods Inc., distributor of WYD Iodine Checker, for her participation in the Asin Summit.
Need for WYD Iodine Checker highlighted in Asin Summit
By JACK C. GADAINGAN
September 21, 2019
PALO, Leyte – The one-day "Asin Summit" on July 26, 2019 attended by primary health /nutrition players in the region among them: municipal health officers (MHOs), provincial, city and municipal nutrition action officers (P/C/MNAOs), nutritionists/dieticians and rural sanitary inspectors (RSI), and salt-traders and representatives from government nutrition-partner agencies – particularly those representing the Regional Bantay Asin Task Force (RBATF), highlighted the lack of a most important and needed apparatus in successfully implementing the Asin Law – the WYD Iodine Checker!
Republic Act No. 8172 or ASIN Law among others mandates: to the elimination of micronutrient malnutrition, particularly iodine deficiency disorders; to ensure that only iodized salt is available in the market for human and animal consumption; to require salt producers/manufacturers, importers, to iodize the salt they manufacture, produce, distribute, trade and/or import; and require salt re-packers to repack and sell only iodized salt.
It was gathered in the region, that samples of Table Salt shipments gathered from the ports of entry around Eastern Visayas – and those from the salt traders are transported for checking of iodine content at the Department of Science and Technology (DOST) Region 8, here and at the Food and Drugs Administration (FDA) in Cebu City.
It was learned that prior to Super Typhoon Yolanda on November 8, 2013, a WYD Iodine Checker was provided to the Philippine Ports Authority (PPA) Port of Tacloban, an RBATF member, for the instant checking of iodine content of Table Salt shipments arriving on-the-spot.
Further that despite the consistent discrepancy of 8-point on the analysis between the two government laboratories on tests of samples from Tacloban Port with the FDA Cebu results higher, still both results show that Table Salt arriving in Eastern Visayas, is still very far shy of iodine content, as required by law that is 30-70 ppm (parts per million).
A participant salt-trader to the summit named Felma Omalay representing the Salinas Foods Inc., made a power-point presentation on the "Importance of Iodized Salt." She claimed that Salinas launched the FIDEL program as a corporate social responsibility with the Department of Health (DOH) in 1993 that calls for iodization of all salt in the market. Likewise, she claims that their company is the sole distributor in the Philippines of WYD Iodine Checker and its reagents, available at P50,000 only.
As it became apparent there is need to organize or to reactivate the Provincial/City and Municipality Bantay Asin Task Forces (P/C/MBATFs) as well, in order that all points of importation or shipment-entry shall be effectively and routinely monitored for the quality of salt iodization – and to immediately take the suitable corrective action when necessary, health and nutrition managers and local government units (LGUs) in the region have to invest on a WYD Checker, for the successful implementation of RA 8172 or Asin Law.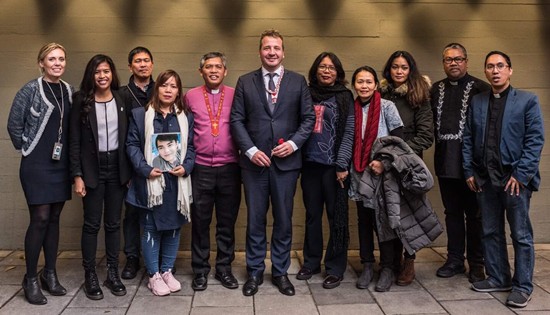 Iceland Foreign Minister Guðlaugur Þór Þórðarson with Filipino defenders and reps of Europe-based groups.
Filipino rights defenders, Europe-based rights groups meet Iceland foreign minister in Reykjavik
By KARAPATAN
September 21, 2019
QUEZON CITY – Filipino human rights defenders and Europe-based groups supporting rights issues in the Philippines met yesterday, September 20, 2019, with Iceland Foreign Minister Guðlaugur Þór Þórðarson in the capital city of Reykjavik to discuss updates on the human rights situation in the Philippines and to thank the Icelandic government for their initiative to lead the adoption of the July 2019 UN Human Rights Council resolution.
Marissa Lazaro, mother of a victim of extra-judicial killing and member of Rise Up for Life and Rights, Karapatan Western Mindanao Chairperson Bishop Antonio Ablon, Karapatan Secretary General Cristina Palabay, Fr. June Mark Yanez of the European Network for Justice and Peace in the Philippines (ENJPP), Fr. Herbert Fadriquela, Chaplain to the Filipino Community Diocese of Leicester, Church of England, Bro. Jun Santiago of Rise Up for Life and Rights, Dara Bascara of Campaign for Human Rights in the Philippines, Fr. Salvador Telen, Vicar of St Saviour Walthamstow, Seyra Rico of Nagkakaisang Pilipino sa Pransya were among those who attended the meeting.
"It was effective to meet this good group of human rights activists from the Philippines. Particularly, I found it shocking to listen to Marissu Lazaro who lost her son in 2017 in what the government has called a war on drugs. Since then, Marissa has dedicated herself to the fight for human rights and justice in the Philippines. I have long been concerned with human rights and Iceland's participation in the United Nations Human Rights Council has been particularly rewarding. The meeting today convinced me even more that our work there is very important," said Iceland Foreign Minister Guðlaugur Þór Þórðarson, in a post on Facebook after the meeting (as translated).
Marissa Lazaro tearfully narrated the details of the killing of her 20-year-old son and how the authorities and Philippine legal institutions continue to fail her in her quest for justice and closure.
Bishop Ablon and Palabay gave testimonies on the worsening attacks against human rights defenders in the Philippines, with the martial law declaration in Mindanao and the de facto martial law situation in Negros, Southern Tagalog and the whole country. Ablon stressed the need for governments like Iceland to continue supporting human rights concerns in the Philippines.
The said meeting came after reports on Malacañang's denial of a government memorandum suspending negotiations, signing of loans & grants from countries that backed the UNHRC resolution.
"Through these actions, the Philippine government clearly do not intend to cooperate with the UN HRC resolution. They refuse to take all necessary measures to prevent EJKs and enforced disapearances, to carry out impartial investigations and to hold perpetrators accountable. They refuse to cooperate with human rights mechanisms of the UN. They refuse to acknowledge the comprehensive report that will be undertaken by the UN High Commissioner for Human Rights. Yet in full regalia of their hypocrisy and opportunism, their representatives have recently spoken before the HRC and used the platform to deflect accountability and to heap reprisals on victims and human rights defenders," Palabay said.
"Such actions also reflect the impact of such resolution on the Philippine government, however way they want to spin it. Panelo's denial on the existence of such memo is merely another example of the kind of governance that has translated to the Duterte government's foreign policy - lie to death and wriggle your way out if you get caught to evade scrutiny on their commitments to international human rights norms and use the empty excuse of sovereignty," Palabay concluded.
DOLE signs contract of usufruct with Province of Leyte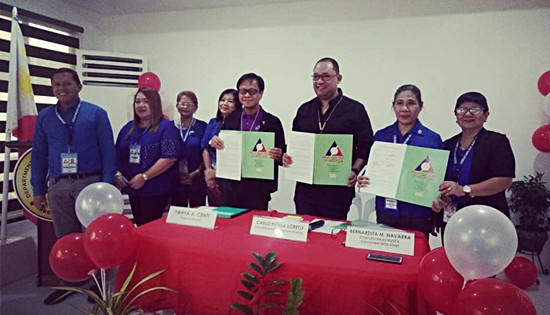 By NORMA RAE S. COSTIMIANO
September 20, 2019
TACLOBAN CITY – The Department of Labor and Employment Regional Office No. VIII has entered into contract of usufruct for a parcel of land owned by the Provincial Government of Leyte on September 17, 2019 at the DOLE RO VIII Training Center, this city.
Regional Director Yahya A. Centi and Vice-Governor Carlo P. Loreto representing DOLE and the Province of Leyte, respectively, signed the contract which officially grants the former the right to use the land measuring approximately 1,000 square meters located at Government Center, Candahug, Palo, Leyte.
Director Centi in his message expressed sincerest gratitude to the province for the generous act.
"In behalf of the entire DOLE family, we would like to thank the Province of Leyte for this act of generosity. This contract is a living testimony of how your office has considered the cause of our department in providing labor and employment services in Eastern Visayas", said Director Centi.
In response, Vice-Governor Loreto said that the Province is very supportive of the programs and services of the department. He added that having a DOLE office in Palo where most of the government agencies are located will benefit the clients.
"We in the Province of Leyte are always looking after the good of our clients and stakeholders. We recognize the contribution of DOLE in helping our people in Leyte and this agreement will pave the way for our constituents to benefit more from your programs and services", said Hon. Loreto.
The usufruct was granted per request of DOLE RO VIII to use and occupy the property for the operations of its North Leyte Field Office.
Based on the contract, the term of usufruct will be for twenty-five (25) years commencing from the signing of usufruct and renewable for another twenty-five (25) years.
The signing of the contract was witnessed by the officials and employees of DOLE RO VIII.
Inflation rate in Eastern Visayas slows down further to 0.6% in August 2019
By PSA-8
September 19, 2019
TACLOBAN CITY – The Inflation Rate (IR) in Eastern Visayas slowed down further to 0.6 percent in August 2019. This figure is 0.9 percentage point lower compared with the 1.5 percent IR a month ago, and 5.5 percentage points lower compared with the 6.1 percent IR recorded in the same period last year.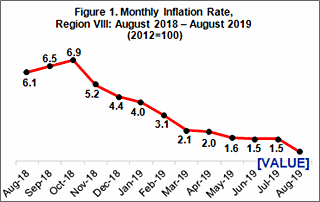 The regional inflation rate is 1.1 percentage points lower than the 1.7 percent national average in August 2019.
The provinces of Eastern Samar, Leyte, Northern Samar and Southern Leyte registered lower IRs in August 2019 compared with their figures in the previous month. Northern Samar recorded the biggest drop, from zero inflation rate in July 2019 to 1.8 percent deflation in August 2019. On the other hand, Biliran registered a 0.2 percentage point increase in IR, from 1.9 percent deflation in July 2019 to 1.7 percent deflation during the reference month. Samar inched up by 0.1 percentage point, from 0.3 percent deflation a month ago to 0.2 percent deflation in August 2019. Among the provinces, Northern Samar posted the lowest 1.8 percent deflation. Leyte, meanwhile, recorded the highest IR during the month in review at 2.3 percent (Table 1).
All commodity groups in the region exhibited lower IR in August 2019 compared with their rates in July 2019, except education, which had retained its previous month's rate of 5.3 percent. Recreation and culture commodity group registered the biggest drop of 3.2 percentage points, from 4.5 percent in July 2019 to 1.3 percent during the month in review. This can be attributed to the huge decrease in the index for recreational and cultural services.
Transport commodity group eased down to 2.2 percent during the reference month from 3.3 percent in July 2019.
The heavily weighted food and non-alcoholic beverages registered a deflation in August 2019 at 0.3 percent, a drop from its previous month's rate of 0.7 percent. Lower IRs were noted in all of the food items, except food products not elsewhere classified, which registered a 0.2 percentage point increase. Vegetables registered the highest decrease of 3.5 percentage points pushing its IR to 3.0 percent. Fruits and rice indices continued to register deflations at 5.3 percent and 4.8 percent, respectively. Deflation was likewise noted in fish at 0.4 percent.
Housing, water, electricity, gas and other fuels commodity group slowed down further, from 1.3 percent deflation in July 2019 to 2.0 percent deflation in August 2019.
IR for furnishings, household equipment and routine maintenance of the house commodity group went down by 0.8 percentage point, pushing its IR to 5.9 percent during the month in review.
The rest of the commodity groups registered decreases ranging from 0.1 percentage point to 0.5 percentage point.
The Purchasing Power of Peso (PPP) of the region remained at P0.80 in August 2019. This PPP implies that P100.00 in 2012 (base year) is worth P80.00 only in August 2019.
Leyte posted a P0.01 increase in PPP compared with its figure in July 2019, while Eastern Samar and Samar's PPP weakened by P0.01. The rest of the provinces sustained their PPP last month. Biliran recorded the strongest PPP at P0.84. Southern Leyte and Leyte ranked second at P0.82, followed by Eastern Samar at P0.78 and Northern Samar at P0.77. Samar posted the weakest PPP at P0.76.