Green groups, Romblon governor question regional court ruling against local issuances
Asserts local autonomy and right to protect environment
By ALYANSA TIGIL MINA
January 29, 2013
MANILA – Gov. Eduardo Firmalo and members of Alyansa Tigil Mina will challenge the Resolution issued on the Special Civil Action Case No. V-1906, which declared Romblon's Executive Order No. 001, s.2011, unconstitutional.
Issued January 17, the resolution is found in favor of Sibuyan Nickel Properties Development Corporation (SNPDC) to proceed to minerals exploration. SNPDC earlier received a cease-and-desist order from the Mines and Geosciences Bureau until the conduct of an investigation on the complaint of the Catholics Bishops Conference of the Philippines and other groups. The declaratory relief filed by the mining company also argued local issuances that disallowed metallic mining operations in the province.
Firmalo said: "I will challenge this resolution and stand by the executive order. It seems this will be a test case of Mining vs. Local Autonomy, and I believe we will win in the end because as the caretakers of our province, the local leaders should agree to protect the environment by measures that are bound by law. I do not think that the executive order and municipal resolutions are unconstitutional."
Mayor Dindo Rios of San Fernando in Sibuyan added: "We are empowered by the Local Government Code and the mandate of our constituents to protect our resources and people from devastating effects of industries like mining. I come from an ice-age island of Sibuyan, a sensitive ecosystem teeming with unique biodiversity, the source of our sustainability."
Local leaders and advocates are aware and supportive of their leaders
"We stand firm with the moratorium order of the governor towards a healthful and balance ecology, for the general welfare. We were disappointed with the court's decision on councilor Armin Rios Marin's death and with this recent decision of the same court – the honorable judge favored the same mining company involved. We will exhaust all means to protect our island ecosystems and the rights of our people to determine our own path to genuine sustainable development," said Rodne Galicha, leader of Sibuyan Island Sentinels League for Environment Inc. (Sibuyan ISLE) and ATM sites of struggles officer.
Representing Romblon Ecumenical Forum Against Mining (REFAM), Msgr. Nonato Ernie V. Fetalino, administrator of the Roman Catholic Diocese of Romblon and Bishop Ronelio Fabriquer of the Iglesia Filipina Independiente, jointly said that they "will continue to support the mining moratorium - the cry of our people is very clear, this is a moral and spiritual call."
"The mining industry has been dividing communities, but in our province we have united ourselves. We shall continue to fight for the integrity of creation promoting human rights and environmental justice. We remind our people to think twice this coming elections," the religious leaders added.
Meanwhile, Alyansa Tigil Mina (ATM) finds that the said ruling is opposed to the right of local governments to promote the general welfare of their constituency and implement policies geared towards the protection of their environment and natural resources.
"When the Local Government Code was enacted, powers have been delegated to local government units to promote the general welfare of their constituencies. If the RTC ruling is to be upheld, I believe more local governments will stand and assert their local autonomy. In this case, it seems the RTC is putting more premium to the Mining Act of 1995 and the industry rather than the Local Government Code," said Jaybee Garganera, ATM national coordinator.
At present, the following LGUs have enacted legislations disallowing mining operations in their jurisdictions: Albay, Bukidnon, Oriental and Occidental Mindoro, Ilo-ilo, Samar, Marinduque, La Union, Capiz, Romblon, Antique, Zamboanga Sibugay, Bohol, Zamboanga del Norte, Negros Oriental and South Cotabato.
Alyansa Tigil Mina is an alliance of mining-affected communities and their support groups of NGOs/POs and other civil society organizations who are opposing the aggressive promotion of large-scale mining in the Philippines.
The alliance is currently pushing for a moratorium on mining, revocation of Executive Order 270-A, repeal of the Mining Act of 1995 and passage of the AMMB.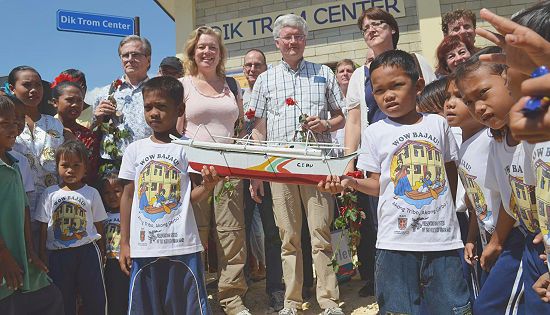 In front of the Dik Trom Center, Haarlemmermeer Mayor Theo Waterings and his councilors receive a warm welcome from the Bajaus, who gave them a miniature of a boat as a token.
Bajaus get new homes
By MIER VILLEGAS / RAFI intern
January 26, 2013
CEBU CITY – Late November last year, Ramon Aboitiz Foundation Inc. (RAFI), through its Bajau Integrated Area Development Project (BIAD-P), together with Vereniging Haarlemermeer Cebu (VHC) officially turned over two quad houses and one multipurpose building to the Bajau community in Sitio Puntod, Alaska Mambaling, Cebu City.
"As a tribe, we are really grateful for the multipurpose center (MPC)," Felicito Asamsa, chieftain of the Bajaus in Mambaling, said.
The multipurpose building was named the Dik Trom Center after a historical symbol in Haarlemmermeer.
"Among balay kaniadto, lawanit. Karon ganahan mi kay bugnaw ug lig-on. (Our house before was made of lawanit. We like it now because it is cool inside and the house is strong.)", Alfida Chavez, one of the quad house owners, shared.
Theo Waterings, Mayor of Haarlemmermeer also gave a token, an image of Dik Trom, to the tribe and asked the chieftain to place it in their new MPC.
The housing project targets to build 35 quad houses until 2014 for the 140 Bajau families.
The houses are designed by the students of the College of Fine Arts and Architecture (CAFA) of the University of San Carlos (USC) through the research made by the Department of Anthropology, Sociology, and History of USC, to ensure that the housing is culturally accepted and further promotes sense of ownership among Bajaus.
"RAFI through BIAD-P continues to work with the Bajau Community", said Dominica Chua, RAFI chief operating officer.
Aside from Chua, Anthony Dignadice, executive director of RAFI Education Unit; Jocelyn Gerra, executive director of RAFI Culture & Heritage; and Cebu City Mayor Michael Rama graced the turnover ceremony.
The event closed with the Bajau kids performing a song and giving out roses to representatives from RAFI and the Foundation's partners from VHC.
BIAD-P is under the Integrated Development focus area of RAFI, helping communities address issues of poverty. RAFI's other focus areas include Micro-finance & Entrepreneurship, Culture & Heritage, Leadership & Citizenship, and Education.
Detained poet gets temporary release, reunites with family and friends after first ever plane ride
By FREE ERICSON ACOSTA
January 18, 2013
QUEZON CITY – "Believe it or not, it was my first time to ride an airplane!" This was how poet Ericson Acosta greeted his supporters, friends, and family who welcomed his arrival at the Terminal III of the NAIA.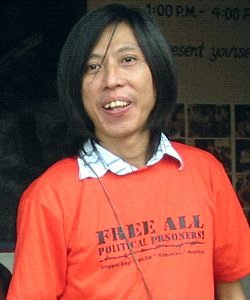 Acosta, 40, whose siblings now all live with their own families abroad, is a cultural worker and activist arrested by the military in San Jorge, Samar while doing volunteer research work for a local peasant group. Acosta has been detained at the Calbayog Sub-Provincial Jail for 23 months on trumped-up charges of illegal possession of explosives.
Yesterday, Acosta's supporters were pleasantly surprised to confirm that the Gandara RTC in Samar granted him temporary release for a medical check-up. Acosta's lawyers filed a motion for medical check-up in July 2012 after Acosta displayed symptoms of serious renal problems.
Attorney Persida Rueda-Acosta, Chief the Public Attorney's Office (PAO) flew to the Calbayog Sub-Provincial Jail with a medico-legal consultant and a paralegal team from human rights organization, KARAPATAN upon the request of Acosta's family and the Free Ericson Acosta Campaign (FEAC).
It was found that Acosta has been suffering from nephritis, a condition characterized by blood in the urine (hematuria), lower back pains, high fever and painful urination (dysuria). These findings prompted the RTC to immediately grant Acosta's motion for check-up, and allowing Atty. Rueda-Acosta to accompany him right away to the National Kidney Institute (NKTI) this morning.
"Matagal na naming hinihintay ang mapatingnan si Eric. I am coming to see him without my husband who also has an appointment with the doctor for his spinal ailment that has debilitated him for weeks. Gusto nga sana niyang sumama kay Attorney Persida pero hindi na niya kinaya ang sakit," said Ericson's 80-year old mother, Liwayway.
Dr. Erwin Erfe, medico-legal consultant of PAO said that Acosta's ailment necessitates "thorough diagnostic examinations, possibly including renal biopsy and other specialized ancillary procedures in a specialist kidney hospital." These facilities are not available at the Calbayog Sub-Provincial jail, and even in Samar provincial hospitals.
Meanwhile, FEAC Convenor Renato Reyes, Jr. welcomed this development, saying that it is long overdue yet something that could have been avoided. "Ericson's aggravated medical condition is a result of his incarceration and torture in the hands of a government that criminalizes political opposition and what it arbitrarily tags as 'enemies of the state.'"
For her part, Atty. Rueda-Acosta expressed what FEAC has been asserting all along – "there were no private complainants; these are all Army people in the list… The country is starved for justice. We must acknowledge Acosta as a writer and researcher serving this need for doctors for our society."
Acosta's temporary release comes in the light of the recent spate of politically motivated arrests of activist organizers all over the country. KARAPATAN reported the arrest of 28 individuals from December 2012 to the few days of the new year. Among them are Randy Vegas and Raul Camposano, government employees and union leaders of COURAGE, Zara Alvarez of KARAPATAN and 19 farmers from Negros.
Despite these attacks on human rights and civil liberties, FEAC remains fervent in its bid for the general and unconditional release of all political prisoners.
On the way to the NKTI, Acosta told his companions, "In jail, I yearned for sea and sky. My temporary release is indeed a breath of fresh air. But freedom and justice are not achieved by mere yearning, only by struggle."
Belen sa Casa Gorordo: More than a Christmas symbol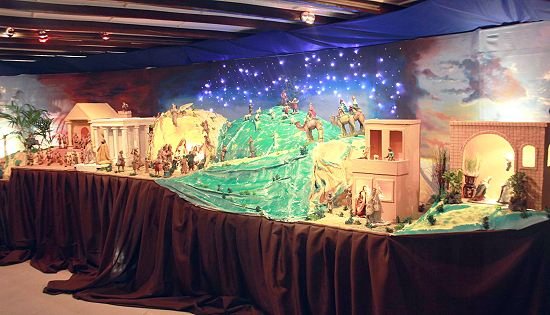 By MIER VILLEGAS, RAFI intern
January 10, 2013
CEBU CITY – Belen is one most favorite Christmas symbols in the Philippines. In Cebu, residents show their devotion for the belen by setting up intricately designed miniature depictions of the Holy Family, such as the ones found in the Casa Gorordo Museum.
The belen at the Casa Gorordo Museum showcases not only the nativity scene but also the Joyful Mysteries of the Holy Rosary, which recounts Christ's nativity and boyhood from the Annunciation to the Finding in the Temple.
It also include some passages from the Old Testament – Methuselah, David and Bathsheba, and Cain and Abel. The Gorordo Belen was meant both to recount the story of the coming of the Messiah and to relay moral values to younger people, especially among children.
The exhibit, which opened last Dec. 6 and will run until Jan. 15, is composed of two-century old statues and images made of plaster, paper machete, ivory, and clay.
"Putting up the belen at the Casa Gorordo Museum is meant to continue the tradition of the Gorordo family, which is something RAFI pledged to do when it acquired the house in 1976," Florencio A. Moreño, Casa Gorordo Museum curator, said.
As a household tradition, the Gorordo family would set up the belen together and invite neighbors to view and learn from it. The belen has been with the Gorordo family since the 19th century.
Moreño pointed out how significant the tradition of the family is since it recounts the story of the coming of the Messiah and reminds the Filipinos of the lessons and moral values the belen relays to the public, especially children.
"We also want to retain and maintain the house as a living museum wherein it retains the living qualities because of its different traditions," Moreno added.
The Belen sa Casa Gorordo is one of four house traditions of the Casa Gorordo Museum. The other three are Sinug sa Casa Gorordo in January, Kuwaresma during Lent, and Pista ni San Juan in June.
Aside from setting up the belen, the Christmas tradition of the Gorordo family would not be complete without the traditional serving of food.
Rosalina Patalinghug cooked and served bam-i the way her late father, Urbano, would cook it for the Gorordos. Rosalina, now the cook of the fourth generation Gorordo family, happens to be the daughter of the cook of the Gorordo family in the past generations.
Best courses were served during the revealing of the Belen sa Casa Gorordo, which was graced by Josefa Revilles, a descendant of the Gorordo family and a former resident of the house. They had torta, which was freshly ordered from Argao, and bibingka that was also specially baked from Mandaue City.
The Gorordo family is also known for their icebox cakes, which was always present during celebrations. Thus, icebox cakes were found on the table during the opening of the belen to the public last Dec. 6.
Tuba not affected by Sin Tax Reform Law implementation
By Philippine Information Agency (PIA 8)
January 7, 2013
TACLOBAN CITY – Tuba aficionados need not worry that the price of their favorite coconut toddy will increase.
The price of tuba or coconut toddy which is the native wine in Eastern Visayas or in the Visayas for that matter, will not be affected by the Sin Tax Reform Law of 2012 which took effect on January 1, 2013.
Bureau of Internal Revenue Tacloban Assistant District Revenue Officer Susan Cabello said the Implementing Rules and Regulations that paved the way for the effectively of Republic Act 10351 or An Act Restructuring the Excise Tax on Alcohol and Tobacco issued on December 21, was very definite on this issue.
Section 3 of the Implementing Rules and Regulations of Republic Act 10351 reads "Section 143 of the National Internal Revenue Code of 1997, as amended by Republic Act No. 9334, is hereby further amended to read as follows:
SEC. 143. Fermented Liquors. – There shall be levied, assessed and collected an excise tax on beer, lager beer, ale, porter and other fermented liquors except tuba, basi, tapuy and similar fermented liquors in accordance with the following schedule: Effective on January 1, 2013…"
The National Internal Revenue Code of 1977 did not include tuba because it is not qualified as a big time industry, it is only a small time business, the BIR Tacloban District Revenue official added.
Thus, it is clear that tuba is exempted from the implementation of RA 10351. Also exempted are basi which is the native wine of the Ilocanos and tapuy which is the native rice wine of the people in the Mountain Province.
Tuba is made through a process of extracting the sap of an unopened coconut bud. It has a stinging sweet and bittersweet taste. The tip of the bud is lopped and the pale juice allowed to trickle into bamboo containers. A sturdy tree yields about a gallon of liquid daily.
From coconut water, comes a syrup concentrate for tuba. Tuba is a sweet, fresh or mildly fermented sap taken from tapping the young expanded flowers of the coconut. Tuba is clean because it really has natural contents. It is a natural juice from the coconut, so it has nutrients and vitamins that are also found in the coconut tree itself. And the barok (powdered mangrove bark) which gives the orange-red color to the tuba, is also a natural product.
There are known health benefits of tuba, thus, it became more popular among those living in rural areas because it is where big coconut plantations are found. Tuba is cheaper than other artificial medicines used to cure the ailments or other health problems. This kind of vinegar acts as heat trapper, thus people with fever wipe tuba vinegar all over their body. Other people use the vinegar as disinfectant for dog bites and wounds.
BIR Revenue Regulation 17-2012 dated Dec. 21, 2012, prescribes higher tax rates on tobacco and alcohol products.
For distilled spirits, the excise tax rate, based on the net retail price per proof, is 15 percent from January 1, 2013 until Jan. 1, 2014. The rate will increase to 20 percent effective January 2015 onwards.
The excise tax on fermented liquor including beer is P15 per liter for products whose net retail price per liter of volume capacity is P50.60 or less effective Jan. 1, 2013. This will go up to P17 per liter in 2014; P19 per liter in 2015; P21 per liter in 2016 and P23.50 per liter in 2017.
For cigarettes packed by machine and with a net retail price per pack of P11.50 and below, the excise tax rate is P12 per pack effective Jan. 1, 2013.
The rate will increase to P17 per pack in 2014, P21 per pack in 2015, P25 per pack in 2016 and P30 per pack in 2017.
Spot check at several retails outlets in Tacloban showed an increase of P5 in one bottle of Beer Grande and Red Horse, from P60/bottle to P65/bottle.
A stick of cigarette now costs P1 higher while the price of one pack of cigarette is higher by at least P15.
Top 10 2012 news highlights featured in Pagtuki
By Ramon Aboitiz Foundation Inc.
January 4, 2013
CEBU CITY – The Dec. 30 episode of "Pagtuki", the official radio program of Ramon Aboitiz Foundation Inc. (RAFI), wraps up the top ten news makers of 2012 – from big political names, current events to weather forecast, among others.
The suspension of Cebu Gov. Gwendolyn Garcia tops the list. Garcia asked the Court of Appeals to stop the suspension order against her that stemmed from an administrative case in 2010.
Garcia said that police could only stop her if they will physically drag her out from her office. The Cebu police, however, said they would not physically remove Garcia from her office unless ordered.
Garcia still continues to "hole up" in her office from December until now.
Second is the canonization of Pedro Calungsod. Filipinos followed the journey to sainthood of Blessed Pedro Calungsod, who officially became a saint last Oct. 20 in a ceremony officiated by Pope Benedict XVI in Vatican, Rome. Saint Pedro Calungsod is a Visayan teenage Catholic missionary who died a martyr in Guam.
Third, super typhoon Pablo caused havoc in areas in Mindanao. Based on the records of National Disaster Risk Reduction and Management Council (NDRRMC), typhoon Pablo has destroyed P36.95 billion worth of infrastructure, agricultural products and private properties. The death toll from the typhoon stayed at 1,067 while 834 persons are still missing.
Thousands of people remain homeless after Pablo brought flash floods that wiped out the affected areas.
In Cebu City, classes and work were suspended on Dec. 4 and 5 in all school levels and government offices. The mayor also held a meeting with the Disaster Risk Reduction Management (DRRM) Council.
The earthquake and the false tsunami alert in Cebu last February 2 ranks fourth. People ran to the streets, cars were abandoned, and traffic was jammed after reports of rising seawater in the coastal areas of Cebu City.
The panic was due to a tsunami scare brought about by the 6.9-magnitude earthquake that hit Cebu and Negros islands.
The passage of the Reproductive Health Bill places fifth. The House of Representatives approved the bill last December, which had been certified as "urgent" by President Benigno "Noynoy" Aquino Jr.
The church continues its futile campaign against the move since it has now been made in a law.
On sixth spot is the death of then Department of Local and Interior Government Secretary Jesse Robredo. His lifeless body was recovered at the crash site off the coast of Masbate City last Aug. 18.
Pilot Captain Jessup Bahinting and co-pilot, Nepalese flight student Kshitiz Chand, were also confirmed dead. From August 21 until his interment, all government buildings and installations around the country lowered the national flag to half-staff in compliance with the President's proclamation declaring the national days of mourning for Robredo.
Seventh on the list is the implementation of the controversial Cybercrime Prevention Act of 2012 even after its provisions were questioned before the Supreme Court last October. But the High Tribunal issued a temporary restraining order (TRO), which lasts for 120 days, thus oral arguments on the case will be held on Jan. 15.
On May 29, 2012, Corona was found guilty of Article II of the Articles of Impeachment filed against him pertaining to his failure to disclose to the public his statement of assets, liabilities and net worth.
Corona was appointed Chief Justice on May 12, 2010. He was the most senior Supreme Court justice among the four nominees from the Judicial and Bar Council.
Second to the last is the feeding of whale sharks in Oslob. The practice was questioned after Dr. Lemnuel Aragones, a marine mammal expert, said that feeding whale sharks is an "irresponsible use of natural resources, which could easily be mismanaged and abused."
Oslob officials still continue to raise awareness and education about marine life among its locals.
Completing the list is the formation of Mega Cebu. Cebu's private sector is determined to lead in pushing for the realization of the Mega Cebu project, a move to create a 30-year master plan that will put Cebu at par with key metropolitan destinations in the world.
The Metro Cebu Development Coordinating Board (MCDCB) is the proponent of the Mega Cebu master plan led by the Cebu Provincial Government, RAFI, and six large private sector groups like Cebu Business Club (CBC), Cebu Chamber of Commerce and Industry (CCI) and Mandaue Chamber of Commerce and Industry (MCCI), among others.
"Pagtuki" is aired over dyLA every Saturday at 10-11 a.m. The program, which is one of the Knowledge Sharing & Advocacy capabilities of RAFI, tackles timely and relevant issues affecting the Cebuano community.