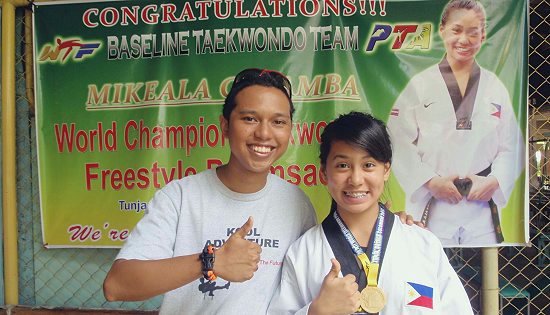 Mikaela Calamba poses with Landolf Villanueva, a Youth Development Programs facilitator of RAFI's Kool Adventure Camp, after she was interviewed at her training center.
KAC alumna is Athlete of the Year
By Ramon Aboitiz Foundation Inc.
May 29, 2013
CEBU CITY – Fifteen-year-old Mikaela Calamba, alumna of Ramon Aboitiz Foundation Inc.'s (RAFI) Kool Adventure Camp (KAC), was named Athlete of the Year during the 31st Sportswriters Association of Cebu-San Miguel Brewery Inc. Cebu Sports Awards.
"When I heard my name being called to receive the award, I could not believe it at first. I was thinking it was another Mikaela. But when the crowd cheered for me, I felt blessed that my sacrifices paid off," Calamba recalled.
Walking upstage to receive her award brought back an experience – her Pamper Pole experience during her training with KAC last year.
Calamba referred to one of the high elements in Challenge Ropes Course (CRC). Pamper Pole is about twenty-five to thirty-five feet high where a person stands on the platform and dives for a target rope that is suspended from a cable.
CRC consists of an aesthetically designed series of ropes, cables and wood poles combine in such a way as to stimulate challenges that might be found in a natural setting. Furthermore, CRC is an experiential adventure program which offers groups and individuals the opportunity to participate in a series of activities involving mental, physical and emotional risk taking.
Before named Athlete of the Year, Calamba won a gold medal over older competitors from Vietnam, India, and USA in the individual freestyle event in the World Taekwondo Poomsae Championship last December in Colombia.
"I felt fulfilled that I have achieved my Pamper Pole goal – to be a gold medalist in an international taekwondo competition," she said.
"Superstone", Calamba's camp name, added that KAC has enriched her mentally, spiritually, physically, and socially.
"I'm Superstone because of its being strong and unbreakable," described Calamba.
She continued, "I learned to face the challenges and realized that anything is possible. Through hard work, determination, and commitment, I will be able to achieve something."
Calamba did not expect she will be doing taekwondo.
"I just wanted a productive summer so I took up voice and dance lessons but I got bored so I went out until I was influenced by my brother to enrol for taekwondo," she recalled.
Landolf Villanueva, Mikaela's facilitator during the camp, said that he immediately congratulated her after knowing her feat.
"When I saw Mikaela in the newspaper, I spread the good news right away to all KAC staff," Villanueva said.
Calamba also shared that she had given up some family affairs and other extracurricular activities just to train hard.
"When I knew that I will be sent to Colombia for the competition, I know I have to do my best because it will lead me to success," Calamba remarked, citing her two-month training in Manila aside from regular training in Cebu.
"Training hard and dedication will really lead you to achieving what you want. With my experience in KAC, I became optimistic, more committed to what I am doing, and I learned a lot of things, which I have applied in sports. I know I have done something new every practice," she shared.
When asked about her next Pamper Pole goal, Calamba said she wants to win more taekwondo titles and be an honor student.
"You need to trust yourself. Trust others also that they may help build your success. If you lose trust, you will create your own downfall, which is really hard in sports," she stressed.
She also encouraged young people to join in a KAC program since it is once-in-a-lifetime experience that provides a wide variety of valuable life lessons.
Calamba is currently training for the Asian Junior Championships to be held in Indonesia this June.
KAC has been offering adventure education programs for leadership and team development for youth and professionals for the last decade. It is currently building the Philippines' first fully dedicated adventure education center, which is set to open this year..
Boracay as world's best? 'Hardly,' says LA Times travel editor
Calls WV's tourist destination a big disappointment
By FLORENCE F. HIBIONADA / PNS
May 29, 2013
CALIFORNIA, USA – More fun in the Philippines? Maybe. Or to borrow the word of a Los Angeles (LA) Times Travel Editor, "hardly." The reason? Boracay, the Philippines' hyped-up tourist destination that generated a big "thumbs-down" from a renowned Travel Writer.
Located in Western Visayas Region, Boracay fell short – very short – of the expectations of Catherine Hamm who incidentally has since counted and considered the Philippines as among her 34 places called "home."
A principal figure in LA Times Travel Section since 1999, Hamm became the paper's Travel Editor in 2003. Interviews granted by Hamm revealed fond stories of her Manila stay during her childhood following her father's employ with the US Federal Government.
Hamm in Sunday's LA Times edition wrote a lengthy piece of last year's Boracay visit entitled "The best island in the world? Hardly." It was to be one of the day's main stories that had Boracay summed up by Hamm as the island that "doesn't live up to the high expectations."
"Can a million and a half people be wrong?...Can Travel & Leisure be wrong?....Can Trip Advisor be wrong?," Hamm's article began as she explained that the said figure was the expected visitors of Boracay this year and "Travel & Leisure" being the magazine that dubbed Boracay as "best island in the world." Trip Advisor on the other hand is the popular website cum traveler's best guide online that considered Boracay as a "Travelers' Choice 2013 Winner."
For Hamm, all three "could be wrong. Or misguided" followed by "Or I could be."
And with writing style distinct to Hamm, her article continued stating that Boracay lovers may not be beach experts.
"Maybe they don't suffer guilt about the poverty or the damage to the environment," she quipped with her dislike for Boracay compared to Manila's heat and humidity. The latter even emerged as the better option for Hamm though with her piece concluding that she was better off with Manila's smog, traffic and heat.
Such as she expressed her disappointment of not finding "the hoped-for-piece of paradise….."
"If Boracay had been a first date, there wouldn't have been a second. We just weren't right for each other. I should have known that from the minute I arrived at the hotel," she wrote.
Hamm stayed at the plush Boracay Regency where she took particular note of hotel policy cum warning that charges will be made should the linens be stained. The stains being that of Henna Tatto, coconut oil or hair dye.
For Hamm, the hotel policy was a little too much saying she did not understand why she would be charged in the first place saying "What would I be doing that would cause me to damage the sheets like this?"
Hamm also chided Boracay's road network from the main port calling it "pot-holed obstacle courses" and the stream of Boracay vendors and human traffic as "a bit overwhelming."
Hamm in the same article also made mention of a news story that wrote of damage to the island's corals. Said recollection had her quit her "little relaxation" at a snorkel stop.
"…I remembered that the coral that I could now see clearly has been so badly damaged that the Philippine Daily Inquirer reported last year that less than a tenth of it remains in its original state. Coral is critical for marine life. I wasn't helping. I got out of the water," she said.
Yet it was to be sight of children begging and mothers with children in tow likewise asking for money that turned off Hamm.
"We didn't need a henna tattoo or a coconut oil massage and we didn't want the guilt," she said while stressing that what she actually came for was the promise of yet another hotel, Discovery Shores, "the hotel that had started me on this Boracay fever dream."
Voted by Travel & Leisure as the Fourth Best Hotel in the world, Discovery Shores likewise was a disappointment for Hamm and chided for the failed promise of "barefoot elegance."
"It was a bit of a hike to our room at Moorish-looking Discovery Shores, but things were looking up. Our accommodations included a living room, a bedroom and a small kitchen," she wrote. "Our bellman explained the large bowl on the floor in which yellow flowers floated on water. Someone would be by soon to give us a welcome foot massage." Sadly, the masseuse never came or in Hamm's words was "MIA" or was Missing In Action.
Yet massages or not, Hamm had her enough impressions of Boracay.
"No number of spa treatments was going to change my impression of Boracay, a place for partyers or rich people, of which I am neither," she concluded. "This wasn't a love match – not for me. Maybe 30 years ago when Boracay and I were less overdeveloped."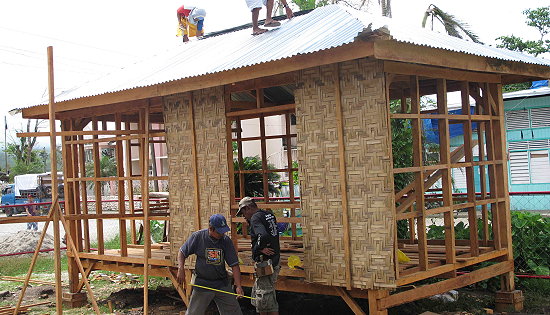 Carpenters from Campawan learn to build storm-resilient houses in the pilot site of the ICRC shelter program. The ICRC will soon be replicating the program in Compostela Valley province. (ICRC / Benito Lavisurez)
Long road to recovery for survivors of Typhoon Bopha
By ICRC
May 16, 2013
MANILA – More than four months have passed since Eastern Mindanao was hit by a typhoon that destroyed the homes and livelihoods of hundreds of thousands of people. This is an update on what the ICRC is doing to help them get back on their feet again.
Typhoon Bopha (known locally as Pablo) has had a devastating impact on the south-eastern Philippines, destroying infrastructure and displacing thousands. While continuing to distribute food and other relief items to more than 273,000 people in the two worst-hit regions of Eastern Mindanao, the ICRC and the Philippine Red Cross have now launched income generation projects and begun improving communities' longer-term access to shelter, clean water, and health care.
"Many people lost their homes and livelihoods as a result of the havoc wreaked by the typhoon in December 2012," said Pascal Mauchle, head of the ICRC delegation in the Philippines. "It is a long and difficult process for them to rebuild their lives from scratch."
"What survivors most need now is help to quickly recover from this harrowing experience and get back on their feet again. The ICRC is providing sustainable access to drinking water and health care, supporting families in their efforts to rebuild longer-lasting shelters, and finding ways to kick-start their livelihoods. At the same time, we are also delivering emergency aid to cover essential needs," Mr Mauchle added.
More than four months have passed since Typhoon Bopha hit Eastern Mindanao. Maria Fe Ayala, a 35-year-old mother from Monkayo, Compostela Valley, says she and her family barely survived the disaster. "My children and I could not go out and risk our necks because even my mother-in-law's house was swept away. I made a small hole and we climbed into it just before our house was destroyed. We laid our bodies flat on the ground if the rains had not stopped, we would have died from the cold."
Shelter for vulnerable families
In the worst-hit communities of Compostela Valley and Davao Oriental provinces, many families continue to live in temporary shelters. Together with the Philippine Red Cross, the ICRC has launched a project to help almost 19,000 people rebuild their homes and provide an income stream for skilled workers in the local community such as carpenters and chainsaw operators.
For families who are struggling to rebuild after their houses were completely destroyed, the project will provide the construction materials and labour needed to build permanent, storm-resilient housing. Other families who lost their homes will be provided with materials and labour for a "skeleton house" that includes the foundation, structure and roof. In addition, community residents will receive training in good construction practices.
Marilyn Donga, whose house was destroyed in the typhoon, has a new home in Campawan, in Davao Oriental province: "Now that we have safe shelter, we can focus on earning an income again so our children can return to school."
From relief to livelihood support
From January to April, relief items were regularly distributed to 273,000 people in all 42 barangays (villages) of the three worst-hit municipalities of Davao Oriental and 35 barangays of the five worst-hit areas of Compostela Valley. People received food such as rice, sardines, salt, cooking oil, coffee, soy sauce and sugar, and such household essentials as jerrycans, buckets, cooking pots, sleeping mats, mosquito nets and soap.
At the same time, cash-for-work programmes are helping to generate income for communities whose crops, and therefore their livelihoods, were totally or partially destroyed.
Along with other community members, Maria Fe volunteered to take part in a cash-for-work programme in Monkayo municipality, which involved desilting the local canal by removing a build-up of mud, refuse and other debris. This was essential to ensuring that irrigation water reached farms.
"I used the money I made to buy food for our family and to replace some of our damaged belongings. It was worth all the hard work," said Ms Fe.
Eleven cash-for-work programmes are benefiting over 2,600 families, with dozens more programmes in the pipeline. In addition, local farmers are receiving corn seed, peanuts, chili seed and other items that will boost harvests and generate income while increasing the availability of food locally.
Improved access to drinking water
Between December and mid-April, emergency distribution systems set up by the ICRC and the Philippine Red Cross provided drinkable water to 18,000 people in 14 communities in Cateel and Baganga, in Davao Oriental province.
In an effort to make drinking water available on a more permanent basis, existing community water supply systems damaged in the typhoon are being repaired. Thus far, work to overhaul 11 damaged supply systems serving nearly 27,000 people is under way or has been completed.
ICRC engineers also helped rebuild and improve the water and sanitation systems in the Philippine Red Cross' evacuation camp in New Bataan, Compostela Valley, which provided services to nearly 3,000 people at the height of the emergency.
Enhancing access to health care
With local health facilities suffering significant damage in the typhoon, the ICRC helped meet acute health-care needs by setting up in Baganga, Davao Oriental, a basic health-care unit donated by the Japanese Red Cross. Opened in January, the unit has provided immediate medical attention and psychosocial support to over 7,000 patients during its 11 weeks of operation. Medical professionals seconded to the ICRC from the Red Cross societies of Japan, Canada, Finland, Germany, Hong Kong, Norway, and the Philippines provided free consultations and treatment.
"The unit ensured people had access to basic health care despite the prevailing situation. It proved essential in covering the gap while badly damaged health facilities were being repaired. It also helped back up existing health services," said Gegham Petrosyan, ICRC health coordinator.
Local health facilities have continued to receive a range of assistance from the ICRC as they return to normal service. The ICRC has supported or is supporting the repair of eight damaged health facilities (village health stations, rural health units and a district hospital) in Davao Oriental, which serve a population of nearly 120,000. People in typhoon-affected areas had uninterrupted access to health care thanks in part to medical supplies provided by the ICRC to five rural health units and one hospital.
Give our parents decent jobs, says children
By Save the Children
April 30, 2013
MANILA – A group of children on Labor Day, May 1, challenges the country's next political leaders to improve their living condition and keep them out of hazardous work by providing their parents with decent and productive jobs. The group further urge candidates to bare their plans to help the country achieve its commitment to reducing the number of children engaged in the worst form of child labor by at least 75% in 2015.
According to "Bata Muna: Bumoto para sa Kapakanan ng mga Bata" campaigners, children suffer most if their parents are unemployed or underemployed. "As a result of parents' unemployment or underemployment, children at a very young age are forced to find jobs to help augment the needs of the family," says Anna Lindenfors, Country Director of Save the Children in the Philippines.
The International Labour Organization (ILO) reports that more than 200 million children in the world engage in various forms of child labor. They work in hazardous environment, toil extremely long hours, and suffer from slavery and servitude. They are coerced to participate in prostitution, cyber pornography, drug trafficking, armed conflict, and other illicit activities.
In the Philippines, the 2011 Survey on Children of the National Statistics Office (NSO) said that the number of children engaged in hazardous work alone increased by 25% from 2.2 million in 2001 to 3 million in 2011, representing about 10% of the more than 29 million children aged 5-17.
"Hazardous work harms children's health, safety or morals such as the case of children working in mines and deep sea fishing. They may be directly exposed to hazards such as sharp tools or poisonous chemicals," says Lindenfors.
"While other hazards for child laborers may be less apparent such as the risk of abuse or problems resulting from long hours of work – still these put children in vulnerable situations," adds Lindenfors.
Child laborers are indeed trapped in vulnerable situations. Even if they want to get away from their labor condition, there are no real and acceptable alternatives to improve their family's state of living available to them.
"Child labor is rooted in poverty and lack of decent and productive work. The next leaders of this country must recognize and address the root causes of child labor. We cannot effectively address the problem of child labor unless decent work is made available to parents and caretakers. If the employment opportunities are addressed, children will no longer be forced to work and will remain in school," explains Magnolia Jacinto, Acting Regional Coordinator of Asia Against Child Trafficking (Asia ACTs).
"Children engaged in child labor are denied the chance to enjoy their childhood because they are burdened with financial woes. We are hoping that the future leaders will look at economic and social policies and actions that will create opportunities for parents, thereby fostering an enabling environment for children," adds Hazel Bitaña, Regional Trainer of Asia ACTs.
Meanwhile, a recent survey conducted by Children Youth Organization (CYO), an organization of more than 180 children below 17 years old in Bagong Silang, Caloocan City, revealed that 50% of children in their community who are engaged in collecting paper and plastic scraps in streets to earn money belong to big families and have 4 to 6 siblings. Also, more than half of them are aware that child labor is prohibited under Philippines law and yet 72% of them still choose to work to help augment the earnings of their family. These children also complain of getting tired, getting bruises, being ashamed and envious of other children.
These children demand the government to provide their parents, especially parents who did not finish their education, with jobs to keep them from that kind of work.
"While the next political leaders will pave the way for a better life for children and their families, your votes can make it happen. You must choose leaders who will stand up and fight for their rights," says Lindenfors.
To guide the voters in choosing these leaders, Bata Muna came up with a checklist that will help voters identify pro-children candidates. In the checklist, a pro-children candidate must have a concrete platform that advances the rights of children, especially the most vulnerable children; must have already stood up for children and their rights and continues to do so; must value children's involvement and participation; one who thinks and acts independently for the good of the majority, especially of children; must not be corrupt; must have no record of or has not violated any children's rights and human rights violations; and must be progressive – one who thinks of the present and the future generations.
Staying safe in outdoor summer activities
By ANGELA MICAH OBSINA / RAFI intern
April 18, 2013
CEBU CITY – As fun as summer vacations should be, safety must always be first on the list.
This summertime when there is a wide variety of activities – from swimming, to trekking or hiking, and even caving – to engage in, people tend to get too excited and complacent of their surroundings.
In the April 13 episode of "Pagtuki", the official radio program of Ramon Aboitiz Foundation Inc. (RAFI), the public is reminded of the potential health and safety risks and dangers while doing outdoor activities in summer.
Anthony Terence Ocampo, Deputy Director for Professional Development Programs of RAFI's Kool Adventure Camp (KAC), identified dehydration, heat stroke, and sunburn as the most common ailments this season brings.
"Most of us are not aware that we get are getting dehydrated. Even if we don't feel like drinking water, we should still take in some. One liter in the morning and one in the afternoon will do," Ocampo said.
Heat stroke, he said, is most dangerous since it is hardly noticeable, especially to those not used to being exposed to the sun for a long period of time.
Noting that many go to beaches, he advised avoiding swimming from 10-12 a.m. to prevent sunburns. He also stressed that children must be looked after when going out with a large crowd and if possible, guard the parameters where they would be bathing with a cordon.
Joel Cariño, basic mountaineering instructor of Mountaineering Federation of the Philippines Inc. (MFPI) and Red Cross first-aid instructor, echoed Ocampo's statements emphasizing on risk management.
"All activities have risks. But it can be prevented through risk management and thinking of safety first," Cariño said.
When asked for things to consider when planning an outdoor activity, Cariño mentioned five points. First, to ask yourself if you can really do it. Second, to assess if you brought the right things for the trip. Asking permission from parents or guardians comes third. In line with that goes the courtesy of informing the barangay, particularly when hiking or trekking. And lastly, informing people concerned upon return.
He also stressed proper outdoor get-up, which includes the right material of clothing and appropriate footwear.
He also shared a few guidelines on caving as he just came from the Philippine Philological Cavings Congress, the national gathering of cavers from around the Philippines.
According to him, while caves have areas for eco-tourism or public viewing, other areas are restricted to protect certain animals or organisms. Visit caves that have already been checked and cleared by the Department of Environment and Natural Resources.
"Safety is always of paramount importance. If one thinks that he or she cannot do the activity, better cancel. What matters more is that there is more learning while having fun," he said.
Everything boils down to right and adequate preparation and planning for a safe yet fun summer adventure.
Pagtuki is aired over DyLA every Saturday at 10-11 am. The program, which is one of the Knowledge Sharing & Advocacy capabilities of RAFI, tackles timely and relevant issues on community development, politics and governance, micro-financing, education, environment, early childhood care and development, and culture and heritage that affect the Cebuano community.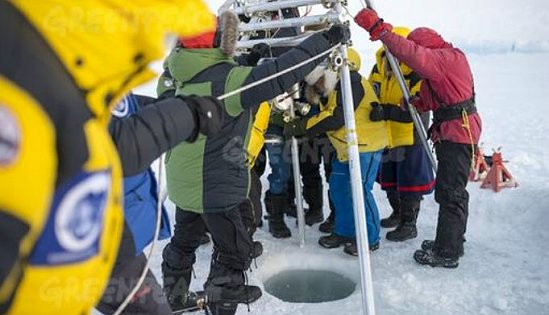 Flag for the Future lowered to North Pole seabed. A Greenpeace team prepare a crane to hoist a time capsule to the seabed at the North Pole. A "flag for the future" is attached to the glass and titanium time capsule containing 2.7 million names of supporters who wish to protect the Arctic. (Photo by Christian Åslund / Greenpeace)
Greenpeace plants symbolic flag on the North Pole seabed to demand that the Arctic be made a global sanctuary
By GREENPEACE
April 15, 2013
MANILA – Four young people on a mission with Greenpeace have planted a flag on the seabed beneath the North Pole, at the same spot where a submarine planted a Russian flag claiming the Arctic for Moscow. The young people planted their 'Flag for the Future' four kilometers beneath the ice at the top of the world and called for the region to be declared a global sanctuary.
The campaigners held a ceremony this weekend at the geographic North Pole, led by two Arctic Indigenous ambassadors. There they cut a hole in the ice and lowered a flag designed by a child from Malaysia, through the freezing waters to the seabed.
The flag is attached to a glass and titanium time capsule containing the signatures of nearly three million people – including more than 8,000 Filipinos – who asked for their names to be taken to the Pole when they joined Greenpeace's campaign calling for the Arctic to be protected from exploitation. Many celebrities and prominent leaders, like Nobel Peace Prize winner Archbishop Desmond Tutu have joined the call for a global sanctuary. Over the weekend, Archbishop Tutu sent his message to the expedition team by saying said, "I offer my full support to these young people who travelled to the North Pole on behalf of those whose lives are being turned upside down by climate change."
Hollywood actor Ezra Miller – star of We Need to Talk About Kevin and The Perks of Being a Wallflower – is one of the youth ambassadors who planted the flag and the names. "I can't feel the tips of my fingers or toes but my head and heart are filled with a newfound determination. Melting ice is a catastrophe, not a profit-making opportunity. To see it as such is utter madness. Three million people have now joined this movement to declare their commitment to save this vital part of our earth; I feel honoured to be a part of this team, which was chosen to represent all of them at this critical moment in history. This is a collective responsibility. It's up to all of us, and especially the youth, to change the way that humanity treats this amazing planet we love and rely on so completely," said Miller.
Another youth ambassador is Renny Bijoux, a member of the Youth Parliament from the island-nation of Seychelles that is at risk of being submerged by rising sea levels. "Though we are in the Arctic and I live in the Seychelles, on a global level it is my homeland too. Whatever happens here affects my people, from rising seas to growing storms. Sustainable development is the key. We must respect our environment and develop within its limits, because if we destroy our climate, we cannot sustain our development for future generations. The damage is clear and it is apparent. It's time for those in power like the Arctic Council to realise this and see that protecting the Arctic is a global necessity", said Bijoux.
Like the islands in the Indian Ocean, countries in Southeast Asia have been cited as some of the world's most vulnerable, yet least prepared to cope with the devastating impacts of climate change.
The 5th Annual Climate Change and Environmental Risk Atlas (2013), released by global risk and strategic firm Maplecroft, has identified Manila, Bangkok and Jakarta under extreme risk from climate change. These cities have seen major flooding in recent years which can become more frequent or more severe in the future. Long-term changes in temperature and rainfall patterns is guaranteed to have devastating effects on ecosystems, human health, industrial processes, supply chains and infrastructure.
The expedition coincided with the first ever meeting at the North Pole of the Arctic Council, the governing body comprised of foreign ministers and senior officials from Arctic states. As the expedition started, the youth ambassadors requested for a meeting with the Arctic Council, but were refused. The weeklong expedition to the Pole is part of a global campaign to protect the Arctic, under threat from climate change, oil companies, industrial fishing and shipping. As global warming melts the sea ice, companies such as Shell, Gazprom and Statoil are moving in to exploit the region's oil as nation states lay claim to areas previously covered by ice.
The youth ambassadors and Greenpeace campaigners have challenged the companies and nations seeking to profit from climate change. By planting the time capsule and flag, they have drawn a line in the ice, telling the polluters and oil companies: you come no further.
The young people are part of a Greenpeace team that trekked for one week across the frozen ocean in freezing winds and temperatures of minus 30 degrees Celsius. They traveled around 10 km a day, each dragging heavy sleighs weighing 80kg behind them. In a remote and dangerous environment their supplies dwindled as the shifting ice took them further from the Pole. The team then hitched a ride with a helicopter that was flying in from the nearby Barneo Base, to put them within striking distance of the Pole, allowing them to ski and drift a shorter final distance and complete their journey to the top of the world.
Even as the Flag for the Future has already been planted, the fight to save the Arctic continues. People are invited to sign the Greenpeace petition at www.savetheartic.org.
Related story: 13 year old Malaysian girl wins Greenpeace's Flag for the Future Arctic competition
East Visayas NFA surpasses rice procurement target in Q-1 by 133%
By Philippine Information Agency (PIA 8)
March 22, 2013
PAWING, Palo, Leyte – The National Food Authority in Eastern Visayas continues its aggressive palay procurement in order to augment domestic inventory of the basic staple commodity.
NFA Regional Manager Vilma H. Zarraga informed that for the first quarter of this year, the Agency had a total procurement of 13,979 bags region wide.
"This is a Two Hundred Thirty Three percent (233%) accomplishment since the Agency targeted Six Thousand (6,000) bags only for the first quarter," she said.
Director Zarraga further informed that as of press time, the Agency has already disbursed a total of Eight Million Ninety Six Thousand Seven Hundred Forty Nine Pesos (P8,096,749.0) from its Cereal Procurement Fund (CPF), the financial source of NFA's palay buying operations.
"Even if we have surpassed our targets in the first quarter, we are still aiming to procure more palay in the succeeding days and months," Director Zarraga underscored.
Under NFA's palay procurement program, the Agency buys palay at the current government support price of Seventeen Pesos (P17.00) per kilogram, clean and dry or those with fourteen percent (14%) moisture content and "Purity A" level.
Palay deliveries falling below this specification can also be accommodated subject to buying price adjustments computed in accordance with the current NFA Equivalent Net Weight (ENW) table, Manager Zarraga said.
On top of the basic support price, additional incentives are given to the palay farmers. For every kilogram of palay sold to the Agency, there is an additional Twenty centavos (P.20) called drying incentive and a delivery incentive fee of Twenty Centavos (P.20) or Ten Pesos (P10.00) per kilogram based on the distance from the farm to the NFA buying station within zero (0) to ten (10) kilometers. This delivery incentive escalates as the distance of the farm to NFA buying station also increases.
Moreover, farmer groups or cooperatives gain an add-on of Thirty Centavos (P.30) per kilogram of palay sold to the Agency as their Cooperative Development Incentive Fee (CDIF). The accumulated CDIF can be used by the concerned farmer cooperative to acquire post-harvest facilities.
Director Zarraga is encouraging all palay farmers and farmer cooperatives to sell their produce to the Agency. She said that the Agency has simplified its requirements for its palay procurement program.
The farmers' passbooks is now free of charge with photo provided by NFA. Moreover, walk-in farmers now deliver a maximum of Two Hundred (200) bags.
"One of the factors that contributed to the increase in NFA's procurement accomplishment is the simplification of requirement," Manager Zarraga added.
"We also conducted Ugnayan or advocacy prior to harvest and closely coordinated with the Local Government Units (LGU), Department of Agriculture (DA), Department of Agrarian Reform (DAR), National Irrigation Administration (NIA), farmers groups and barangay officials.
Moreover, the Agency undertook close monitoring of palay harvests, timely positioned the necessary logistics and opened buying stations in strategic production areas.
"This way, we are able to motivate and encourage the palay farmers to sell their produce to us," Manager Zarraga said.