Mayor Sarmiento is speaker of Cities Alliance' International Events
By GINA SUELLO-SORILO
November 3, 2007
CALBAYOG CITY, Samar – Mayor Mel Senen Sarmiento flew to Jeju, South Korea recently for the four-day United Cities and Local Governments' World Congress where he was invited as one of the speakers.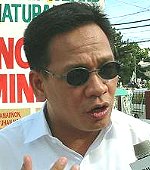 Mayor Mel Senen Sarmiento
The congress which started October 28 aims to exchange experience of City Development Strategies (CDS), challenging the delegates on the role of cities in a global context to promote effective economic growth and poverty reduction. It will also offer concrete experiences and evidence based policy recommendations.
With its title: "Cities without slums- Strategic Responses in Fast Growing Cities," the session focus on local governments' experiences of using CDS and slum upgrading tools in cities where Cities Alliance members have financed interventions and promote cities as partners of international cooperation.
The CDS process is a tool helping to create a well-governed, sustainable, productive and social inclusive city. In Calbayog, the activities are monitored and documented by the City Planning and Development Office (CPDO).
Merla A. Rosalado, the Chief of Staff and Documentor on Special Projects of the city mayor's office informed the media that the city mayor had a 10-minute presentation on the topic, "Scaling up City Development Strategies in the Philippines " last Oct 31.
"An presentation ni mayor is a combination of the macro-level how is cities in the Philippines and micro-level how is Calbayog City development strategy in Calbayog City," she said adding that a 25-minute open forum followed after the presentation.
Mayor Sarmiento's co-presentors were representatives from Vietnam, Egypt, Argentina and the officials of the Cities Alliance who sponsored the congress and financed the CDS. He is the only city mayor who attended the activity as the presentor from the Philippines along with World Bank representatives based in the country.
The Cities Alliance is a global coalition of cities and their development partners committed to scaling up successful approaches to poverty reduction.
Aside from South Korea, Rosalado revealed that the city mayor is also invited to attend the Public Policy Forum sponsored by the Cities Alliance with Housing and Urban Development Coordinating Council (HUDCC), League of Cities of the Philippines, Asian Development Bank, World Bank and the UN Habitat on November 5 and 6.
"Although it is being held in Manila, this is also an international event. There are many countries that are included in here. Two presentors…one coming from Manila and one from the countrysides…Mayor Sarmiento will once again make a presentation with Marikina mayor Marides Fernando," Rosalado added.
Rosalado also disclosed that on November 8 and 9, Mayor Sarmiento will also make a presentation in the Eastern Visayas Local Peace and Security Assembly sponsored by the National Security Council at the Leyte Park Hotel in Tacloban. No less than President Gloria Macapagal-Arroyo will grace the activity.