President Arroyo visits Region 8 today
By Philippine Information Agency (PIA 8)
November 9, 2007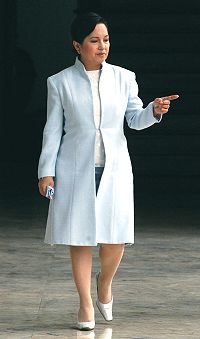 TACLOBAN CITY, Leyte – The people of Eastern Visayas are eagerly awaiting the arrival of President Arroyo who is scheduled to arrive in the Region today.
President Gloria Macapagal-Arroyo is expected to fly to Tacloban early morning today where she is scheduled to inspect the Jipapad-Lapinig Road in Northern Samar, grace the Founding Anniversary of Eastern Samar in Borongan and then come back to Tacloban to attend the Closing Program of the Local Peace and Security Summit in Eastern Visayas, at the Leyte Park Resort Hotel.
President Arroyo is scheduled to arrive at the Jipapad Elementary School where she will be briefed on the status of the Samar Circumferential Road Project by the Department of Public Works and Highways and the Lapinig-Jipapad Road by the 543rd ECB.
The President will also grace the Founding Anniversary of the province of Eastern Samar which is highlighted by the first Provincial Anti-Poverty Reduction Plan.
President Arroyo is expected to present under the Department of Social Welfare and Development, P1.4 Million check for core shelter, P575,000 check for the Cash for Work Program and P300,000 check for the SEA-K.
Through the Department of Agriculture, the President will present P4,053,116.60 check for the calamity assistance Rehabilitation Effort, P1,409,897 for the Infrastructure for Rural Productivity Enhancement Sector.
Under the programs of the Bureau of Fisheries and Aquatic Resources, President Arroyo will award certificates for 8 units deep sea Payao, certificates for 50 units Gill Nets, and certificate for 1 multi-purpose-vessel for use under the Bantay Dagat Program.
Through the Department of Agrarian Reforms, the President will also award the turnover of certificates of completion for 5 bridges and newly rehabilitated farm to market roads worth P48,032,752.02 funded from the ADB-ARCP Fund and the distribution of certificates of land ownership awards covering a total area of 223.43 hectares to 154 beneficiaries.
The President will also award 2,224 land titles under the Handog Titulo Program of the DENR and certificates for medicines to 5 operators of Botika sa Barangay worth P25,000. 00 each.
In Leyte, the President will attend the Presentation of the Action Plan which is the output of the two-day Local Peace and Security Assembly and in the evening she is expected to induct the league of municipalities of the Philippines-Leyte Chapter and have a dinner and informal interaction with the Region 8 Media.