Gastro intestinal epidemic strikes in Gamay, Northern Samar
By Maj. OTHELO D. YAÑEZ, (FA) PA
November 12, 2007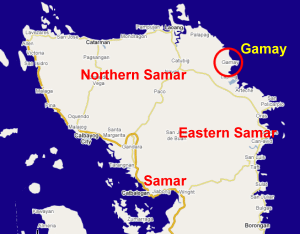 CAMP LUKBAN, Catbalogan City – During President Gloria Macapagal-Aroyo's visit in Region 8 last November 9, 2007 to attend the Eastern Samar 42nd Founding Anniversary in Borongan City and the Peace Summit of Region 8 in Tacloban City, an unofficial report reached her regarding the outbreak of epidemic on gastro intestinal disorder associated with vomiting and severe LBM in Gamay municipality, Northern Samar. A small town of 25,000 people and 26 barangays is situated around100 kms southeast of Catarman, the capital of the said province.
According to the report, hundreds of victims were rushed to the 25 bed capacity hospital of said municipality with only one doctor.
The President immediately instructed Presidential Adviser for Eastern Visayas Victor Domingo to provide all the necessary medical assistance at the earliest possible time.
Early morning of the following day, Presidential Adviser Domingo, Mayor Timoteo Capuquian of Gamay, Northern Samar with Major General Armando L Cunanan, Commanding General, 8ID, PA, and medical teams under Major Teodoro Montes aboard two (2) UH-1H helicopter proceeded to the municipality of Gamay to conduct the immediate medical response per PGMA's instruction.
It was learned that a total of 138 persons were reportedly suffering from the disease. Eighty-eight (88) persons of which were recorded treated at Gamay District Hospital in the said province while others opted to stay home for local medications. One victim identified as Emma Celis, 42 years old, residing at Barangay Baybay of said town died at the emergency room of the hospital earlier on the day due to severe dehydration. The victims were reported to have experienced severe stomach pain and lose bowel movement accompanied by vomiting.
Accordingly, the residents of the said Poblacion has a common source of water at a nearby spring previously reported to have been contaminated while the others get their source of water from deep wells.
The group of DOH personnel in Region 8 headed by the Regional Director Dr. Teogenes Baluma brought with them volume of medicines and reinforced the medical teams in the hospital.
As of press time, the number of in-patient victims declines to 74 while 8ID medical teams are still at the area to provide continuous medical attention and assistance to the victims.
Mayor Timoteo Capuquian of said town expresses his heartfelt thanks and gratitude for the immediate medical attention extended by the government through the Presidential Assistance for Eastern Visayas and the 8th Infantry Division, Philippine Army.