Farmers and fishers of Leyte cry freedom from mining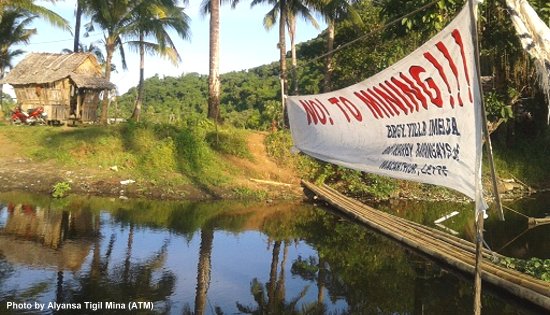 Groups demand national intervention over Chinese mineral extraction
Press Release
June 12, 2012
MACARTHUR, Leyte – Due to threat to food sufficiency and security, villagers from MacArthur town in the province of Leyte urged the national government to act on the continuous conversion of rice fields to mining areas.
'Since 2010, day and night, silence has become alien to our ears as loud machines continuously extract magnetite from a once rice producing irrigated lands,' a farmer from Pongon village said, who wished not to be identified due to fears of harassment.
Landowners either sold or leased their lands to the mining company leaving their tenant-farmers jobless and eventually forced to work for Nicua Mining Corporation which exports magnetite sand to China.
A barricade has been installed by both the farmers and fisherfolk from the nearby Villa Imelda and Liwayway villages to prevent further damages to Lake Bito where tilapia fish is grown.
"A series of fish mortalities this year is enough and scientific studies from government agencies have proven that among others, oil and grease from mining have contributed to the recent fish kills in the lake," said Jesus Cabias, president of Unahin Lagi Natin ang Diyos – Bito Lake Fisherfolks Association (UNLAD-BLFA)
The Bureau of Fisheries and Aquatic Resources (BFAR) stressed that three factors led to the fish kills in the lake.
"Domestic pollution, irresponsible aquaculture practice and contamination from oil and grease from the mining operations are factors that should be dealt with equally and comprehensively," said Dr. Nancy Dayap, an environmental scientist from BFAR.
The study of BFAR complements the studies of the Visayas State University conducted by a team led by Dr. Humberto R. Montes, Jr., Director of the Institute of Tropical Ecology and Environmental Management.
"The elevation of the lake is lower than that of the mining site and naturally the turbid water coming from the mines will backflow through the lake's outlet and eventually intrude the lake – the recent settling pond water backflow has proven this," said Montes.
Montes further stressed that a study conducted in 2010 predicted that the water level of the lake may decrease if large excavations are conducted in nearby areas.
In a Solidarity Mission conducted by the Catholic Bishops Conference of the Philippines – National Secretariat for Social Action, Justice and Peace (CBCP-NASSA) and Alyansa Tigil Mina (ATM) together with the Social Action Centers of the Archdiocese of Palo and Dioceses of Cabayog and Borongan, the villagers in the barricade lamented the gradual drying up of Lake Bito.
"This is the first time in the history of the lake that it dried up and the water level has gone down, the theory of VSU experts are becoming true. We're afraid, very much afraid – our freedom is suppressed and our economic, social and cultural rights are violated. Ganun na lang ba 'yun? (Is that it?)," said Cabias.
Fr. Edu Gariguez, executive secretary of CBCP-NASSA and recipient of the international Goldman Environmental Award 2012, who led the Solidarity Mission said that the series of unfortunate events are gross negligence and plunder, violation of human rights and disrespect for the integrity of creation.
"What is the national government doing? We demand national intervention. For the villagers, there is imminent danger – their lives and livelihoods are at stake, sacrificed over Chinese demands. Can we eat magnetite sand? Why are we prioritizing mining over rice and fish production?" said Gariguez.
"We are calling the Department of Environment and Natural Resources (DENR) Secretary Ramon Paje to visit MacArthur and all other national officials to visit MacArthur to see for themselves how the Chinese suck our magnetite sand and transport it with ease to China. We are fighting for our sovereignty over Scarborough Shoal, but here in front of us – face to face – they are gradually claiming our lands," Gariguez concluded.