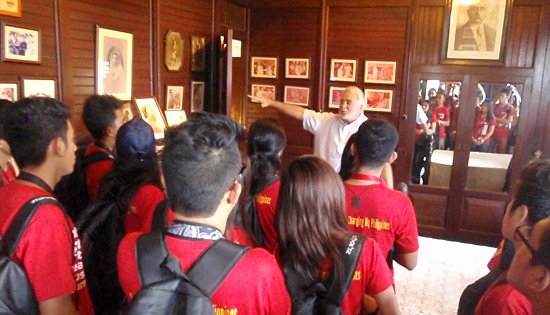 RAFI Vice President Jon Ramon Aboitiz (in white) speaks to delegates to the Aboitiz Future Leaders Summit inside the historic Don Ramon Aboitiz ancestral house in Cebu City.
Kool Adventure Camp facilitates team challenges for 9th AFLBS
By Ramon Aboitiz Foundation Inc.
September 4, 2014
CEBU CITY – Close to a thousand student leaders from different colleges and universities in the Philippines experienced powerful learning through the Ramon Aboitiz Foundation-Kool Adventure Camp (RAFI-KAC) during the 9th Aboitiz Future Leaders Business Summit (AFLBS) last August 15 to 16.
For the eighth time, KAC was tapped to provide integration and low initiative games and team-building exercises to the AFLBS delegates, who gathered at the Marco Polo Plaza Hotel for the summit themed "Significantly Changing My Philippines."
The summit aimed to provide student leaders with a refreshed outlook about the country. It also posed a challenge for the Filipino youth to step out of their collegiate mindset, look into the future and aspire to become among the country's promising leaders in the field they plan to pursue.
The summit featured plenary discussions, games, team-building exercises, work simulation, and business situations.
KAC also facilitated a pre-summit activity to give delegates a deeper understanding about the history of the Aboitizes, particularly learning about how the family handled its corporate office.
The participants also had time to paint benches at the Persimmon for beneficiary schools and visited Fort San Pedro, one of Cebu City's historical landmarks, while having the opportunity to know more on their fellow participants.
"My most significant learning after the Kool Adventure Camp team challenges during the summit was having the 'I CAN' attitude. Nothing will be left undone if I will do everything I can to get something done. 'I CANNOT' is a deadly option. Nothing is impossible if I would just give it all the best I got," said Harold Sapues, student delegate from the University of Cebu, on his experience with KAC.
Another AFBLS participant also shared that as leaders they must not think of themselves as above others in terms of status.
"One of the learning that struck me was the extreme pipeline activity of Kool Adventure Camp, where we needed to kneel down and pass through the obstacles to be able to transfer the ball to its target basket. I realized that as a student leader we need to humble ourselves in everything we do," said Caitline Perez of Mapua Institute of Technology.
University of Philippines Mindanao's Gian Paulo Paglinawan mentioned also the extreme pipeline activity in his learning, saying it taught him that he must also impart the same passion for change to others and to empower them.
"Most of the KAC activities taught me to enjoy the learning process and appreciate the efforts a person contributes to succeed at a specific challenge. I can personally contribute on significantly changing my Philippines...by passing on the knowledge and skills I learned from the summit," he said.
His fellow UP Mindanao student Jumarie Albit, on the other hand, mentioned the importance of communication and in listening to and understanding the people he deals with.
KAC has been offering adventure education programs on leadership and team development for youth and professionals in the last decade. It is a program under the leadership and citizenship focus area of RAFI.
For more information on KAC and its services, contact 260-9000 local 1001 and look for Althea May Santillan, or visit www.kac.rafi.org.ph or www.facebook.com/kooladventurecamp.