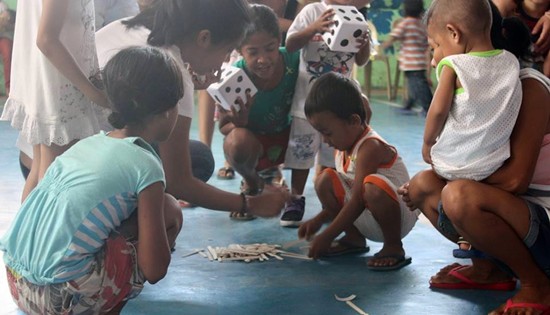 Supervised by a teacher, a Pasil, Cebu City child ponders over the answer during a number identification game in the Math Olympics.
Foundations hold Math Olympics for Pasil kids
By Ramon Aboitiz Foundation Inc.
June 20, 2015
CEBU CITY – The Arcanys Early Learning Foundation and the Ramon Aboitiz Foundation Inc. (RAFI)-Dolores Aboitiz Children's Fund conducted a Math Olympics for beneficiaries of their "District Transformation Through Parent Coaching" project last May 13 and 15, benefiting children and parents of Barangay Pasil, Cebu City.
Under the program, Arcanys teachers went house-to-house to teach children Math skills, specifically rote counting, number recognition, object identification, numerical magnitude, missing number and simple addition.
The teachers also made the parents participate by letting them help teaching their children. The parents were made to interact with their children while the teacher observed their behaviours. This way, the parents realized that they, too, have the responsibility in teaching their children instead of just making their kids go off to school and leaving the responsibility to the teachers.
RAFI-DACF Grants Officer Jan Montilla said that through the project, the parents likewise learned to monitor their children's progress in school.
"This project aims to teach young children with early mathematical skills that are proven by research to contribute to cognitive development and personal success in life. It also aims to teach and develop parents' ability to teach their children and gain positive parents skill," she said.
Montilla said the project was also an opportunity for parents to gain something, as Arcanys and RAFI held Parenting Education Session for them to learn how to teach their children correctly.
After months of being taught by Arcany's teachers, the pupils and their parents showed what they learned through a Math Olympics at the Pasil Gym, where they also participated in the fun games and activities.