RDC Peace Caravan kicks off National Peace Consciousness Month in Eastern Visayas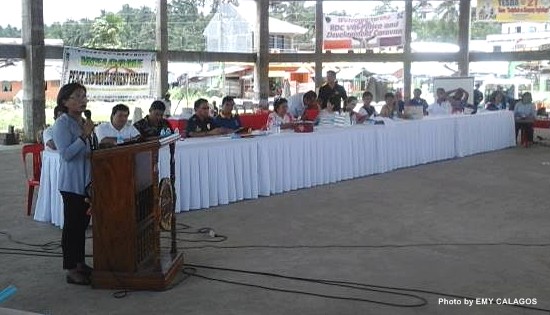 By BRYAN M. AZURA
September 9, 2015
CATARMAN, Northern Samar – The Regional Development Council (RDC) VIII, as a kick-off activity in its observance and support to the 12th National Peace Consciousness Month, brought its Peace and Development Caravan to Las Navas in Northern Samar recently in its stepped up determination to bring the government to the people and advocate peace as an integral part of development.
The National Peace Consciousness Month is being observed every September in the country and is aimed to promote a culture of peace and raise awareness and understanding among the public on the peace process.
The caravan was participated by 17 regional line agencies to include Department of Budget and Management (DBM), Department of Agriculture (DA), Department of Agrarian Reform (DAR), Department of Education (DepEd), Department of Trade and Industry (DTI), Technical Education and Skills Development Authority (TESDA), Department of Science and Technology (DOST), Department of Health (DOH), Philippine Fiber Industry Development Authority (PFIDA), Philippine National Police (PNP), Armed Forces of the Philippines-Philippine Army (AFP-PA), Bureau of Fisheries and Aquatic Resources (BFAR), National Food Authority (NFA), Department of Justice-Parole and Probation Authority (DOJ-PPA), National Economic and Development Authority (NEDA), Department of the Interior and Local Government (DILG) and Public Attorney's Office (PAO).
All of which brought respective products and services with them. The event was also participated by the provincial government. Meanwhile, the community recipient was represented by approximately 600 residents from various barangays of the municipality.
Mayor Minda Tan of Las Navas, for her part, said that she is glad a program of the government is being carried out and that her municipality has been identified as a venue for this activity. "In behalf of my constituents, I would like to thank you all for coming and bringing with you the message of peace to my humble town," Tan said in vernacular. She said she believes her town will have more economic opportunities especially if there is a real peace in the area.
Governor Jun Ong in his message through his provincial information office personnel said that he will continue to support the advancement of peace in the province as it is the "key to genuine economic prosperity in Northern Samar." Peace and good governance according to him will provide development access to communities. Northern Samar is among the two provincial awardees of the DILG's Seal of Good Local Governance in the region.
Regional Director Imelda Laceras of DBM VIII said that she will continue to work on to institutionalize the service mission so as to let the people and even local government units feel that they are not being left behind. In her message, she said that she desires that when the whole region experiences progress, communities even in hard to reach areas are included in the development. "We thank the Office of the Presidential Adviser on the Peace Process (OPAPP) for opening our eyes and leading the way to reach out to our people," Laceras said.
The Peace and Development Caravan is a brainchild of PAMANA (Payapa at Masaganang Pamayanan) Samar Island team, program unit of OPAPP. It was being used as a tool to literally show to the people especially in far-flung towns and barangays that there is a government that cares for them. The activity was formally adopted by the RDC through a resolution in June, this year to conduct Peace and Development Caravans in the region.
Imelda Bonifacio, PAMANA Area Manager, said that her agency needs to forge stronger partnerships with LGUs to ensure the realization of an undisturbed peace in the Samar Island and in the whole Eastern Visayas. While Bonifacio admits that there is still so much to be done to totally eradicate insurgency in the area but she said there had been significant improvements in peace stability in her area especially with road constructions being implemented to make inaccessible towns and barangays accessible to land transportation.
Among the basic support services rendered by RDC VIII member-agencies included medical mission including immunization, dental services and distribution of medicines, demonstration, technical assistance and series of lectures for livelihood and capacity-building programs, scholarship grants on automotive and household electrical installation, one-on-one consultation with the Regional Line Agencies (RLAs) for specific community concerns, distribution of seeds and fruit-bearing trees seedlings, distribution of office and school supplies and feeding program.
The National Economic Development Authority (NEDA), said that the National Peace Consciousness Month will be culminated by another caravan in Jipapad, Eastern Samar.