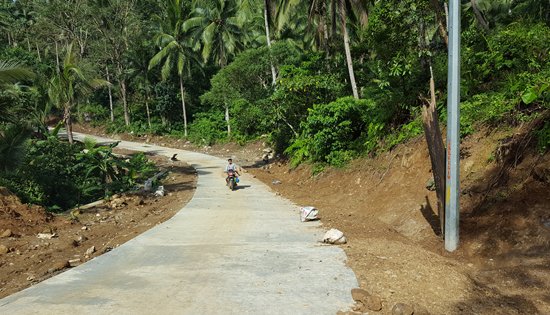 Completed Concreting of Brgy. Caucab-Sitio Palayan Phase II. The project is under contract with BNL Construction with a contract cost of P4.925M which involves the concrete paving of 0.384 lane Km., construction of RCBC, installation of Pipe Culverts and stone masonry. The completed project will lessen the walking distance of the residents in Sitio Palayan in transporting their agricultural product to the market centers thus, providing them a safer and faster transport of abaca and "palay" which are abundant on the said mountain serving more or less 1,800 residence.
DPWH construction of Palayan FMR project in Almeria, Biliran completed
Press Release
December 9, 2016
NAVAL, Biliran – The newly completed Road Opening and Construction of Farm to Market Road (FMR) project from Brgy. Caucab to Sitio Palayan, Almeria, Biliran, will slowly pave way to new opportunities and development for the local community.
Sitio Palayan, Caucab, Almeria, Biliran is found at the foot of Mount Panamao and is abundant with abaca and "palay" thus, derived the name "Palayan ng Bayan," as rice terraces were carved in the mountains.
The people in Palayan lived in a small village and survive mainly with their agricultural crops. Back then, they would travel their products to the municipality of Almeria by foot and it would take them long hours just to deliver their crops.
"Kung daghan ang among da', hinay ang among lakaw, mga duha ka-oras ang lakaw igbaw sa Caucab (If we carry a bulk of abaca, our walk is slow and it would take us 2 hours walk in transporting our product to Upper Caucab.)," said JR Kalinawan, 32, a manubo settler and one of the abaca farmers who would greatly benefit from the project.
Previously, earth road from Caucab-Sitio Palayan was rutted and sometimes become un-passable and bringing their hard-earned products to the urban community was a struggle.
"Kasagaran magkatumba-tumba me labi na ingon ana pa karon ang dan, labi na ug mag-uwan-uwan lisud gyud! Kasagaran namo dili gyud me magsakay dire ug sakyanan, magbaktas gyud me kutob dinha sa may maayong dan (We often stumble on the rutted sections of the road especially during rainy days when the road is slippery. Most of us here don't take a ride because of the rutted road, instead we walk until we reach to the concrete paved road)", Kalinawan added.
The Department of Public Works and Highways (DPWH), Biliran District Engineering Office completed two FMR projects in Brgy. Caucab-Sitio Palayan (Phase I and Phase II), which involves concrete paving of 0.447 lane km. for phase I and concrete paving of 0.384 lane km. for phase II with a contract cost of P9.85M funded under the Department of Agriculture (DA).
"Sa karon, nakabati-bati man pud ko sa gobyerno nga kini nga ilang giproject karon, gikan daw kuno ni sa DPWH, ang among kuan ani, dako ning among pasalamat labi na kung kining kalsada, maderetso kini ngari kay aron ang among ginagmay nga baligya, gaan na jud ang among pagda. (I heard that the road project was implemented by DPWH and I am really thankful to them but if they can stretch the road all the way up here to Sitio Palayan, we would be really happy because we can already transport our products to market centers without the burden of carrying it)", said Kalinawan.
Nieves Dacunes, 52, who owns a small sari-sari store in Sitio Palayan also shared her difficulties in transporting her grocery items for her store although she owned a motorcycle.
"Ako mulakaw man kay di man ko musalig anang dan, siya (husband) musakay (motor), kay mahadlok man ko ana, kasunog-sunog na gani ni among mga batiis sa tumba-tumba, mao nang mulakaw ko kutob atong buyod-buyod usa ko musakay, maayo gane run kay gamay nalang baktason. (I am afraid to ride in our motorcycle because we had experienced so many accidents in that road that's why I'd rather walk than ride in our motorcycle. My husband drives the motorcycle up to a portion of the road with a flat surface, that's the time that I will ride the motorcycle. That is the reason why I am thankful for the road project because the walking distance was lessened)", Dacunes said.
The completion of the road project up to Sitio Palayan will greatly lessen the burden of farmers in transporting their farm products to market centers and residents in travelling to the neighboring towns. This project will serve more or less 1,800 residence.