DPWH-Biliran DEO conducts quality control preparation for FY 2019 infra projects implementation
By NIKOLAI ANGELO MERACAP
April 2, 2019
NAVAL, Biliran – The Department of Public Works and Highways (DPWH) Biliran District Engineering Office (DEO) prepares to undertake full blast on its first quarter quality control implementation of FY 2019 regular and other infrastructures projects.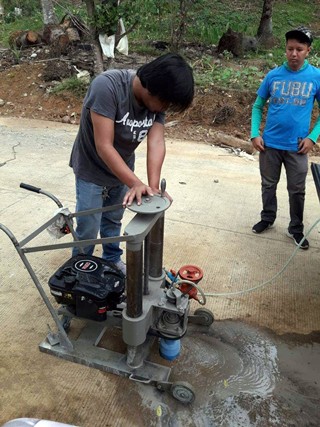 Employee of Quality Assurance Section of DPWH-Biliran District Engineering Office (DEO) drills Portland Concrete Cement Pavement (PCCP) for t-core test.
Various activities were in lined and handled by the Quality Assurance Section (QAS) personnel headed by Engr. Reynaldo P. Peñaflor, D.M. to ensure that quality will be the primary concern when it comes to the construction of projects. Contractors and assigned technical workforce were reminded of quality control as projects will commence as soon as the Fiscal Year (FY) 2019 General Appropriation Bill (GAB) will be approved.
Testing of the quality of construction materials played a vital role in attaining the designed strength and structural integrity of proposed infrastructure projects. Minimum number of quality tests for all construction materials were listed in the quality control program (QCP). This served as guide for the contractors to carry out quality control activities efficiently. Materials that failed to meet the minimum requirements were subjected for rejection thus, the contractors were advised to seek new source and provide another set of sample for quality testing.
Assigned materials engineers conducted series of field testing, quality control monitoring and inspections of accomplished item of work during construction. Field Density Tests (FDTs) were conducted on embankment, subgrade and base course preparation for farm to market and road widening projects.
Sampling of fresh concrete during pouring activities were followed by casting sets of concrete beam/cylinder as representative sample that were subjected to compressive and flexural strength determination. T-core test was also performed on Portland cement concrete pavement (PCCP) to determine its actual thickness compared to the designed thickness of a completed pavement on a lot basis.
At present, the assigned materials engineers and materials in-charge continue to perform consistent supervision of quality control activities and conducts timely testing of materials for on-going projects funded by Calendar Year (CY) 2018 General Appropriations Act (GAA).