CNTs celebrate their 50th anniversary in Samar with a big loss
By DPAO, 8ID PA
March 28, 2019
CAMP LUKBAN, Catbalogan City – The Municipal Police Station (MPS) of Victoria in Northern Samar successfully repelled an attack staged by more or less 50 CPP-NPA Terrorists (CNTs) on board two trucks at around 3:50 a.m. today, March 28, 2019.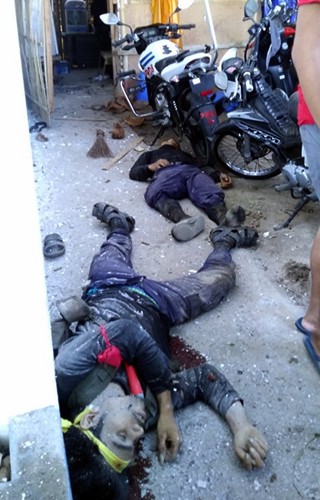 This resulted in three (3) CNTs killed (body count), three (3) CNTs captured, and the recovery of one (1) M60 machine gun, two (2) M16 rifles, and one (1) M14 rifle. Two (2) PNP personnel were reported slightly wounded during the said incident.
Further, a passing motorist on board a black Toyota Vios was also fired upon on the road blockade set-up by the CNTs wounding a certain Mariquel Sanchez, 52, Shai Sanchez, 17, Welta Tejero, 74, and Samuel Elustre, 52. They were immediately brought to the nearest hospital for treatment.
In his statement, Maj. Gen. Raul M. Farnacio, Commander, Joint Task Force "STORM" said that "due to the close coordination between the Police Regional Office 8 and 8ID and with the help of civilian informants, the Victoria MPS has prepared during the time of attack and on a heightened alert."
"The 8ID strongly condemns the attack on the innocent civilians perpetrated by the CNTs in Victoria, Northern Samar. This only manifests that the CNTs are not pro-people since they are not concerned about the people's welfare and safety," Farnacio added.
He was thankful to the local populace for giving timely and accurate information in helping the government forces fight against the CNTs. Likewise, the Commander, 8ID lauded the personnel of Victoria MPS for successfully defending their station with reinforcements from the 43rd Infantry (We Search) Battalion.