Elementary student with eye problem gets help from army dentists
By DPAO, 8ID PA
March 23, 2019
CAMP LUKBAN, Catbalogan City – A total of 166 pupils coming from Palanog Resettlement Elementary School, Brgy Palanog, Tacloban City availed free dental services provided by the Pacific Partnership 2019 contingents last March 13, 2019 at 09:00 A.M.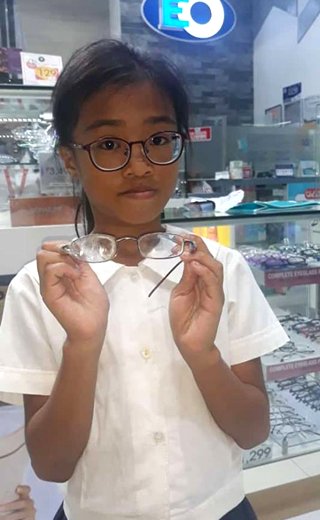 The 8ID Dental Team led by Lt. Col. Ranulfo O. Espera, Commanding Officer of 1368th Dental Detachment, Camp Lukban Station Hospital noticed that one of their patients was wearing a broke pair of eyeglass. Without hesitation, Lt. Col. Espera extended help to Micaella Silmar, 8 years old, a grade 3 pupil from Palanog Resettlement Elementary School by accompanying her to an ophthalmologist for check-up and after which buy her new pair of eyeglasses.
Micaella had been using her broken eyeglasses for more than a year, because her parents can't afford to buy her a new set of eyewear due to their meager income. In spite of that predicament she has preserved in her studies and is a consistent honor student at her school.
On her part, Micaella was thankful to those who extend help to her "Daku an akon pasasalamat nga nabalyu-an an akon daan nga salamin, ine in daku nga bulig ha akon pag eskwela; An ira ginpakita nga pagbulig ha akon in magin usa nga inspirasyon para ha amon nga mga kabataan." (These new eyeglasses will inspire me to study more in setting my sights in life; their generous act in helping children like me will serve as an inspiration to younger generation).
Maj. Gen. Raul M. Farnacio, Commander, Joint Task Force "STORM" lauded the compassionate act of the said Officer. "The 8ID is pleased that we provided a little help for Micaella for we know that this is a big comport on her part as she continues her studies."
"Truly, such generosity of our soldier exemplifies our sacred oath to serve the people of Eastern Visayas," Farnacio added.