Tanauan High School, LNU top DILG poster tilt on World Water Day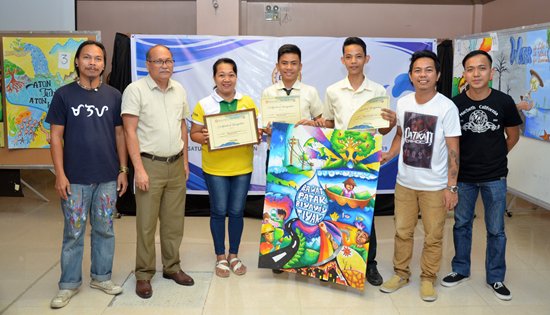 By MYLES JOSEPH E. COLASITO
March 22, 2019
TACLOBAN CITY – Tanauan National High School in Tanauan, Leyte bested 13 other schools in the Secondary level category, while Leyte Normal University bested three other teams in the College Level category of the Slogan and Poster-Making contest on the World Water Day on March 22, 2019 held at the DILG Leyte Conference Room in Tacloban City.
The contest sponsored by the Department of the Interior and Local Government (DILG) aimed to bring to the fore the issues of conservation of the bodies of water and other water sources, as part of the 6th Sustainable Development Goal of Clean Water and Sanitation.
DILG-8 Regional Director Artemio B. Caneja who presented the prizes and welcomed the participants, urged them to share with those in their sphere of influence about how each could help conserve oceans, rivers, lakes and other sources of water.
Meanwhile separate teams from Eastern Visayas State University (EVSU) gained 2nd Prize honors at Secondary and College levels. A team from St. Therese Educational Foundation of Tacloban Incorporated (STEFTI) garnered Third Prize for Secondary level, while for the College Level, St. Paul School of Professional Studies (SPSPS) in Palo, Leyte took third Prize.
The top three winners in each category received P7,000 as 1st Prize, 5,000 as 2nd Prize, and P3,000 as 3rd Prize aside from Certificates of Recognition. All other competing teams received P1,000 as Consolation Prize as well as Certificates of Participation. Serving as members of the board of Judges were Messrs Dante Enage, Clint Gonzales and Glenn Albert Aseo.
Other teams which joined the 2019 World Water Day contest included (for the Secondary Category) Dulag National High School, Leyte Colleges, Leyte National High School, SPSPS, Tolosa National High School, LNU Integrated Laboratory School, Philippine Science High School, Alang-alang National High School, Sta. Fe National High School, Palo National High School, and AMA Computer College of Tacloban City. The College Level contest was joined by LNU, SPSPS and two teams from EVSU.
This year's World Water Day in our country had the theme, "Hawak-Kamay, Tubig-Kaagapay" with the hashtag, #SaTubigWalangIwanan. The contest was organized by the DILG-8 Project Development Management Unit headed by Engr. Ofelia Pido and its Communication Officer Arvia Denalo.