DPWH intensifies maintenance works in Leyte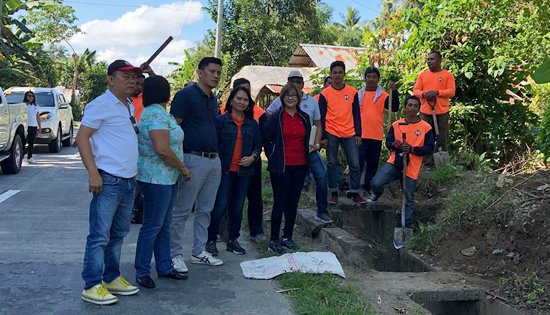 By DPWH Leyte 2nd LED
March 28, 2019
CARIGARA, Leyte – The Department of Public Works and Highways (DPWH) Leyte Second district engineering office intensifies maintenance works as it aims to improve overall road performance rating.
In a recent visit, DPWH Region VIII director Nerie Bueno commended the district for the clean road sides and carriageway along the national highway and noticed a major improvement compared to her previous inspection.
According to district engineer Gerald Pacanan, this is a manifestation of the much-improved maintenance force, as seen in their works and performance.
It can be noted that upon his assignment as the new district engineer of Leyte 2, he initiated a dialogue with the maintenance point persons and field workers, seeking their full cooperation and commitment to improve the district's performance.
Maintenance section chief Francisco Robin, Jr. expressed his commitment to efficiently supervise the maintenance works of the district and keep up with the targets through strict and outright compliance to the standards and requirements of DPWH.
During the coordination meeting with public utility companies on March 6 this year, Robin appealed to the utility providers to do their part in maintaining their distribution lines as the district is the one being sanctioned.
He suggested to the electric cooperatives to provide permanent support structure to their sagging transmission lines in some road sections.
Furthermore, Pacanan instructed all the employees of the district traversing the national highway under its area of jurisdiction, to note observations on road defects such as potholes, alligator cracks, major scaling, shoving and corrugation, pumping and depression, faded road markings, inverted shoulder, lush vegetation, clogged drains, and open manholes.
He added that this is important for the maintenance workers so that they could immediately take appropriate actions on restoring these defects.
"The works of our maintenance people mark the impression of our office. Let us sustain our momentum and work hand in hand to attain our goals," he concluded.
Leyte second district engineering office is tasked to maintain 206 kilometers of national road and 55 bridges.