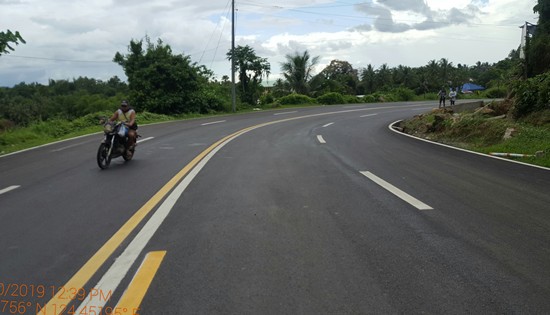 Completed P70.48M asphalt overlay project at Brgy. Lucsoon, Naval, Biliran along Naval-Caibiran Cross Country Road (NCCCR). The project was completed on November 09, 2019 under contract with B.M Marketing. It covers a total length of 5.276 lane km/ 2.6-kilometer. It also includes rehabilitation of damaged concrete road with a width of 3.05 meters, thickness of 0.28 m. and a total length of 0.117-kilometer.
P132.7M asphalt overlay project completed in Biliran
By DPWH-Biliran
December 6, 2019
NAVAL, Biliran – The Department of Public Works and Highways (DPWH) Biliran District Engineering Office (DEO) completes two asphalt overlay projects amounting to P132.7M.
David P. Adongay Jr., District Engineer said that asphalt overlays were implemented along the 2.2-kilometer road at Brgy. San Isidro in Biliran town along Biliran Circumferential Road (BCR) and at 2.6-kilometer road at Brgy. Lucsoon in Naval town along Naval-Caibiran Cross Country Road (NCCCR).
According to Adongay, the project entails the application of asphalt overlay on an existing concrete pavement with a width of 12.20 meters and a thickness of 50 mm. Rehabilitation of damaged concrete pavement was also included in the project.
Along BCR, Brgy. San Isidro, a damaged concrete pavement was improved with a length of 0.121-kilometer and 0.117-kilometer length along NCCCR, Brgy. Lucsoon, both with a width of 3.05 meters and a thickness of 0.28 m.
"The existing concrete roads paved many years ago already show signs of minor defects and when left unattended might deteriorate further," Adongay said.
The preventive maintenance project is designed to prevent further deterioration of the existing concrete pavement subjected to wear and tear of heavy equipment and vehicles.
"This project will earn the government savings in rehabilitating damaged pavement in the future," he added.
The completed project will provide a smooth riding surface for the traveling public as well as provide convenience in transporting agricultural and aquatic products to market.