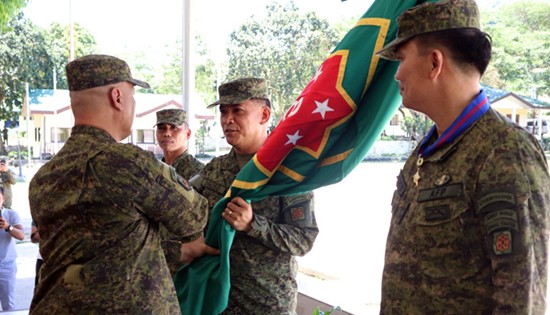 Lt. Gen. Macairog S. Alberto, Commanding General Philippine Army hands over the Command Flag to the incoming commander of 8ID, Maj. Gen. Pio Q. Diñoso AFP during the Turnover of Command Ceremony on July 5, 2019 at 8ID Grandstand.
MGen. Diñoso assumes as 21st 8ID Commander
By DPAO, 8ID PA
July 11, 2019
CAMP LUKBAN, Catbalogan, Samar – Maj. Gen. Pio Q. Diñoso III AFP has formally assumed his post as Commander of the 8th Infantry (Stormtroopers) Division, Philippine Army during the Change of Command Ceremony held at the unit's Headquarters in Brgy. Maulong, Catbalogan City on July 5, 2019, over a month ahead of the compulsory retirement of his predecessor.
Maj. Gen. Diñoso takes the helm of 8ID from the outgoing commander, Maj. Gen. Raul M. Farnacio who will be retiring on August 9, 2019 from the military service after serving in the Armed Forces of the Philippines for more than 38 years.
The Change of Command Ceremony was presided by Lt. Gen. Macairog S. Alberto, the Commanding General of the Philippine Army (CGPA) and was witnessed by Lt. Gen. Noel S. Clement, Commander, Central Command, Armed Forces of the Philippines; Lt. Gen. Gerald Galileo R. Kintanar Jr, former Commanding General of Philippine Air Force; Maj. Gen. Dinoh A. Dolina AFP, Commander, 3ID; Maj. Gen. Byron H. Calimag AFP, Commander, Army Support Command; Brig. Gen. Alberto S. Desoyo, Commander, 301st Infantry Brigade; Brig. Gen. Ignacio B. Madriaga AFP, Commander, 302nd Infantry Brigade; Commodore Dorvin Jose L. Legaspi AFP, Commander, Naval Forces Central; Brig. Gen. Simeon Z. Felix, Jr, AFP, Wing Commander, Tactical Operations Wing Central; Police Maj. Gen. Rolando Felix, Director, Director for Integrated Police Operations (DIPO) - Visayas; Police Brig. Gen. Dionardo B. Carlos, Eastern Visayas Police Director; Police Col. Dante P. Novicio, Acting Provincial Director, Samar Police Provincial Office; and the members of the Presiding General Officer's Party – Brig. Gen. Arnulfo Marcelo B. Burgos AFP, and Brig. Gen Alfredo A. Soriano AFP; and some members of PMA's "Sandiwa" (1985) and "Maringal" (1988) Classes (both active and retired) and their ladies where Major General Farnacio and Major General Diñoso belongs respectively.
Also in attendance were Hon. Michael T. Tan, Vice Governor, Province of Samar; Dir. Yahyah Centi, Regional Director DOLE RO8; Ms Rebeca Baluguis, OIC, TESDA RO8; Hon. Don L. Abalon, Municipal Mayor of San Roque, NSamar; Rod Lawrence Suan, Former Mayor of Alllen, NSamar; members of 8ID Press Corps; other Local Chief Executives; Stakeholders; and other guests from the private and public sectors.
"Leading 8ID in Eastern Visayas is a great challenge, but you will not carry the burden alone because you have men and women who are professional and capable to join you in this journey. Congratulations Maj. Gen. Diñoso on your latest designation and I wish you the best of luck," Maj. Gen. Fanacio's message before relinquishing his post to Maj. Gen. Diñoso. Maj. Gen. Farnacio volunteered to vacate his post to allow a new leadership to take root until his formal Testimonial Retirement Ceremony at Headquarters Philippine Army on the 9th of August 2019.
"If this is really a hardship assignment, then I came to the right place…The insurgency situation here in Region 8 or elsewhere where there are many NPA rebels, is just an indicator of how we, in government, deliver public service. On the NPA rebels, I see them not as enemies but as victims, victims whom we have to rescue. We have to get them out of the predicament they are entrapped in," Maj. Gen. Diñoso emphasized.
Lt. Gen. Macairog S. Alberto AFP, Commanding General of the Philippine Army commended and congratulated Maj. Gen. Farnacio for the successful accomplishments of 8ID under his leadership. Likewise, he challenged Maj. Gen. Diñoso to prevail upon and continue the pursuit for lasting peace and development in Eastern Visayas.
Maj. Gen. Pio Q. Diñoso AFP previously served as the AFP Deputy Chief of Staff for Logistics, J4 prior to his designation as the 21st Commander of 8th Infantry (Stormtroopers) Division.