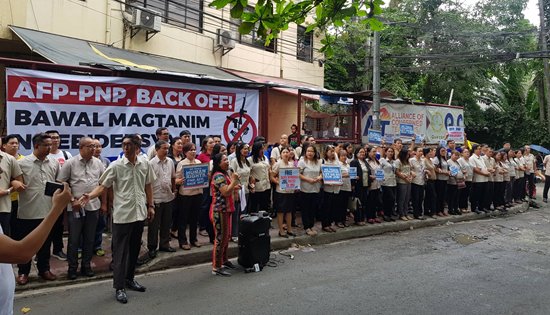 Teachers form human barricade outside their office vs. threat of AFP-PNP office raid. Tarp behind them says, "AFP-PNP, Back Off! Bawal magtanim ng ebidensya rito!"
Stop state terrorism! Defend rights and freedom! Uphold democracy!
A Press Statement by the Alliance of Concerned Teachers (ACT) Philippines on the AFP-PNP crackdown on activists
November 7, 2019
The Alliance of Concerned Teachers (ACT) Philippines condemns the Duterte administration's intensifying attacks on the Filipino people who continue to struggle for peace and democracy in the country. The series of raids and arrests of progressive organizations in Negros and Metro Manila aims to sow terror among dissidents and to quell the growing unrest of the people who have long been suffering due to state neglect.
The crackdown on civilian, unarmed, and legitimate activists and organizations expose the sham that is President Duterte's Executive Order No. 70 which supposedly aims to end local armed conflict in the country, but is a mere cover-up for the administration's more vicious attempts at establishing a tyrannical rule. This is further exemplified by the exposed connivance between the state's machinery for war, the Armed Forces of the Philippines (AFP) and the Philippine National Police (PNP) – particularly the NCRPO – and a member of the judiciary, the Quezon City RTC Executive Judge Cecilyn E. Burgos-Villavert. Such proves that Philippine democracy is under attack.
We, as teacher-unionists, are not spared from these state attacks. Two teachers have been gunned down, 2 more were attempted to be killed, and one ACT coordinator is jailed on a trumped-up charge in a period of less than a month. Offices and homes of teachers' organizations as well as leaders who are vocal in advancing their rights and welfare face the threat of raids, harassments, and other rights violations. Mouthpieces of the state mock legal and legitimate teachers as 'teacher-actors' while they hurl us with red tags and despicable lies that only aim to smear the teaching profession and our rightful unionism. These have persisted since the state launched the illegal nationwide profiling against ACT late last year, upon the signing of EO 70 or the whole-of-nation approach on counterinsurgency.
As educators, it is our duty to uphold democracy and defend people's rights and freedoms. We teach our students to practice critical thinking for the pursuit of social justice. Our fight for livable wages, better working conditions, and better social services is an exercise of all that we espouse in class. It is therefore imperative that we continue to stand our ground and assert our rights. We shall continue to build unities within our ranks and forge solidarities with other sectors as we jointly register our strong resistance and defiance of the increasingly fascist Duterte regime.
We likewise call on all freedom- and democracy-loving members of the local and international community to join us in this fight. An attack on one of us is an attack on all of us. We must stand together and fight back against oppressive and tyrannical regimes. Stop state terrorism!