Access road leading to Kawayan port in Biliran improved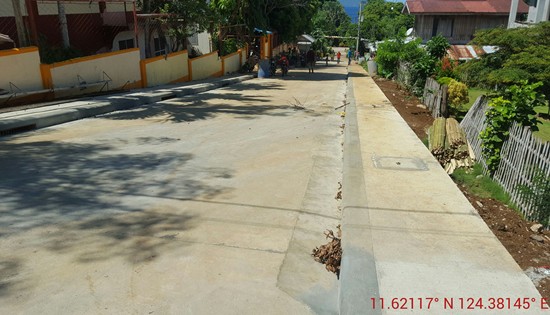 By DPWH-Biliran
November 18, 2019
NAVAL, Biliran – The construction/ improvement of access road leading to seaport in Kawayan town, Biliran Province has been completed by the Department of Public Works and Highways (DPWH)- Biliran District Engineering Office (DEO).
David P. Adongay Jr., District Engineer said that the damaged substandard local road was replaced with a new concrete pavement to provide a smooth surface and safe riding condition for the travelling public.
The project involves the rehabilitation of damaged substandard local road in Kawayan town proper with a width of 6.10 meters, a thickness of 0.23 m. and a length of 0.70 lane km with construction of 742.0 meters covered drainage.
The P12.35M project under contract with MB Ang Construction was completed on October 24, 2019.
According to Adongay, the newly completed road project leading to seaport complements the improvements done to Kawayan's port.
The Biliran Provincial Government and the Local Government Unit of Kawayan is already making its move in expanding the Kawayan port for future roll-on roll-off (Ro-Ro) port in the town.
Presently, the Naval port is the only seaport that is in service of transporting goods, commodities and passengers to and from Cebu.
The improvement of access road leading to Kawayan port will be a big help in economic development not only just in Kawayan town but also in the entire province.