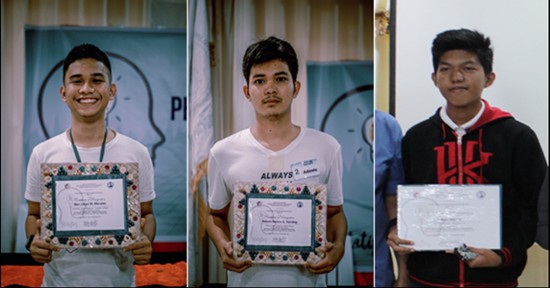 Winners of the 25th PSQ Regional Finals (L-R): Mr. Ben Julian M. Merales, Mr. Adonis Rancie G. Handog and Mr. Filbert M. Abalon.
UPVTC's Comp Sci student is the 25th PSQ regional champ!
By PSA-8
November 13, 2019
TACLOBAN CITY – Mr. Ben Julian M. Merales, BS Computer Science student of the University of the Philippines -Visayas Tacloban College (UPVTC), won the 25th Philippine Statistics Quiz (PSQ) Regional Finals conducted on 12 November 2019 at Leyte Park Hotel, Tacloban City.
Mr. Merales emerged as regional champion, besting 18 other contestants, after scoring 24 points in the three (3) rounds of questions and answers on statistical theories and problems. Completing the top three (3) were Mr. Adonis Rancie G. Handog of the Visayas State University Main Campus - second place, and Mr. Filbert M. Abalon of the University of Eastern Philippines - third place. Winners were given cash prize of P15,000, P12,000 and P10,000, respectively, and certificate of recognition. Likewise, respective winning coaches received cash prize equivalent to half of their contestant's prize aside from the certificate of recognition from the PSQ organizers.
The PSQ is a nationwide annual contest conducted by the Philippine Statistics Authority (PSA) in partnership with the Philippine Statistical Association Inc. (PSAI), in line with the National Statistics Month (NSM) Celebration. It is designed to test the knowledge in statistics of freshmen students enrolled in colleges and universities and to identify and nurture talents especially in the field of statistics. It also aims to contribute to the advocacy in the use of statistics for evidence-based decision making. The results of the contest can also provide indications of the effectiveness of the statistics component of mathematics as a subject in the secondary curriculum.
The 25th PSQ Regional Finals was conducted simultaneously with the 16 regions in the country. Mr. Merales will represent Eastern Visayas to the 25th PSQ National Finals which will be conducted on 29 November 2019 in Metro Manila.