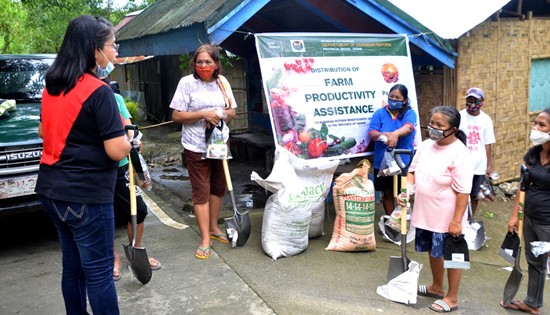 Some 44 agrarian reform beneficiaries (ARBs) from 11 farming villages in Jiabong, Samar received garden tools, fertilizers and vegetable seeds from the Department of Agrarian Reform (DAR) under the second component of its ARBold Move project as the nation experiences health crisis.
Unassisted farmer happy to receive aid from DAR
By JOSE ALSMITH L. SORIA
August 10, 2020
JIABONG, Samar – After failing to receive assistance distributed by other organizations in their barangay, Rosalina Gabahin was happy to know she was among the 44 agrarian reform beneficiaries (ARBs) from 11 farming villages in this town who were included in the list of recipients of farm production inputs given away by the Department of Agrarian Reform (DAR).
"Nagpapasalamat gud kami nga nahi-api kami hini nga bulig han DAR, kay didto han pinanhatag ha iskwelahan, waray man kami mahi-api." ("We are very thankful that we were included by the DAR in their distribution of assistance, because we were not included in the distribution that was held in the school.")
Gabahin, 45 years old and a mother of four, rushed out of their house when she learned of the arrival of DAR personnel in Barangay Macabetas.
Municipal Agrarian Reform Program Officer (MARPO) Thelma Alfaro, assisted by Naome Rojas, Janeth Lapara, Kim Dasig and Nikko Banjo Llano, went from one barangay to another on Wednesday and Thursday last week to distribute farm tools, fertilizers and seeds under the farm production assistance component of the ARBold Move project, which is DAR's immediate response to Bayanihan to Heal as One Act.
Each ARB-recipient received a shovel, a hoe, 10 kilos of complete fertilizer, 10 kilos of vermicast, urea, organic pesticide and two varieties of vegetable seeds.
Alfaro explained to the recipients that DAR is giving these items to help them generate additional income by planting vegetables during this time of crisis caused by the coronavirus disease 2019 (COVID-19) pandemic.
Thus, she encouraged them to plant the seeds to earn more. According to her, not all were given the same opportunity.
Meanwhile, Dasig taught the recipients how to apply the organic pesticide for best results.
For Yolanda Lagbo, 55, a widow, and also from Barangay Macabetas, the said assistance would certainly help her earn additional income, especially that she is now a single parent with four children to support.
In Barangay Parina, Clemente Gallegar, 66, shared how greatly they were affected during the lockdown. He reminisced that they could not sell their copra. Now, price of copra is very low, he added.
Moreover, the three recipients in Barangay Hinaga, an upland village about 17 kilometers away from the town proper, were surprised to receive the said assistance. Monico Villar, 79, said they have no idea about this distribution, while Tirso Cabanjen, 49, thanked DAR for the seeds. According to him, these would be additional source of food for his family.