DAR Samar honors PARCCOM chair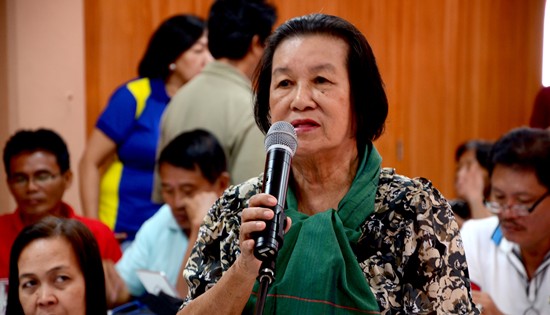 By GABRIEL MARK OCENAR and TERESA TIJOL
July 15, 2020
TACLOBAN CITY – It does not matter where one came from, but the pureness of the heart to serve.
Olongapo City-born Albina Palaminiano Alvarez-Valles has contributed so much in the implementation of the Comprehensive Agrarian Reform Program (CARP) in the province of Samar in her capacity as the chairperson of the Provincial Agrarian Reform Coordinating Committee (PARCCOM).
She was instrumental in improving the quality of life of many agrarian reform beneficiaries (ARBs) throughout the province.
Mana Nene, as she is fondly called, was a teacher in her hometown when she took a vacation in Catbalogan in the 50s. During her stay here, she met Ponciano Valles, Sr., then a town councilor who later on became the vice-mayor. Romance bloomed and the two got married, which made Mana Nene decide to permanently settle here.
While in Catbalogan, she got employed at the Commission on Audit. After her retirement from government service, Mana Nene continued serving the public with her involvement in numerous organizations.
Her membership in the Samar People's Economic Council Foundation, Inc. (SPECFI), led her to PARCCOM in 2009 as the sectoral representative of non-government organizations (NGOs). In 2011, she was appointed by President Benigno Aquino III as chairperson of the PARCCOM of Samar, which is tasked to coordinate and monitor the implementation of CARP throughout the province.
Samar Provincial Agrarian Reform Program Officer II (PARPO II) Celsa Mabutin shared that with Chairman Valles' diverse involvement in the provincial government's administration affairs, especially in the agri-development programs and projects, the agrarian reform beneficiaries organizations (ARBOs) easily became recipients of the province's agri-development programs.
She was able to convince the provincial administration to include the ARBOs in their Annual Investment Plans.
Further, Mabutin added, Mana Nene's strong representation in the Provincial Development Council as the PARCCOM chair served as link to strengthen the relationship between the Department of Agrarian Reform (DAR) and the provincial government, wherein the latter donated a 408 square-meter lot where DAR could construct its own provincial office.
At 87, this adopted woman from Luzon who wore the heart of a Samarnon deserves a payback. Mana Nene deserves the highest form of accolade from the DAR Samar family for hers is living a life with a purpose, not a mere legacy.