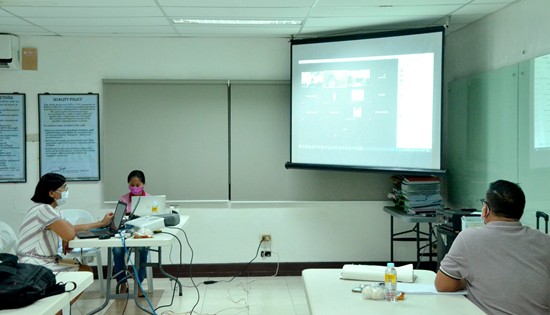 DAR Eastern Visayas holds virtual regional pre-midyear assessment.
DAR-EV prepares distribution of production inputs and livelihood support to ARBs
By JOSE ALSMITH L. SORIA
July 10, 2020
TACLOBAN CITY – After distributing relief packs of supplemental food, vitamins and hygiene kits, the different provincial offices of the Department of Agrarian Reform (DAR) in Eastern Visayas are now preparing for the distribution of starter kits for crop production to agrarian reform beneficiaries (ARBs) later this month.
DAR provincial officials in Region-8 disclosed during last week's virtual pre-midyear assessment that procurement of seeds, fertilizers, pesticides, and farm tools, which will comprise the crop production inputs starter kit, is now being undertaken to catch-up the distribution scheduled on the last week of July.
Likewise, the provincial officials further disclosed that procurement of hogs and poultry for the livelihood support for rural women affected by the current crisis is also underway, and be distributed simultaneously with the crop production inputs starter kits.
These activities are implemented under the PaSSOver: ARBold Mover for Deliverance of our Farmers from COVID-19 Pandemic project, which is DAR's response to Republic Act No. 11469, otherwise known as the Bayanihan to Heal as One Act.
DAR-8 OIC-Regional Director Ismael Aya-ay, explained that the ARBold Move project is divided into four components: 1. Support to ARB Organizations (ARBOs) as Frontliners in the Food Supply Chain; 2. Farm Productivity Assistance to ARBs; 3. Livelihood Support for Women in Crisis Situation; and 4. Distribution of Relief Packs of Supplemental Food and Hygiene Kits.
For the first component, Aya-ay further explained that 65 ARBOs throughout the region were assisted in the marketing of their products and provided with quarantine accreditation passes to have access at checkpoints for the continuous delivery of food supply during the lockdown.
These ARBOs were able to generate a combined sale of more than P23M during this period, Aya-ay added.
Under the fourth component, Aya-ay shared that 9,532 ARBs throughout the region received relief packs of supplemental food, vitamins and hygiene kits in May as immediate assistance to ease the burden caused by the COVID-19 pandemic.
For the second component, according to Aya-ay, 4,087 ARBs will receive crop production inputs starter kits this month to help them meet the nutritional requirements of their household and generate income from surplus production.
Meanwhile, 15 female-ARB members of ARBOs in every province will receive also this month a livelihood package, based on their preferences and capabilities, under the third component.
Aya-ay clarified that in component-3, priority will be given to women with special circumstances such as single parents, widows, senior citizens, head of households, group of indigenous peoples, and persons with disabilities who undertake farming activities but lost their source of income due to community quarantine.