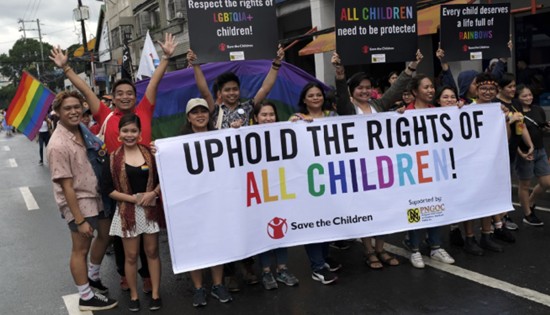 Save the Children Philippines staff take part in the annual Pride March held on June 29, 2019 in Marikina City, Philippines. A record-breaking crowd of around 70,000 braved the rains to show their support for the LGBT+ community.
LGBT+ rights are children's rights
By Save the Children Philippines
June 29, 2020
QUEZON CITY – Save the Children Philippines unites with the LGBT+ community and calls on parents, guardians, the general public, and the national and local government to defend and protect the children, regardless of their sexual orientation, gender identity and expression.
"There is nothing wrong with being LGBT+. Just like everyone else, these children have the right to be loved, protected, and respected" said Mark, a 17-year-old gender equality advocate.
Mark is one of the adolescents trained by Save the Children Philippines on Adolescent Health who now teaches fellow youth and children about puberty, adolescence, reproductive health, and gender equality.
Atty. Alberto Muyot, Chief Executive Officer of Save the Children Philippines, said LGBT+ children and youth are deprived of their rights because of their sexual orientation and gender identity such as access to health services, education, and work opportunities.
"These vulnerabilities are even exacerbated by the COVID-19 pandemic as they face higher risks of physical and sexual violence, bullying, ridicule, stigma and social exclusion," said Muyot.
The 2016 Philippine National Baseline Study on Violence against Children (NBS-VAC) revealed that LGBT+ children are more at risk of suffering physical violence (75%); psychological violence (78.5%); and sexual violence (33.8%).
In a consultation with LGBT+ children in the Association of Southeast Asian Nations (Asean) countries in 2016, the child participants "admitted suffering from psychological abuse and discrimination from their own families as well as schools and communities."
"Society, especially the youth, should really be aware of sexual orientation and gender identity expression (SOGIE) so that we won't hurt and misjudge others," said Mark.
Wilma Banaga, Child Protection Advisor of Save the Children Philippines said that as adults, it is our duty to respect, protect and fulfill children's rights, including the rights of LGBT+ children. Hence, Save the Children Philippines actively campaigns for LGBT+ children's right to be protected from all forms of violence and discrimination, and have access to education, health, and well-being.
Children should primarily feel accepted, supported and protected within their families.
"As adults, we have to challenge ourselves to get over our discomfort over children not conforming with the gender norms that we grew up with. Parents and other family members in particular should be able to love, accept and support their children no matter what," Banaga said.
Save the Children Philippines supports the enactment of the Anti- Discrimination Act that seeks to institutionalize programs against any form of discrimination on the basis of SOGIE.
Muyot emphasized that children and young people have the right to freely express their views, and adults have the obligation to listen and consider them, and to facilitate their participation in all matters affecting them.
The child rights organization also collaborates with the Department of Education (DepEd), Department of Social Welfare and Development (DSWD), and all other government agencies to sustain their efforts to promote and protect the rights of all children by reinforcing gender-responsive policies.
Save the Children Philippines is committed to relentlessly work with parents, caregivers, communities, civil society organizations and policy-makers to ensure that the rights of all children, especially the most vulnerable are recognized, protected, respected, and able to achieve their full potential.