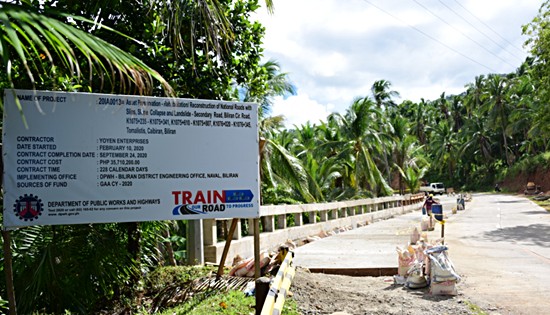 The asset preservation – rehabilitation/reconstruction of national roads with slips, slope collapse and landslide – secondary road along Biliran Circumferential Road, Tomalistis, Caibiran, Biliran is on-going with 32.46% accomplishment as of May 31, 2020. The completion of this project will provide a structure that will prevent further road slips and landslides on the said area.
DPWH-Biliran DEO posts 47.64% accomplishment of CY 2020 projects
By DPWH-Biliran
June 26, 2020
NAVAL, Biliran – The Department of Public Works and Highways (DPWH) Biliran District Engineering Office achieved 47.64% accomplishment of its CY 2020 implementation as of May 31, 2020.
David P. Adongay Jr., District Engineer (DE) reported that out of the 35 projects under CY 2020 General Appropriations Act (GAA) comprehensive release, Biliran DEO has completed eight while 28 are on-going.
DPWH-Biliran DEO has been allotted P1.08B under 2020 GAA for the implementation of 75 infrastructure projects. However, DE Adongay said that 40 of these were categorized as "For Later Release" (FLR) by the department, which means that the release of fund for the said projects are withheld.
"Because of COVID-19 situation, these FLR projects will not be released in full," revealed DE Adongay.
The DE said that the office is already programming those FLR projects which can be completed this year and only the funds for that projects will be released.
"FLR projects which will not be funded this year will be included and prioritized in our CY 2021 listing," DE Adongay said.
As of May 31, 2020, the district office has completed the P20M rehabilitation of Mapula Flood Control; P5M construction of multipurpose building, Brgy.Villa Vicenta; P2M construction of barangay road, Brgy. Victory; P1.17M construction of road, Ibanez St., Brgy. Palanay; P2.6M construction of road, Santiago St., Brgy. Palenque and Palana; and P1.2M construction of road, Mocorro St., Brgy. Palenque, all in the town of Caibiran.
Biliran DEO has also completed the P10M construction of Cabadiangan Flood Control in Naval town and P3M construction of seawall, Brgy. Baso, in the town of Cabucgayan.
According to DE Adongay, construction of infrastructure projects in Biliran is continuous following DPWH construction safety guidelines amidst COVID-19 health crisis.
DPWH-Biliran DEO targets to finish all CY 2020 projects within the year as mandated under the new cash-based budgeting system of the department.