DTI trains Surigao Norte IPs in handicraft making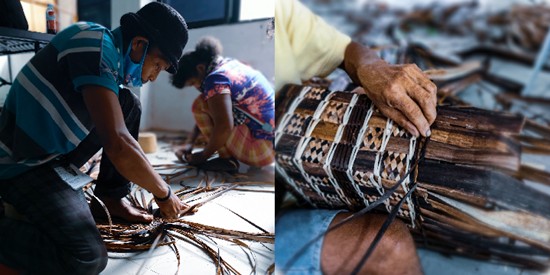 By DTI-Regional Operations Group
June 24, 2020
MAKATI CITY – Twenty members of the Mamanwa tribe in Brgy. Camp Edward, Alegria, Surigao del Norte were trained in handicraft making through the partnership of the Department of Trade and Industry (DTI) and the National Commission for Indigenous Peoples (NCIP).
The indigenous people (IP) were trained to produce mats, bags, baskets and other handcrafted products using indigenous materials growing prominently in the area such as abaca, rattan strips (lagus), and golden sika (sayabay).
The training aimed to equip selected participants with necessary skills as preparation to potential bulk orders since only few from the community has enough knowledge on handicrafts products as seen through the validation conducted by DTI-Surigao del Norte.
Manny Venus and Felix Abatayo, skilled weavers in Brgy. Camp Edward, served as the trainers who supervised the three-day activity.
To help the Mamanwas meet their assigned tasks during the workshops, starter kits and tools were given for their processing activities.
Participants were expected to execute and produce at least five designs for product enhancement and mass production.
The outputs of this activity will be market matched in the local and regional market and will also be showcased in trade fairs.
"Gusto namo nga pag mahisgotan ang Mamanwa sa Alegria, ang produkto ang malambigit sa amo, dili lang ang among royalty (We want that the Mamanwa in Alegria will also be known because of our products, not just because of our royalty," one of the participants said.